Well… Where do I start! UFC 204, Manchester, England. Michael Bisping, now the middleweight champion of the world, is stepping into the Octagon against a bitter rival. In his first title defence he gets the opportunity to even the score with Dan Henderson in a rematch of 2009's highlight reel knockout fight at UFC 100. After being positioned against each as coaches on The Ultimate Fighter earlier that year, they clashed multiple times, mostly due to Michael's brash personality and his ability to aggravate almost every opponent he faces.
On that fateful night, a youthful Michael Bisping was unable to avoid what seemed inevitable in a fight with 'Hendo', as he fell victim to a punch that sent shockwaves to the moon and back. That knockout has followed him for the past seven years, being featured on highlight reels around the world. Using that as motivation, Bisping continued his campaign, showing improvements in his game and beating some of the best in the sport. At the end of May this year, he received a phone call that would change his life forever: a short notice call-up to face Luke Rockhold, another man who had beaten him in the past, and at the time the UFC middleweight champion.
In the first round of the rematch, Michael landed a beautifully timed long left punch that caught Luke Rockhold on the tip of his chin and stole his legs from under him. As he was sent crashing to the canvas the world stood, mouths open, as Bisping realised his dream of becoming the champion. Now, in his first defence, he returns home to Manchester and has the chance to earn redemption against a man that has become one of the most decorated and respected athletes in the sport. Will Michael be able to put the loss behind him and send Henderson into retirement, or will the 'H-Bomb' silence the Bisping fans one more time?
During the media day face-offs on Thursday of Fight Week, the needle between the two was obvious. As Michael walked out on stage, he said in a confident tone: "Here he is… Old Man Henderson!"
In Hendo style, he said nothing and grinned as the two approached. Michael continued to chatter, to a seemingly disinterested Henderson. As he was handed his belt and placed it on his shoulder, he tapped it with his index finger and said: "It's staying right here!"
Dan simply replied with a smile: "Yeah, they'll give me a new one."
This brief exchange epitomised their relationship since its beginning, over seven years ago, with Michael trying to push Hendo's buttons to no avail, as he stands calmly behind an amused smile. Stating publicly that this is his retirement fight, win or lose, Henderson has been on the televisions of MMA fans for almost 20 years. At the age of 46, he is coming off one of the best knockouts of his career, defeating Hector Lombard at UFC 199 in June. With Bisping securing the title in his last fight, Henderson has the opportunity to seize the only world title worth holding that is missing from his collection.
The PRIDE championship veteran has collected some of the top names in the sport in his win column. Greats like "Shogun" Rua, "Babalu" Sobral, Wanderlei Silva and the legendary Fedor Emelianenko, have all fallen under the weight of the 'H-Bomb'. Bisping falls into this category but he has grown a lot over the last few years and is a far more dangerous and well-rounded athlete. His conditioning is always a useful weapon, as he holds the record for most significant strikes landed in UFC history.
Although he lost the last fight against Hendo, Bisping is the clear favourite. If he can circle away from the powerful right hand and establish an early lead, he has a good chance of wearing Henderson down and catching him with a clean shot that could end the night early. Retaining his title is a priority, but beating Henderson in the process would make the whole event so much sweeter. The international interest in this event means that it will be taking place on the United States' pay-per-view schedule, so all of the fighters on the card have adjusted their sleep to be ready for competition in the early hours of Sunday morning.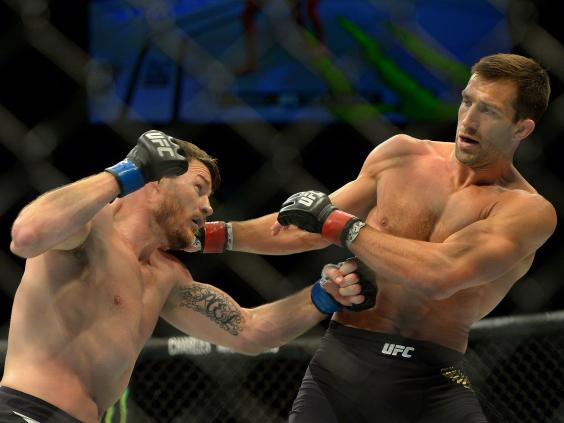 Michael won't be alone in his representation of British MMA, with seven other fighters on the card from home soil. Top prospects like Danny Roberts, Leon Edwards, Ian Entwistle, Davey Grant and Jimi Manuwa are in action, along with veteran Brad Pickett. We also have Marc Diakiese making his debut, who has the potential to do big things. It's set to be an amazing night, with a legendary rivalry playing out in the main event.
Watch UFC 204: Bisping vs. Henderson 2 live on BT Sport 2 from 1am BST on the morning of Sunday, October 9th or catch the Early Prelims on UFC Fight Pass from 11:30pm BST on Saturday, October 8th
Reuse content