It's a terrible cliché in combat sports, to proclaim that this is the greatest ever such and such. Usually referring to a fighter or particular match-up, the 'best ever fight card in UFC history' line has been heard a few times before, but it's not as regular an occurrence. I remember people saying it before UFC 100, then again before UFC 200. If this weekend goes according to plan though, there will be no doubt where the benchmark sits, if the organisation is to ever better UFC 205.
I could write pages and pages on this card. Exploring each fighter and what circumstances brought them to this venue, on this date, to fight this particular opponent. Every story is fascinating in its own right, and the excellent match-making promises to make this an amazing night of fights. Not to mention that it is the first time the Octagon will ever be set up in New York City! After years of campaigning the UFC will hold its first event in the Big Apple, at one of the most famous arenas in the world: Madison Square Garden.
The main event between defending lightweight champion, Eddie Alvarez, and featherweight champion, Conor McGregor, is the biggest fight that anyone could hope to top such a historic card. Alvarez beat Rafael dos Anjos in impressive fashion to win the title back in July, while McGregor was preparing for a rematch with Nate Diaz at UFC 202. Now back at lightweight for the first time since 2012, McGregor looks to become the first two-weight champion in the organisation's history.
Alvarez came into the UFC fairly recently, but was held in high regard as one of the few elite fighters contending outside of the organisation. When he joined the roster in 2014 he was put through a gauntlet of tough competitors, losing a decision to Donald Cerrone on his debut at UFC 178, before bettering Gilbert Melendez and Anthony Pettis to earn a shot at the belt. He is known for his heart and brawling style, swinging from the hip when an opponent is rocked, picking them up and slamming them to the mat, and always pushing the pace. It's a style that McGregor feels like he knows well.
Conor stated that he's been fighting guys like this throughout his whole career. Discrediting his opponent's ability and belittling the threat that he poses to the self-proclaimed king of the sport. Over five rounds I feel like Eddie has the better chance. We've seen him fight hard for five rounds earlier in his career and since coming to the UFC, he has had nothing but tough opponents. In the early rounds though, he has to be on his game. The reach advantage of McGregor, coupled with the fluidity of his movement and dynamic striking game, could cause all kinds of problems for Eddie.
Long-range kicking to set up his sharp boxing combinations is what will give Conor control of the Octagon. From there he can start to measure Alvarez for the finishing blow. Eddie must reverse this pressure and stifle Conor's movement. If he can smother him against the fence in the early minutes, possibly take him down and beat him up a little, he could take some of the pop out of Conor's punches. Playing the long game would be wise as a hurried and reckless early attack could leave him open to a sharp counter.
The criticism of McGregor fading around the eight minute mark of a fight has to be in the mind of the champion as well. Exploiting a possible weakness would require Alvarez to be disciplined with his output in the first round and a half. If the atmosphere of this amazing event affects either fighter, that could also be detrimental to their performance. This is something that every athlete on the card has to take into consideration, especially the four fighters in the other two title bouts.
In the co-main event Tyron Woodley will attempt to defend his belt for the first time, against the always impressive Stephen 'Wonderboy' Thompson. It's another fascinating match-up as stylistically they are both very different. Woodley is a powerhouse with a strong wrestling background and a ridiculously powerful right hand. 'Wonderboy' is the quintessential karate kickboxer, with loose, flowing combinations, pinpoint accurate striking and enough experience to know how to set a trap for his opponent before knocking them out in a spectacular way.
It's hard to pick a winner here because they are so very different, but both have huge potential and the skills to steal the other's consciousness with one shot. This could be another instance where playing the long game could be smart. Woodley is very explosive, but limited as to how many times he can flurry forward before tiring. Another thing to take into account is that, as an opponent of 'Wonderboy', there will undoubtedly be a lot of nervous energy spent trying to anticipate his movement.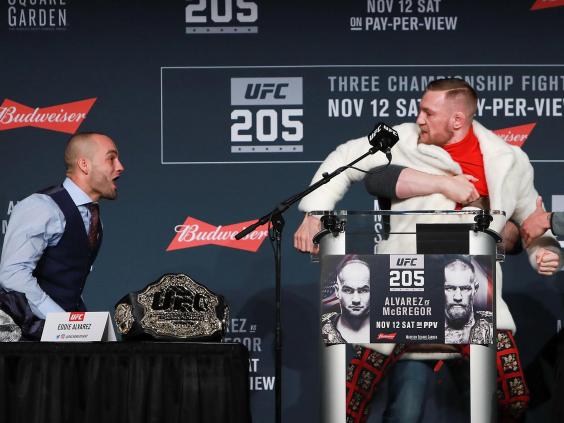 Being so quick and unpredictable, he keeps people on edge because they always feel like they are being set up. If 'Wonderboy' can force Woodley to stay standing, he has a good chance of keeping Woodley backed up and anxiously waiting for what is to come. It's probable that 'Wonderboy' will need to rely on his takedown defence early on, but having spent a lot of time on the mat with Chris Weidman, I'd expect his wrestling game to be on point. I'm sure it also helps that Weidman is on the same card, so they will have all been in the same mindset in the build-up to this night.
The first title fight on the card is an all-Polish affair, as a new contender for the women's strawweight crown has emerged from the same place as our current champion. Karolina Kowalkiewicz is unbeaten in 10 bouts. She's coming off a big win over Rose Namajunas at UFC 201, and has already banked victories over Heather Jo Clark and Randa Markos since making her debut against the latter in December 2015. This will surely be a step up in competition though, as reigning champion Joanna Jedrzejczyk has looked scary ever since she joined the roster.
Having recently relocated to Florida to join American Top Team, Joanna could have some new skills on show. Karolina is not known for her wrestling and ground skills, but rather her willingness to trade shots. She has a strong clinch, from which her knees to the body can take a toll on her opponent, as they did against Namajunas. Without the threat of a takedown from either side, this should make for a fun kickboxing fight, with a high volume of strikes thrown from either side.
It's hard not to get excited for each and every one of these fights. Individually they are great bouts but when you put them together on a card like this and bring the whole thing to Madison Square Garden, it makes for a very special night. I wish there was more time to review the other great bouts on the card, as it is a real treat from top to bottom. Fights like Chris Weidman vs. Yoel Romero, Donald 'Cowboy' Cerrone vs. Kelvin Gastelum, Meisha Tate vs Raquel Pennington and the headliner of the undercard, Frankie Edgar vs. Jeremy Stephens!
Get the kettle on at about 2am on Sunday morning, make yourself a strong coffee and don't miss a beat. This will likely be the best night of fights we've ever seen.
Watch UFC 205: Alvarez vs. McGregor live on BT Sport 2 from 1am GMT early on Sunday morning, or catch the Early Prelims on UFC Fight Pass from 11:30pm GMT on Saturday