While the UFC waits for its mainstream stars to return to the octagon, the promotion has booked a UFC 209 card that appeals directly to its serious fight fans.
Conor McGregor, Ronda Rousey, Jon Jones, Georges St. Pierre and Brock Lesnar are all in various states of inactivity, suspension or retirement. Only St. Pierre has a fight currently booked, and it doesn't have a date.
So Saturday's show from T-Mobile Arena in Las Vegas is packed with talent, if not worldwide name recognition.
In the main event, welterweight champion Tyron Woodley and Stephen "Wonderboy" Thompson meet in a rematch four months after their entertaining majority draw. Moments before that, rising stars Tony Ferguson and Khabib Nurmagomedov will have one of the year's most anticipated bouts for the interim lightweight championship.
If two title fights aren't enough, the pay-per-view portion of the card leads off with veteran heavyweights Mark Hunt and Alistair Overeem. Hunt happens to be currently suing the UFC, President Dana White and Lesnar, alleging racketeering and fraud in the circumstances around his fight last July at UFC 200 against Lesnar, who subsequently failed a doping test.
Woodley (16-3-1) retained his belt in New York late last year after two judges couldn't choose a winner in his first bout with Thompson (13-1-1), the 34-year-old karate teacher from South Carolina. The result left both fighters determined to prove their superiority, and the UFC swiftly scheduled a rematch — something that's not always a given in the money-driven world of mixed martial arts.
"I'm prepared to go out there and be a better version than what I was the last time," Woodley said. "I actually expanded on some things that I did really well in the last fight, do more of it. I'm a complete mixed martial artist. I have the power. I got the wrestling. I got the ground game. I got the endurance, and I got the mental toughness to go out here and put anybody away. I'm just excited to go out there and have one more opportunity to prove I'm the greatest welterweight of all time."
UFC 207: Amanda Nunes beats Ronda Rousey
UFC 207: Amanda Nunes beats Ronda Rousey
1/16 Amanda Nunes beats Ronda Rousey

Ronda Rousey makes her way to the Octagon on her return to the UFC

Getty Images

2/16 Amanda Nunes beats Ronda Rousey

Amanda Nunes delivers a brutal right hand to Ronda Rousey to trigger the beginning of the end for her UFC comeback

Getty Images

3/16 Amanda Nunes beats Ronda Rousey

Ronda Rousey reacts to her 48 second defeat by Amanda Nunes at UFC 207

Getty Images

4/16 Amanda Nunes beats Ronda Rousey

Amanda Nunes celebrates retaining the UFC bantamweight title by beating Ronda Rousey

Getty

5/16 Amanda Nunes beats Ronda Rousey

Ronda Rousey's UFC future is now in serious doubt after her second straight defeat

Getty

6/16 Cody Garbrandt beats Dominick Cruz

Cody Garbrandt became the first person to beat Dominick Cruz at bantamweight

Getty Images

7/16 Cody Garbrandt beats Dominick Cruz

Cody Garbrandt knocked Dominick Cruz down three times in a single round as he won the bantamweight championship

Getty Images

8/16 Cody Garbrandt beats Dominick Cruz

Cody Garbrandt celebrates his bantamweight championship victory over Dominick Cruz

Getty Images

9/16 TJ Dillashaw beats John Lineker

TJ Dillashaw put himself into bantamweight championship contention as he dominated John Lineker to win by unanimous decision.

Getty Images

10/16 Dong Hyun Kim beats Tarec Saffiedine

Dong Hyun Kim picked up a narrow split decision victory over Tarec Saffiedine

Getty Images

11/16 Ray Borg beats Louis Smolka

Ray Borg dominated Louis Smolka to win their flyweight encounter by unanimous decision.

Getty Images

12/16 Neil Magny beats Johny Hendricks

Neil Magny pulled off a surprise victory over former welterweight champion Johny Hendricks

Getty Images

13/16 Antonio Carlos Junior beats Marvin Vettori

Marvin Vettori has his eye inspected after suffering two eye pokes inside the first 90 seconds of his defeat by Antonio Carlos Junior

Getty Images

14/16 Antonio Carlos Junior beats Marvin Vettori

Antonio Carlos Junior beat Marvin Vettori by unanimous decision.

Getty Images

15/16 Niko Price beats Brandon Thatch

Niko Price picked up his biggest win in the UFC to-date after submitting Brandon Thatch.

Getty Images

16/16 Alex Garcia beats Mike Pyle

Alex Garcia delivered a stunning knockout to Mike Pyle to win their welterweight prelim bout

Getty Images
Woodley has verbally sparred with White in recent weeks, with the champ suggesting he has been treated poorly by the UFC — and White responding by labeling Woodley "a bit of a drama queen."
Thompson hasn't lost a fight since April 2012, and he would love to continue his rise with a striking-heavy victory over Woodley, who claimed the belt last July.
"I only threw half the things I normally do," Thompson said of the first bout, "which is good going into this fight, because he hasn't seen even half of everything I've got. My goal is to not leave it in the judges' hands this time, which is easier said than done when you're going against the welterweight champion."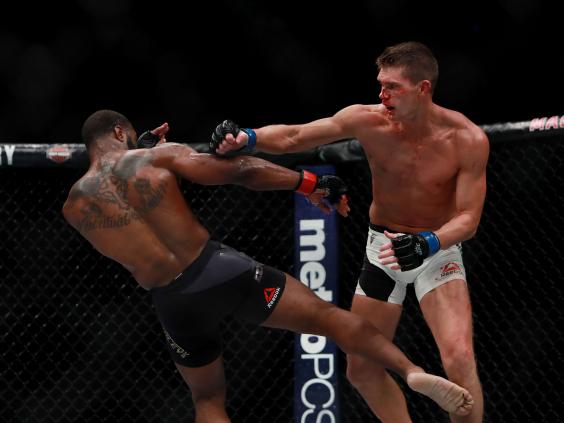 The feelings aren't nearly as cordial in the co-main event, where Ferguson (23-3) and Nurmagomedov (24-0) are facing off for a star-making shot at McGregor, the current 155-pound champion. The California-based contenders have spent most of the promotion sniping at each other.
"He thinks he's tough," Nurmagomedov said. "But when the cage closes, me and him alone inside the cage, I'm going to break this guy."
Nurmagomedov has never lost, and the Dagestani-born fighter has rarely been seriously threatened during his first eight UFC fights. His rise has only been slowed by a recurring knee injury, which kept him out of the cage for two full years before April 2016.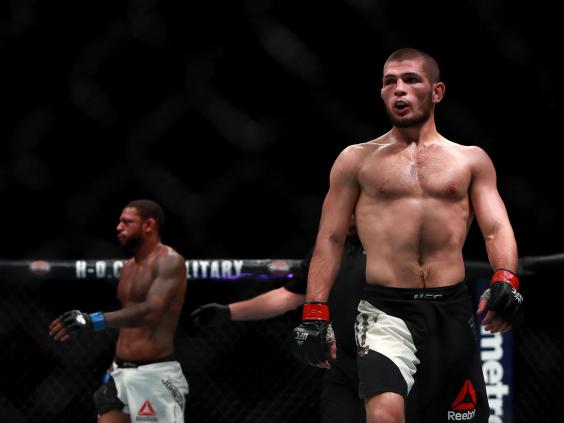 Nurmagomedov and Ferguson were scheduled to meet twice before, but each pulled out with an injury. The 33-year-old Ferguson has won nine consecutive fights with an exciting, versatile style, and he shares a mutual disdain with Nurmagomedov.
"This guy has no chance against my wrestling," Ferguson said. "He thinks Sambo (a Soviet-era martial arts discipline) is awesome. I've got respect for where he comes from, but my wrestling is far superior and my style is just completely different than his. I'm going to run circles all over this guy."
The winner will be near the front of the line for the next bout with McGregor — but that line also includes Nate Diaz, Jose Aldo and possibly Floyd Mayweather Jr, and McGregor hasn't even said when he wants to return to the cage.
AP
Reuse content