This weekend, in Belfast, an essential contenders bout in the middleweight division takes place. Veteran of the game, Gegard Mousasi, will hope to prevent Uriah Hall's lightening back kick from striking twice. Their first meeting, in September 2015, was ended abruptly in the opening seconds of the second round, after a largely dominant opening stanza by Mousasi. With strong ground control and positional superiority, it looked like Hall was destined to lose to a more complete and experienced fighter. Then, as Mousasi closed distance to shoot under a spinning kick of Hall, the foot that was meant to whistle over his head, instead ploughed right into his face.
The spin of Hall's shoulders was actually to set up a jumping back kick to the solar plexus. But fortuitously for him, Mousasi level changed onto the kick and took the full brunt of the force. As he staggered to regain control over his shaky legs, Uriah came sprinting across the Octagon and landed a huge flying knee. A brief scramble and a little ground and pound from Hall, and the fight was over. A bad first round turned into a highlight reel knockout victory in the second, and a win over one of the most respected middleweights in the world. 
Understandably, Mousasi was furious at the turn of events. A simple mistake had potentially set him back a long way and allowed another fighter to climb over him in the rankings. Over a year has passed since that fateful night, and both fighters have continued along their paths within MMA. Mousasi has strung three wins together, most recently beating Vitor Belfort by TKO in Manchester, at UFC 204. For Hall the road has been a little more treacherous, picking up two losses to other rising contenders in the form of Robert Whittaker and Derek Brunson. His win over Mousasi is still the biggest win on his record and to get back on track, proving that first bout wasn't a fluke (as Gegard calls it), would go a long way towards that.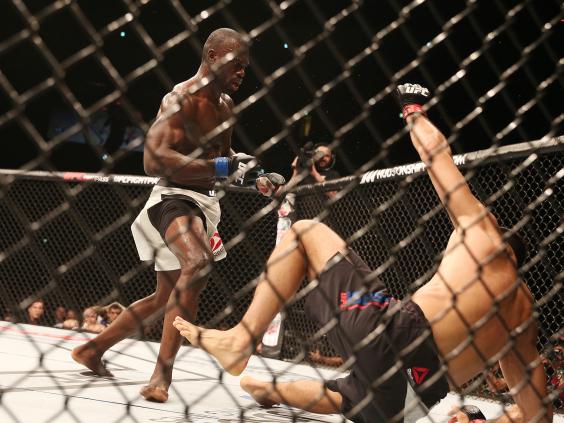 It appeared clear that Mousasi had Hall's number in the opening five minutes of their first encounter and I know Gegard feels the same way. The thing that defines Uriah Hall though, is that X-Factor ability to muster one spectacular technique that completely reverses the momentum of the fight, often in a second. Hall has shown time and time again that, due to his diverse traditional martial arts background and impressive athletic attributes, he is always dangerous and is difficult to predict. After we all saw his knockout of Adam Cella on The Ultimate Fighter back in 2013, Hall set himself up in the fans' eyes, as an exciting addition to the roster. He has all the potential in the world but has not realized it with any consistency. 
Hall's last two losses, Robert Whittaker at UFC 193 and Derek Brunson two months ago, square off against each other next weekend in Melbourne, Australia. If he is going to re-establish himself as a force in the UFC, he must claw back at least one of those losses. If everything went perfectly then he would get the win over Mousasi and then face the winner of the of Whittaker vs. Brunson at the beginning of next year. A third loss in a row would push him way out of title contender talks and move him towards the metaphorical chopping block. It would also somewhat invalidate that first win over Gegard, allowing him to put that 'fluke' loss behind him and emerge as a viable threat to the middleweight crown. 
Although a loss for Mousasi isn't going to change his long term plans to become champion, it would likely be the most frustrating loss on his record. Two defeats against the same opponent at Gegard's level would be more embarrassing than inconvenient, but for an athlete as stoic as Mousasi, that might be the catalyst he needs to put on his best, most disciplined performance. He is notoriously underwhelming in interviews and his laid back persona has been criticized for affecting his marketability, but the Gegard that attended the UFC 204 post-fight press conference was like never before. 
Comments on the middleweight division, his loss to Hall, Conor McGregor's antics and his opinion of some UFC fans were as amusing as they were honest. It's almost as if finally getting the win over Belfort, a fight he had been chasing for a number of years, flicked a switch in his head and he finally realized that he deserves more respect. This fight will define the future of both of these fighters. If Hall can replicate the first result, he is secure in the division and can look to rebuild his career as a top 10 fighter. For Mousasi it's about realizing his potential and connecting the dots under pressure.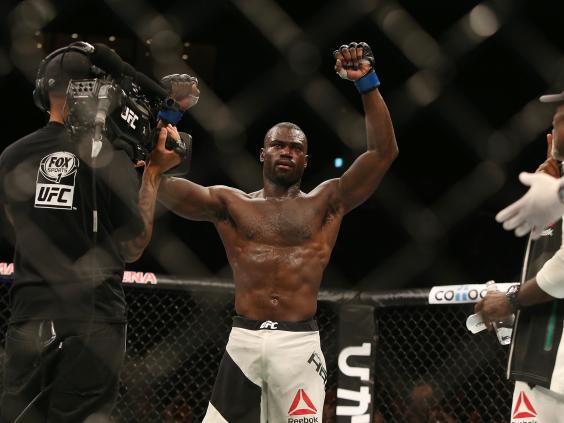 With that amount of pressure on their shoulders it will not be an easy fight for either man. The ever changing landscape of the middleweight division could be further impacted here, and I guarantee that anyone with a stake in the weight class will be paying close attention. Before they step into the Octagon though, we have a full card of preliminary bouts and a stacked main card. In the co-main event, Brits collide as popular English scrapper Ross Pearson will take on Scotland's Stevie 'Braveheart' Ray. Stepping in as a late replacement, Ray stands to gain a lot of respect if he can better Pearson on the night. 
Always tough, Pearson has hit a skid of late and needs a big win here to maintain that foothold in the busiest division in the sport. Ray, looking strong since joining he UFC, is coming off a frustrating decision loss to Alan Patrick in September. This is an opportunity gifted to him from the UFC, giving him the chance to fight such a well-established fighter. Pearson has been campaigning for a long time. A winner of The Ultimate Fighter in 2009, his record has been up and down, but the excitement for his fights never fluctuates. We know he will bring the heat and set a standard for Ray to better, if he is to move further up the rankings and become more successful than his regional predecessor.
Many other great talents are featured on Saturday, including the first two Welsh fighters to sign a UFC contract. A number of weeks ago it was announced that Cage Warriors veteran, Jack Marshman, had put pen to paper and shortly after Brett Johns joined him in the organization. Both will debut in Belfast hoping to represent their country well and pick up that coveted first win inside the Octagon. It's an exciting line up, featuring a lot of top European talent.
Watch UFC FIGHT NIGHT®: MOUSASI vs. HALL 2 live on BT Sport 2 from 9pm GMT on Saturday 19th November, or catch the Prelims and Early Prelims exclusively on UFC Fight Pass from 5:15pm GMT.
Reuse content