British UFC welterweight and UFC commentator, Dan Hardy, is about to swap the Octagon for the Atlantic as he prepares to set sail as part of team Great Britain in the Clipper Round the World yacht race. Here, he talks about the challenge ahead and how he's going to cope on leg one of the journey, from London to Rio.
So, training is finished and race start is nearly upon us. For the first time in my life I will be taking part in an ocean race and we're due to set sail on Monday. I was recruited earlier this year to represent Team Great Britain and Northern Ireland in the Clipper Round the World yacht race. The company was set up a few years ago by British sailing legend, Robin Knox Johnston, the first man to sail singlehanded around the globe without stopping. An amazing feat, especially when you consider he achieved it in 1968, when equipment and technology were far more primitive in comparison to today's GPS navigation system and modern materials for boat building.
I've always wanted to try my hand at something like this but never knew a way to get into it. When the opportunity was presented to me, I therefore jumped at it. Having never stepped foot on a sail boat before I was relieved to hear that there would be four intensive weeks of training to prepare us for the task.
Levels one and three were an onslaught of new information. We had to pick up loads of new terminology, learn all about the different working parts of the boat and importantly needed to understand all of the safety aspects and procedures.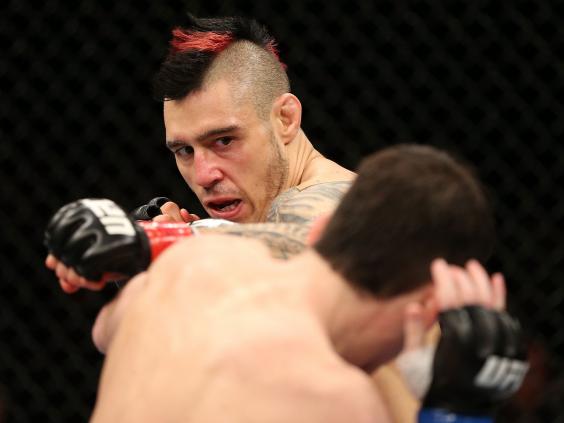 Mixed martial arts is comparable in terms of the amount of sport-specific terminology there is to learn. With sailing though, there were words I'd never even heard of before. Good examples would be 'spinnaker' and 'halyard', or my favourite so far, 'lazarette'. In terms of the safety aspects of the sport, we needed to learn how to rescue a person overboard and how to move a person on a stretcher below deck in bad weather (a lot harder that in sounds..!). But it's quite reassuring to know that everyone on all 12 boats will be going through the same training.
Levels two and four were much more about living at sea and the working patterns we'd need to adapt to. One of the major challenges with ocean racing is that the boat needs to be manned 24 hours a day. The crew therefore work in a shift pattern involving four hour and six hour blocks that have us napping regularly and working around the clock. It's one of the most exhausting things I've ever done. I find it hard to keep track of what day and what time it is, and appetite is hard to keep when the boat is ripping through waves at 45 degrees!
There have been a few humbling experiences over the last couple of months, and more to come for sure. I got an ego check on level two when I pushed myself through two nights without sleep and experienced sea sickness for the first time. Fatigue and pain I can tolerate, nausea however, is debilitating. Staying on deck so you can see the horizon, and staying hydrated is the key, along with making sure you get enough rest!
An issue that I am having to learn to manage in this circumstance is my extremely competitive nature. I want to be the best crew member I can be. I'm also a bit of a control freak and therefore I struggle to rely on teammates to work as hard as me. The result is that I often end up picking up more of the workload than I should. Working as a team is definitely one of the medicines I will get from this experience! I also had a few lessons in terms of what to eat and when. Eating too much is a killer – a full stomach is not a pleasant thing at high speeds and weird angles!
The total Clipper Race lasts for 11 months and is divided into eight legs. Some crew members are hardcore and will be completing the whole thing. Due to time constraints I will be doing just the first leg of the race, which is London to Rio over a month. Just over 5,000 miles across the Atlantic Ocean, following the trade winds. It will be an exciting adventure full of challenge and learning, laughing and crying, sunrises and sunsets, big waves and clear nights.
When I get back in October I know I will be a different person in many ways, and I'm looking forward to that personal growth. I also know that this will be the beginning of a life-long addiction, and I'll immediately be looking to re-join the race next year on a later leg. The boats will parade down the Thames on Sunday, August 30th, under Tower Bridge and towards the sea, so if you're in the area, come down and take a look. Then begins the journey across one of the most challenging oceans on the planet. I can't wait to get started!
Dan Hardy's regular UFC columns will continue whilst he is at sea. Next week, UFC 191: Johnson vs. Dodson 2
Reuse content