The north western state of Oregon is the next stop for the UFC's Octagon, as the region's largest city, Portland, hosts another exciting fight night. The flyweight division is locked down and long-reigning champion Demetrious Johnson is waiting on the emergence of his next contender from the new season of The Ultimate Fighter. Two of the division's toughest fighters have decided to move up to bantamweight and it makes sense for them to face each other in this weekend's main event. It became evident that John Lineker was too big for the flyweight class, after missing the mark four times in his career. A move to the division above, allowing him to weigh in 10 pounds heavier, made sense.
His talent and fighting style make him a real fan favourite and his nickname "Hands of Stone" gives you an idea of why. He is a short, powerful individual with fists like bowling balls. Marching forward with confidence, he plants his feet and throws bombs. He perhaps lacks some of the finesse that we usually see in the lighter divisions but he is effective nonetheless. He carries his hands at his waist, almost tempting his foe to step into the breach and risk a crack on the chin. This ruthless but proven style gives him a strength of mind that we seldom see at this high level of competition.
The man with the job of holding off his forward surge is John "The Magician" Dodson. A former flyweight title contender on two occasions, he is the last man to steal a round from the champion, Demetrious Johnson. In their first encounter Dodson sat Johnson on the canvas two times but failed to put him away and  eventually lost on both occasions by unanimous decision, in 2013 and at UFC 191 a year ago. At bantamweight he can continue his rise through the rankings and will hope to be within reach of the title in a short amount of time. Adding the well-respected John Lineker to his resume would represent a good start, having already picked up one good win since moving up, stopping Manny Gamburyan in April at UFC Fight Night: Teixeira vs. Evans in under 40 seconds.
Both standing at 5'3" and with a reach within an inch of each other, these two fighters couldn't be more evenly matched in stature. Lineker has a little more experience at 28 wins, with 13 knockouts, compared to Dodson's 18 wins, rendering half of those opponents unconscious within the allotted time. Clearly power is not an issue for either athlete but their contrasting striking styles make this match up very intriguing. With Lineker trudging forward without hesitation and swinging heavy hands, it could turn into a game of cat and mouse. 
With Dodson well-known for his lightning fast hands and rapid burst attack, he will have to be in and out before he gets clubbed with one of the 'Hands of Stone' that Lineker wields with such ferocity. Dodson could make Lineker look very slow and be able to light him up and be gone before being caught. A smart game plan would certainly utilise that speed as much as possible. The game is very simple for Lineker here though; he must pre-empt the movement of Dodson, close him down and hit him hard. 
Getting too caught up in the chase will leave him vulnerable to the strafing attack of "The Magician" and even if he does manage to maintain his consciousness, he will be soundly outpointed and become a springboard for Dodson's championship campaign. Wrestling could also come into play here, as Dodson was a two-time state champion. One danger here is that Lineker not only favours the guillotine but has also defended 70% of takedown attempts in his UFC career.
It could be a more risky tactic, unless he is having no success on the feet and sees that as his secondary option. With two of the biggest and most established camps behind them, a strong team of coaches and training partners will be helping them prepare. Lineker represents the Florida based American Top Team and Dodson settled at the Jackson-Wink academy in New Mexico. Each gym has masterminds in the sport, who are well-versed in readying top level athletes for combat.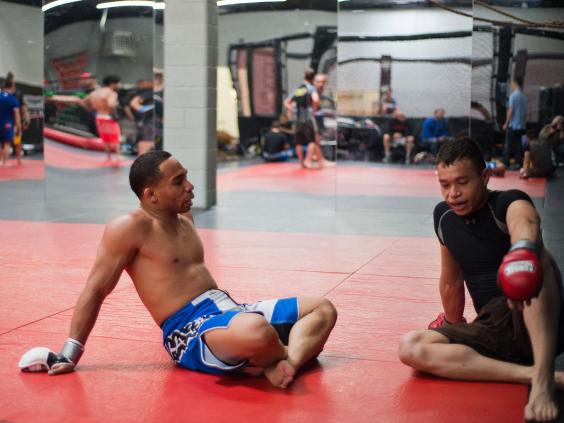 Two other teams that will be rep
resented are Nova Uniao in Rio de Janeiro, with Hacran Dias stepping in to face Andre Fili of the Californian Team Alpha Male. Both are gyms with a full professional and amateur team of excellent fighters. Nova Uniao count the likes of Jose Aldo and Renan Barao on the roster and Alpha Male is headed up by Urijah Faber and top prospect Cody Garbrandt, who is making his way towards the bantamweight king Dominick Cruz. Although a little lower down on the card, Dias vs. Fili, in my opinion, is the fight that could steal the show.
Watch UFC Fight Night: Lineker vs. Dodson live on BT Sport 2 from 2am early on Sunday 2nd October, or catch the Early Prelims live on UFC Fight Pass from 12:15am.
Reuse content