The world 'veteran' and 'legend' are thrown around all too often in the sport of Mixed Martial Arts, especially considering the sport has only existed in its modern form for less than twenty years. In my opinion there are only a few people that are deserving of such accolades, and even fewer that are still actively competing.
Dan Henderson is one of those men, and this weekend we have the privilege of seeing him back in action, as he faces Tim 'The Barbarian' Boetsch at UFC Fight Night: Boetsch vs Henderson.
Making his debut with the organization back in 1998 at UFC 17, Henderson beat both Allan Goes and Carlos Newton in one night to win the middleweight tournament. Now, seventeen years on and with thirty-nine more fights on his record, he is still in the mix with the most elite fighters in the world. It's quite astonishing really. A forty-four year old athlete, a career spanning almost two decades fighting in every major organization that has ever existed. He represented the United States in greco-roman wrestling at two Olympic games, and has held the Strikeforce and Pride world titles.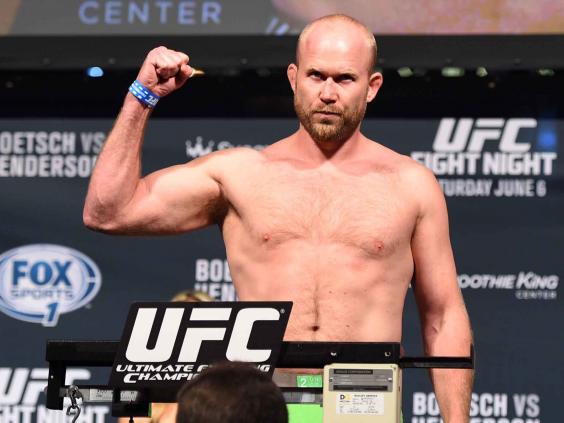 Looking at his resume you would think the UFC matchmakers would struggle to find him a worthy opponent, but the man stepping in to fight him this weekend with be set on proving his credentials. Tim 'The Barbarian' Boetsch is ten years Henderson's junior and will surely have been a fan of "Hendo" before deciding to test his own skills in the fighting arena.
Boetsch knows the gravity of this situation. He's a smart guy and will know that a win here could do big things for his own career. Beating a legend is a great way to solidify your reputation amongst the fans and UFC executives, and Dan Henderson is internationally respected. Boetsch has the power and is also a long time student of MMA pioneer, Matt Hume, who will be very familiar with Henderson, having been ringside for many of his earlier fights.
Being the younger man I would expect Boetsch to be more agile and more physically able. If that's the case then being mobile will help him avoid the huge right hand of Hendo. The weapon, known as the H-Bomb among fans, has sent many men crashing to the canvas over the years. "The Barbarian" will also have a more rounded skill set if the fight is contested on the feet, so using that to his advantage would be wise.
Determined to continue fighting, at least for a short while longer, Hendo could do with a big win. He has been bested by younger, more dynamic fighters in recent fights, and needs to control the fight from the get-go to slow Boetsch down. I can't help but see this playing out at boxing range, with Hendo tying him up with clinch work and using dirty boxing inside to wear on him.
This is the opportunity that Boetsch needs right now. The middleweight division has never been more competitive, so to stand out from the crowd you have to do something pretty special. Beating a legend would be a great place to start, but there is a reason Henderson is still around..he is still a very dangerous guy, and with his wealth of experience he is a real force to be reckoned with.
Watch UFC Fight Night: Boetsch vs. Henderson on BT Sport 1 from 1am on the morning of Sunday, June 7, or catch the Early Prelims from midnight exclusively on UFC Fight Pass
Reuse content