This weekend a veteran of the sport and a young, rising prospect will square off in this weekend's main event in Brazil. They will be fighting for a foothold in the top 10 of the middleweight division. 
Vitor "The Phenom" Belfort is a former UFC champion and has been a top contender in the UFC for many years. After bursting onto the scene at 18 years old, Belfort was an athlete among fighters. Naturally gifted with both speed and power, many of his opponents were simply outclassed by a younger, more ferocious competitor, who was already a mixed martial artist before most fighters were mixing their martial arts.
He made his debut at UFC 12 and in the old tournament format of that event, he stopped two opponents, both in the first round, to claim the heavyweight tournament belt. That was 20 years ago, and he has been a mainstay on the UFC roster for most of the last two decades. 
After a drop to middleweight he began climbing the rankings again and with three knockouts in a row - against current middleweight champion Michael Bisping, Luke Rockhold and Dan Henderson - he found himself across the Octagon from then champion, Chris Weidman at UFC 187 in May 2015. It felt like this would be his last title attempt and Father Time seemed to be as much of an opponent as did Weidman.
"The Phenom" is not ready to hang up his gloves though, and having only lost to top-flight opposition he is still confident that a win streak will get him one more shot at the gold. Standing in his way will be a hot prospect with heavy hands and the only person sitting below Vitor in the top 10. 
Kelvin Gastelum won Season 17 of The Ultimate Fighter at middleweight, with an upset victory over show favourite, Uriah Hall. He then moved down to welterweight so as not to be undersized in a division full of taller and more rangy fighters. In his following few fights he would struggle with the weight and be forced to step back up to 185lbs.
In his last outing, in December, he faced Tim Kennedy at UFC 206. Kennedy is one of the bigger athletes in the division and Gastelum dispatched him in impressive fashion. This bout is the biggest opportunity Gastelum has been offered so far in his UFC career. Belfort is one of the figureheads of the sport and a win over such a high profile veteran, as well as a higher ranked fighter, will do wonders for his progression. Belfort still has all of the tools to stop any middleweight in the world. His fast hands and pinpoint accurate striking have put him on so many highlight reels that he is one of the most familiar faces in mixed martial arts.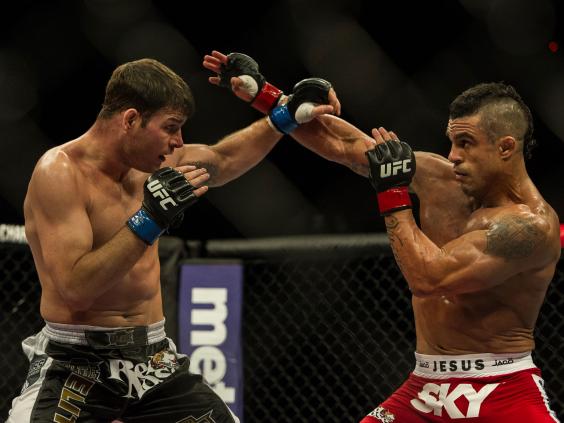 Having already been a champion, and owning wins over greats like Dan Henderson, Michael Bisping and Rich Franklin, Belfort could retire now and have achieved more than most. A future Hall-of-Famer, Vitor has a lot to lose in this bout, not only putting his record on the line and the future of his career, but also offering Gastelum an opportunity to make a name for himself off the back of Belfort's notoriety. Kelvin is a risk-taker with as much potential as anyone in the business, but he will find himself undersized at 5'9", when most in the division are over six-foot in height.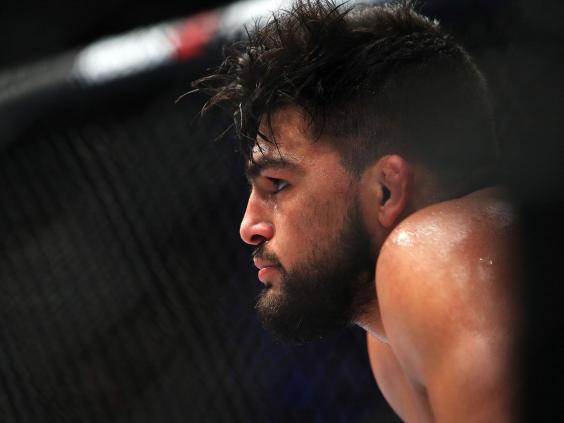 This shorter stature allows for a more powerful frame and with him no longer having to worry about making the welterweight limit, I feel we will see his true potential come fight time. There is no doubt that he has everything to gain in this bout and a loss to a great like Belfort wouldn't be a huge setback at this point in time. Belfort on the other hand, will be further derailed by a loss to a young prospect and climbing his way back into title talks from outside the top 10 may be too much at this advanced stage in his athletic career. For Belfort to keep the dream of being a champion again alive, he has to win this bout, and many will say that it has to be impressive with the division being deeper than ever before. 
That won't be easy against a hungry young scrapper like Gastelum, but Belfort will have the home-turf advantage and the Brazilian fans are so passionate that some fighters can be unnerved if they aren't prepared for the overwhelming support. 
 Watch UFC Fight Night: Belfort vs Gastelum live on BT Sport 2 from 1am GMT on the morning of Sunday 12th March, or catch the Early Prelims exclusively on UFC Fight Pass from midnight on Saturday.

Reuse content