It's 16 August 2016. A thick fog has settled on the hills surrounding Loch Leven in Scotland on the day of my first open water swim. I'm standing on the slate shore, with around 100 other people in wetsuits, switching my gaze between the black water and the burial island 500m away, where the MacDonald clan of Glencoe laid their dead to rest. The clock hits midday and a woman signals. We make our way to the edge and, bracing against the cold, walk in up to our necks ready for the 1500m Glencoe Open Water Swim.
Long before open water swimming became an Olympic sport in 2008, people swam outdoors for recreation and relaxation. (As my friend Carole, who is also doing the Glencoe swim, says, "It's just swimming – but outdoors.") After the Second World War, though, swimming outdoors lost its appeal as fancy new leisure centres cropped up around the country and people started flying to foreign resorts. A generation of British swimmers associate going for a dip with chlorine pools and wave machines.
However, in the last decade or so, the tide has turned. Lidos left to decay around the country have sprung back to life, including Brockwell Park in London, Tinside in Plymouth and Ynysangharad in Wales. Even more recently, swimmers have been returning to wild watering holes. Membership of the Outdoor Swimming Society in the UK has risen from 600 to 30,000 since it was established a decade ago. As extreme sports like triathlons and Iron Man competitions have grown, open water swimming clubs have started up to train and support swimmers as they head outdoors.
"It's about going on a journey," Anna Roscoe, who organised the Glencoe Open Water Swim for the first time in 2015, tells me. "Outdoors, you go on a journey in the water, surrounded by the scenery, in a way that you can't in a pool."
A swimming instructor by trade, Anna first swam in open water in Lake Windermere near her home in Chorlton, Greater Manchester. When she learned that a local swimming club at Glencoe, where she had worked for several summers and after university, wanted to start a swim, she offered to help. Anna spoke to Glencoe locals and found that, while there were already swimming events in the area, like an Iron Man competition, there were no non-competitive outdoor swims with an emphasis on participation over prizes. The first swim went ahead with a bit of help from the water sports centre and sponsorship from Discover Glencoe, a tourist board, and local pub, the Clachaig Inn.
Eighty people swam at Glencoe last year, despite what Anna describes as miserable conditions. This year 200 signed up, but some dropped out when the weather turned bad again. The most popular distance by far was 5000m, a gruelling two-hours or so in the water for most people.
My 1500m group is also popular. As we bob around in our regulation orange swimming caps, I see mothers and daughters in matching wetsuits, men with GoPros strapped to their heads, and some brave older women in swimming costumes, their skin dappled and red with cold under the surface.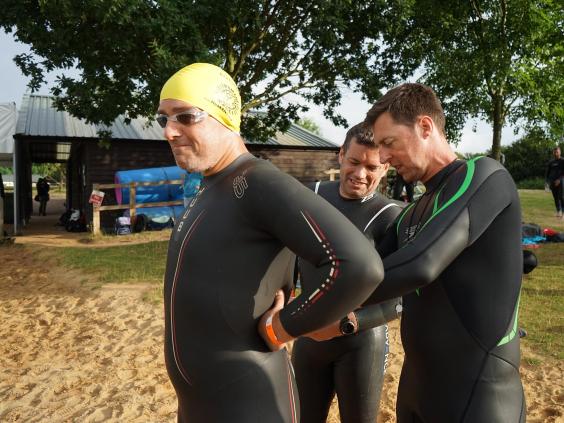 I hold open the neck of my wetsuit and let the freezing water pour in through the top, gasping as it rushes past my crotch and out the legs at the bottom. The technique, called flushing, takes a bit of guts in cold water but creates a layer of water between skin and suit that quickly warms up and keeps heat in the body. I learned it from Dan Bullock, a swimming instructor who had a hand in designing the Speedo suit I am wearing.
Dan did his first triathlon in 1998 when he was looking for a new challenge to focus his mind after the death of his father. Dan and his sister had both swum competitively as teenagers, encouraged by their mum, Kay, who still comes to the triathlon training they run every Saturday morning to hand out home-made bread pudding and cups of tea after the swim.
Swim for Tri started as an eight-week course for triathletes that Dan and Keeley developed together. A little more than a decade later and it is a full time business fitting wetsuits, teaching swimmers and training people for triathlons.
I first meet Keeley by the pool at Nuffield Sports Centre in Shoreditch several weeks before the Glencoe swim. She passes me a bag containing an entry-level Speedo wetsuit. I've never seen one up close and am amazed at the thickness of the material and how heavy it is. Keeley shows me how to squeeze myself into it, feet first, then pull it up in wrinkles, inch by inch, until it fits round the bum.
After ten minutes huffing and puffing I'm convinced it won't fit. Then finally it's on my bottom half and the struggle starts again with the arms, wrinkle by painstaking wrinkle, until it's in place around my armpits. I'm exhausted. My hands and feet feel like balloons squeezed out of tubes. I am incredulous when Keeley zips me up, pinches an inch or two of neoprene at the back and says in her no-nonsense cockney: "I reckon we could have got you in a small."
Saturday morning, 6am, a time I had up to now only known from the other end of the night. I am waiting for a lift at Upminster station, clutching a Speedo bag containing a small, elite wetsuit.
Marc Daniels, an architect, has been going to Dan and Keeley's Saturday morning training sessions at Stubbers in Essex since April to train for what he calls "the midlife crisis group" (that's ages 41-45) at the London Tri, which is just a week away when we meet.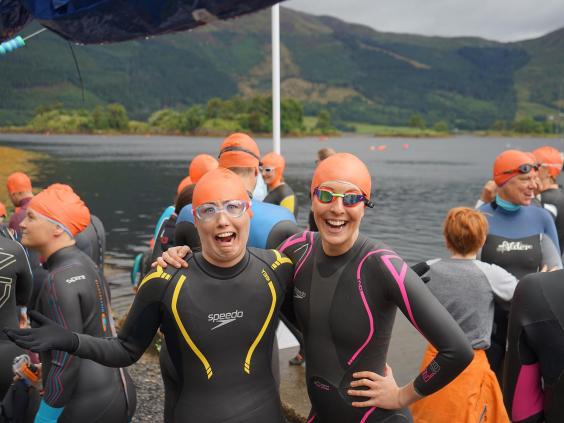 "My first open water swim was at Leeds Castle, 1500m. It was awful. I was comfortably last out of the water," he says.
So why would he, why would anyone, do it? "It's about the challenge," Marc says. "People want to do more and more extreme things. Once people would do triathlons, now that's not enough. They want to do Iron Man or extreme triathlons. From that you get Ottilo, where people swim to and then run across an archipelago," he says.
I imagine the burial island in Loch Leven rising out of the black water; and still wonder why I am doing this.
Thankfully, Swim for Tri is thoroughly unintimidating. Most of the people in my skills class are training for the same triathlon as Marc. We practise putting on our wetsuits together, flushing water through the top to get the insulating layer, before swimming out to the centre of the lake. Well, I say swimming. I'm a strong swimmer – but the wetsuit feels like it is crushing my lungs and the fresh water of the lake is green and opaque. I thrash my way to the centre and let the wetsuit hold me afloat, gasping for air. "How was that?" Maria, the instructor, says brightly.
"Hard," several people splutter. Over the next hour, she teaches us some tricks. I learn to "sight" a tree or other landmark in the distance and to adapt my stroke to look ahead every now and then to make sure I am in a straight line. I learn to breathe out continuously when my head is underwater. I start to calm down. Then, whoosh, just as I've nailed the breathing, I freak out that I might be about to get eaten alive by a terrifying lake creature and start flailing towards Maria.
"Can we talk about fish?" I ask when I finally reach her.
"Oh, they're here," she says. "But they don't want anything to do with you!"
Even Dan, a triathlon and Iron Man veteran, told me he sometimes gets the fear. "It took me a year to enjoy swimming in open water," he says, inbetween cheering swimmers on from the shore. "Even now, I don't like to swim at sea. In lakes and rivers, you can at least be partly in control of your environment but at sea, it's a whole different thing."
In Scotland, I draw confidence from the wetsuit Dan helped make. It's made from a super-buoyant neoprene, so I feel warm and float high in the water. A corset-like pattern at the waist supports me at the core. Keeley was right, the small fits me better, hugging my skin and stretching with each stroke. But no suit can help me get my face in the icy water as I set out towards the island, doggy paddling as I adapt to the surroundings.
I take my cues from the swimmers around me and concentrate on deep breaths. Round the first buoy, I swap smiles with a stranger as we start swimming up the side of the island, which is thick with dark green fern and small trees. The current sweeps us both off towards the second buoy. The last stretch, fighting against the waves as they head towards the rocks, is tougher. But I latch onto a swimmer with a steady stroke and follow their lead, round a sailing boat, past the final buoy, and back onto the shore.
Later, at the Clachaig Inn, I'm not the only swimmer warming up with a Scotch. Alison and Peter Brodie travelled from North Yorkshire to do the 1500m and the 3000m respectively after they heard of the swim through a friend. They're all smiles and say they can't wait to do it again.
"It's about freedom," Alison says. "No lanes, no sides. You realise that you're in the water and it's just you out there and you have to do it for yourself. I could just see the silver bubbles through my hands in the dark water. It was beautiful."
I get a text from Marc asking how it went and send him a picture of me on the shore looking soggy and exhausted: "I loved it!"
"What's next?" he asks.
"Writing the feature?" I text back. "What about you?"
"I've got Chateau de Chantilly Olympic Tri in two weeks, another in Essex in September and a sprint tri in a pool. Oh, and there is a Aquathlon at the Serpentine on 31 August. 500m swim and a 5k run. I may do that too."
I hope my midlife crisis is like Marc's midlife crisis, I think. Then another message comes through with a link to sign up for the Aquathlon. I remember the cold slate tiles of the shore of Loch Leven under my feet, the sting of the icy water on my face and the courage I was just starting to feel as I fought my fears and swam out into the open water. I click the link.
Hazel wore a Speedo Elite E16 Women's Wetsuit (speedostore.co.uk)
Swim for Tri offer wetsuit fittings, swimming lessons and triathlon training (swimfortri.co.uk, 0207 247 2998)