"I am more than a boxing glove," says Anthony Ogogo. "I am more than a black eye." He is sitting in Repton Boxing Club, which is all about boxing gloves and all about black eyes. The slogan on the wall says "No Guts, No Glory". Sir Henry Cooper celebrated his 75th birthday here.
The club lies in Shoreditch, in the heart of the old East End. It was a favourite of the Krays and on the wall is a poster for a show featuring Ronnie, Reggie and their brother, Charlie. On the undercard was Billy "Knuckle" Rushmoor, who the poster announces "sadly killed his last opponent". He was based in Broadmoor.
It is probably fair to say that Billy "Knuckles" Rushmoor and Anthony Ogogo would not have got on. The 25-year-old middleweight who will feature on the undercard of the most high-profile boxing show of the year – Floyd Mayweather's encounter with Marcos Maidana on 3 May in Las Vegas – is nobody's idea of a typical fighter.
Perhaps it is because he did not have a typical boxer's upbringing. Lowestoft is famous for being the most easterly point in the British Isles, for its herring fleet and for being Benjamin Britten's birthplace but it is not the Bronx, it is not Bethnal Green.
"It hindered me in some ways because there was nobody really to spar with," says Ogogo. "But running by myself on the seafront made me very self-reliant. I am quite happy being the odd one out."
He had done a bit of acting at school and signed up to a version of Big Brother in which a group of talented 18-21-year-olds – artists, fashion designers, sportsmen – were mentored by celebrities who ranged from Ian Wright to the art critic Brian Sewell.
One of the tasks required Anthony to put on women's clothing. "I have never seen a boxer put on a dress with such relish," came Sewell's fruity tones as he watched from the studio. He has posed naked, except for a well-positioned boxing glove, for the gay lifestyle magazine, Attitude and done some modelling, although admits his girlfriend chooses most of his clothes.
"Boxers aren't always portrayed in the media as well as they should be and I wanted to challenge that," says Ogogo. "All boxers aren't thick, all boxers aren't school dropouts, all boxers don't get arrested for beating up their wives.
"They don't tend to interview well because you mainly see them interviewed in the week of the fight when they are hungry, stressed and wound up. Their tolerance is low and all they want to do is fight. Then, they are interviewed after the fight when they are hurt. But I will tell you one thing about boxing; it is the only sport where the contestants go in hating each other and then collapse into each other's arms. In other sports it's the other way round.
"But I wanted to do different stuff, to show I am more than a pair of boxing gloves, more than a black eye. Once I am done with this, there will be other worlds to conquer. I have dabbled in acting and that's why I like boxing, it brings out the showman in me. I enjoy having a camera in the ring. I enjoy being centre stage when it's all about you. That's why I went for boxing rather than football."
Alan Hudson, the former Chelsea and England midfielder, called his autobiography The Working Man's Ballet but the phrase probably belongs to boxing rather than football. "You watch Muhammad Ali," says Ogogo. "That was ballet; that was poetry." Above him, is a poster from 1974 advertising Ali's "Rumble in the Jungle" with George Foreman. Startlingly, it reveals that boxing's greatest fight was scheduled for a Tuesday.
Ali, like all great boxers, used arrogance as a shield. "I am not God," Roberto Duran once remarked, "but I am something similar."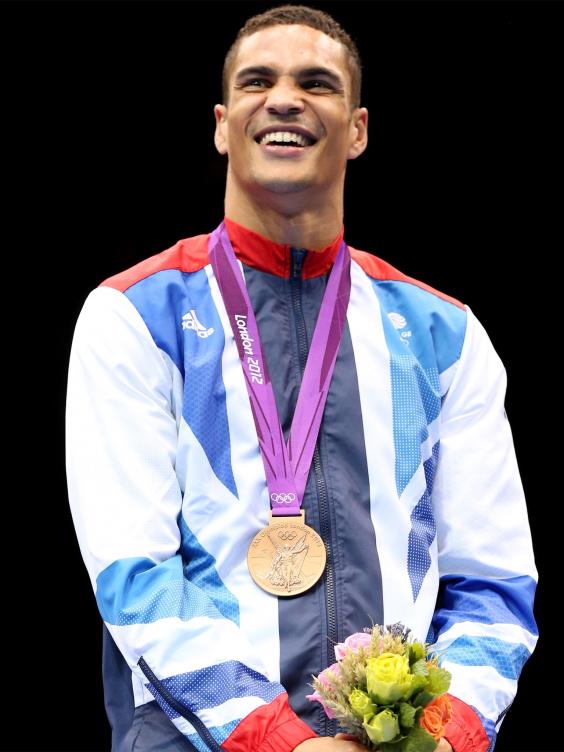 Ogogo doesn't compare himself to God and he has had just five professional fights but he possesses the kind of self-confidence that will take him a very long way. There are not many fighters, perhaps not even Duran, who would have scheduled an advertising photo shoot two days after a bout.
On the Saturday he fought, or rather dismissed, Greg O'Neill in Glasgow; now he was promoting MaxiNutrition drinks and Promax recovery bars. There does not seem to be a lot of recovering to be done. There is a slight mark on the side of his lip, otherwise Ogogo is entirely unbruised.
"I want to become world champion, I want to become one of the best middleweights we have ever had in this country," he says once the camera lights have been turned off. "If I couldn't beat someone of the calibre I faced in Glasgow, I might as well pack in now."
There was a time when Ogogo wanted to pack it all in and that time was just before the London Olympics. His mum, Teresa, had not wanted her son to box. "I didn't tell her for the first two or three months I started going to a boxing gym. I would tell her I was going round to my friend Adam's house to go on his PlayStation," he says.
"Then, one day, I came home with a gumshield in my pocket and mum saw me trying to stuff a top with blood on it in the washing machine. She told me I wasn't boxing any more. She banned me for one session before relenting and then she took me to the gym herself. Mum ended up watching through her fingers but at the end she had to admit I was quite good.
"She was in a coma for the whole of the Olympics. She'd suffered a brain haemorrhage six weeks before the opening ceremony and, when I heard, I just wanted to pull out of the Games. I wanted to be an Olympic champion desperately but the person I loved more than anything in the world was potentially on her deathbed at Addenbrooke's hospital in Cambridge.
"My sisters rallied round and guilt-tripped me into doing it, telling me that it is what our mum would have wanted. For three weeks I hadn't lifted a finger. Then my coach rang and said: 'I know your mum's really bad but I still think we should go'.
"We went to a training camp in France, which I hated every second of. We came back and the Olympics started the next week. I don't look on the Olympics with any fondness. I won a medal, that was nice, but it was the worst time of my life. It was a blur."
The colour of the medal was bronze. Had Ogogo trained properly, it might have been something else. His supreme moment came earlier, in the round of 16, where he faced the world No 1, the Ukrainian Evhen Khytrov, They were level on points and it came down to the judges pressing a red or blue button in favour of the man they thought had deserved victory more. They chose Ogogo.
The victory over Khytrov, however tight, convinced Ogogo that he had it in him to become an Olympic champion but, if it was a dream, he decided not to pursue it in Rio de Janeiro in 2016. He signed a professional contract with Golden Boy Promotions, which has seen him on to the undercard of the Mayweather show. "There are two reasons why I decided not to go to Rio," Ogogo says. "The main one is that, though the atmosphere in the arena was incredible during the Olympics, 95 per cent of amateur boxing isn't like that. The bouts are staged in sports halls not much bigger than this gym and, usually, with fewer people.
"I have been to Luxembourg, I have been to Liechtenstein, to every small, weird country you can think of, for amateur boxing and it is nothing like the Olympics. If I went to Brazil, my fights would be televised at three in the morning over here from half-empty arenas. London was the only Olympics where every fight played to a full house.
"Also, with what happened to mum, I wondered where we would all be in four years' time. She has made a full recovery, she has exceeded everyone's expectations. But I felt I needed to do something different and do it quickly."
He has been moving pretty fast. After the Olympics, he signed up to launch himself into a swimming pool alongside Tom Daley in Splash! When Ogogo explains why, it shows an understanding of the realities of showbiz that Ant and Dec would admire.
"I did Splash! because I wanted a different audience to see me. I didn't just want boxing people to watch me. I wanted your nan, your mum, your daughter to see me. I wanted to expose myself to a new demographic." The skimpy trunks Ogogo sported also exposed rather a lot.
Ogogo is young, good-looking and very intelligent – Richard Schaefer, Golden Boy's chief executive, remarked that he is amused by the emails Anthony sends because they were so well written, so untypical of a boxer. Anthony Ogogo is more than a pair of boxing gloves. The question is how long he will need them for.
Anthony Ogogo feeds his muscles with MaxiNutrition protein when training and competing #feedyourmuscles www.maxinutrition.com
Reuse content