Ben Askren is one of the most successful and talented fighters in Mixed Martial Arts, a wrestling machine loaded with charisma, controversy, and a glistening 14-0 undefeated record. Formerly a World Champion with the American based Bellator promotion, in 2014 he signed with ONE Championship, an MMA company which is the number one fighting organisation in Asia.
Despite Askren's many accolades, from winning two NCAA wrestling titles at college, competing at the Beijing 2008 Olympic Games and having won two world titles with separate franchises, he is unlikely to ever fight in the Ultimate Fighting Championship (UFC) due to an ongoing feud with UFC President Dana White.
"I think I'm the best welterweight in the world, period," he confirmed when talking to The Independent on the phone from Roufusport gym in Milwaukee. "I definitely think it helps my career being outspoken. I speak with a different voice to most people and people like that. I think a lot of fighters are very similar in how they speak and present themselves."
Although he does not fight in the UFC, Askren's current employers ONE Championship are more popular than the American company in Asia, with a 90% market share in that continent. The 30-year-old understands the reach the company has, and the breadth of their events is quite astounding.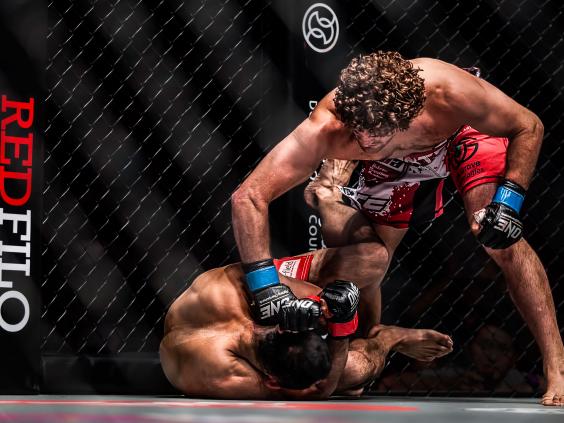 "It's huge, really big. They're number one in Asia and on every TV station. When I'm over in Singapore people stop me on the street and say 'hey you're Ben Askren!' It feels really weird because I'm over in a foreign land where I don't feel like anyone should know me but they have such a huge distribution.
"Their goal is to sign the best fighters in the world, and when they signed me they got a top ten guy everybody was talking about."
Once criticised and derided for his failure to finish fights, Askren has stopped his last four opponents, including in his first two bouts for ONE Championship. In May last year he submitted Bakhtiyar Abbasov four minutes into their contest, and followed that up by claiming the world title with a TKO round one stoppage of Nobutatsu Suzuki in August.
After over six months away from the cage, he defends his title on April 24th against Brazil's Luis Santos, a 71 fight MMA veteran riding a seven fight win streak, including six first round finishes. With both competitors enjoying early endings during their recent bouts, Askren is confident regarding his chances of victory.
"I'm going to take him down, punch him in the face a bunch of times and he's going to ask the referee to stop it.  Everything is great, fighting is my profession and it's what I do year round. I haven't fought since August 29th but I haven't taken much time off at the gym. We've got a serious training cycle coming up because Anthony Pettis has got a title fight, so everybody is at the gym working hard. I'm going to take that into my own training camp, and I'm ready to kick some butt."
Askren also works as a wrestling coach at Roufusport, and has been widely praised for his work with UFC Lightweight champion Anthony Pettis who displayed excellent wrestling during his recent defence against Gilbert Melendez. His coaching prowess has even drawn acclaim from his biggest critic in the sport.
"The guys a loudmouth, a knucklehead, I'm not a big fan of him but Ben Askren has definitely taken Anthony Pettis' wrestling to the next level," admitted Dana White in a UFC preview video.
It is indicative of just how highly rated Askren is as a coach that he is one of the key components in former WWE wrestler CM Punk's foray into the octagon. Punk is training at Roufusport, and was recently photographed in his first sparring session at the gym. Perhaps the most important fundamental for the ex professional wrestler to learn is the amateur game, and Askren is guiding him through it all.
"He's working really hard in the gym, he's there every single day and I would say he's getting a lot better. He started from scratch, so I think he knows he's got a lot of work to do, but hopefully he'll be ready for a fight later this year," he shared.
"Wrestling is such a great base for MMA that I think you're going to get more and more people who are high level wrestlers transition because it's so natural for them," Askren added.
The future of Ben Askren is a much talked about subject, with many wondering if he ever will fight for the UFC. Right now, his mindset is firmly with ONE Championship, and he clearly loves the locations he competes in, with his next bout scheduled for Manila in the Philippines.
"I've heard they have a really passionate fanbase and they pack the arenas there. It's going to be exciting to be fighting in front of a large crowd like that. Singapore had about nine thousand, and Dubai five thousand. I've heard Manila should have about 20 thousand fans and that should be fun."
Whether or not he is a UFC fighter, his opinions on the winner of the upcoming title fight rematch between Robbie Lawler and Rory MacDonald was as honest as ever.
"I'm going with Robbie, but I think I'd match up well with both of them."
And as for his long-time rival, and former UFC champion Johny Hendricks?
"I'd fight Johny in my backyard, I don't really care! Will he be a champion again? I'm not sure. I think he and Robbie Lawler are close but I think him not taking his diet and training seriously in the off-time hurt him a lot in his last fight."
Weight cutting is an MMA issue which is becoming more and more of a controversial subject, especially given a glut of high profile issues in recent months where fighters have been severely over the allocated weight and still been allowed to compete. As a man who prides himself on never having missed weight across his entire life, Askren is not happy about the current process
"It's a personal responsibility issue. You've to take care of yourself, and most wrestlers come from that background because they make weight so often, at college you probably make weight 20 times a year, and there if you don't make weight you don't fight. But in MMA you can miss weight by 10 pounds and still compete which is just stupid."
The long layoff between fights is clearly an issue with a fighter of Askren's calibre, and his ambitions for the rest of 2015 are clear in his head.
"I want to fight often as possible. I'm 30-years-old now so I'm getting a little old, and I don't feel I have a lot of time to waste between fights. ONE Championship know that so I've told them, you line up the opponents and I'll knock them down."
For more information on Ben Askren and One Championship, visit OneFC.com