The best news for Anthony Joshua on Saturday night was not his debut win, but that Wladimir Klitschko will be  retired from boxing by the time he is ready to fight for any of the versions of the world heavyweight title.
litschko made $18m (£11m) on Saturday night defending his four heavyweight championship belts in Moscow against previously unbeaten Alexander Povetkin. It was Klitschko's 15th defence of his second reign and arguably the most impressive  performance of his 64-fight career.
"He was just too good, too big and too fast," said Povetkin, who like Joshua and Klitschko won Olympic gold at super-heavyweight before turning professional. Povetkin was sent tumbling to the canvas four times in total, including three times in round seven, as he lost on points in what unexpectedly turned into an ugly mismatch.
"He was very brave and took the punches that so many men have failed to take," claimed Klitschko, who is now 37, and facing a future without threat;  he could simply fade away without  another legitimate challenger. Povetkin's pride and Klitschko's  annoying tendency to dismantle  opponents slowly, avoiding any risk, made the massacre a hard watch.
Povetkin had entered the ring as the WBA's regular champion, having won the splintered version of the world title in 2011, and because Klitschko was the WBA's super champion the regular title is now vacant, leaving David Haye as the No 1 contender. Haye, it should be remembered, had promised so much but delivered so little when he had his chance to beat Klitschko in 2011, losing on points and blaming his injured toe.
"I will sit down and look at options and make some decisions soon," said Klitschko. There is one obvious choice in Dereck Chisora, who twice prepared for Klitschko only to be denied twice when Klitschko pulled out. "Chisora is all wrong for Wlad, let's just say I was not unhappy when the fights never happened," said Manny Steward, who trained Klitschko for nearly a decade before his death last year.
Meanwhile, at the O2 Arena in London, Joshua finally ended his lengthy exile and predictably needed less than one round to finish Italy's Emanuele Leo, who had not lost previously and that meant he came to fight, not to survive. Joshua was big, muscular, stiff and suitably impressive in the only type of debut that is allowed for a heavyweight.
Inside 180 seconds Joshua, whose last few torrid amateur fights at the Olympics and before ended with slender one-point margins or even tied on points, had landed enough to turn Leo's resistance to a sprawling and desperate sideshow. Joshua, who turned professional having had about 100 fewer fights than either Klitschko or Povetkin, is a baby in heavyweight boxing terms and already has the label "golden boy" and "future people's champion" to defend when he fights again later this month in Sheffield.
The big lad is now part of a British heavyweight tradition and we will soon find out if he is as flawed as Audley Harrison, as good as Lennox Lewis or as popular as Frank Bruno. It is difficult to predict the final destination of a young inexperienced heavyweight but Joshua has mercifully arrived in a modern  heavyweight world where there are 25 active but faded men that have each fought for a version of the world title. He can learn a trade, one he has so far only glimpsed, by feeding off the shattered victims that Wladimir and his brother, Vitali, have wrecked in the last 10 years.
There was more WBA confusion on the Joshua undercard when Scott Quigg, a tidy young boxer from Bury, became one of seven men to win a fight for a version of the WBA's super bantamweight title in the last three years. Quigg upgraded from interim to regular champion with a draw against Cuba's Yoandris Salinas. On a night of heavyweights in two big fight cities, it was left to a nifty Cuban and Quigg to give us a fight.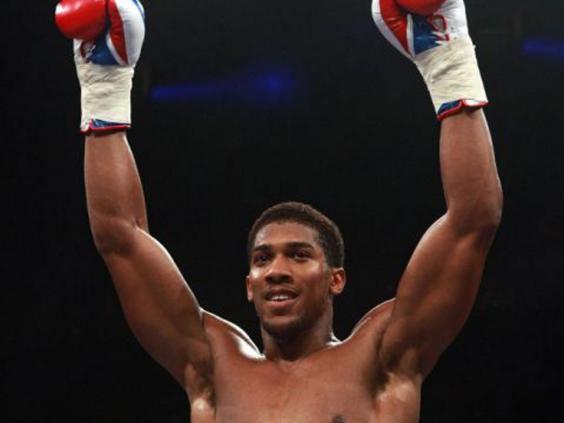 Reuse content