David Haye will face Tyson Fury in the New Year after the postponed match was rescheduled for February 8 in Manchester, the former heavyweight world champion's company Hayemaker Promotions has confirmed.
The pair were due to collide this Saturday at the Phones4U Arena until Haye suffered a gash above his left eyebrow which required six stitches and forced him to withdraw from the bout.
Questions immediately rose as to whether both parties would want to rearrange the fight, although it is said that both camps have worked swiftly to name the new date.
 "News of the date in February is music to my ears," said Haye. "I was absolutely devastated this weekend, and felt as though I'd let a lot of people down. But now, with this new date, I couldn't be happier.
"My fans will still get the chance to see what they all wanted to see this weekend - they'll get to see Tyson Fury sparked out in a spectacular fashion."
Fury and his team had led the criticism of Haye as to why he was still sparring just eight days before the pay-per-view fight, with the cut being suffered in his final sparring session when Filip Hrgovic caught Haye with his right elbow.
The former two-weight world champion, who cleaned-up the cruiserweight division for making his hotly anticipated move up to heavyweight, insisted that everything was going to plan, and that his schedule had him sparring until the week before the clash.
"Sparring eight days before a fight is nothing new or unusual," he added. "I've done this before fights in the past and never had an issue.
"Also, look at the history books. George Foreman sparred and got cut eight days before his 'Rumble in the Jungle' with Muhammad Ali - causing a six-week postponement - and Sugar Ray Leonard sparred and got knocked down five days before his fight with Marvin Hagler, but still managed to go on and win.
"These things sometimes happen in training, and to suggest I decided against wearing a head-guard, or that the cut was premeditated, shows a clear lack of knowledge and understanding."
Fury meanwhile is due to make his kickboxing debut as part of his commitments to his Belgian sponsors, although whether he will take part in such a fight before he meets Haye in February is now unclear.
The Manchester-born boxer could potentially face another opponent in the squared circle before then, although it would be unlikely with such little preparation time afterwards for his Haye meeting.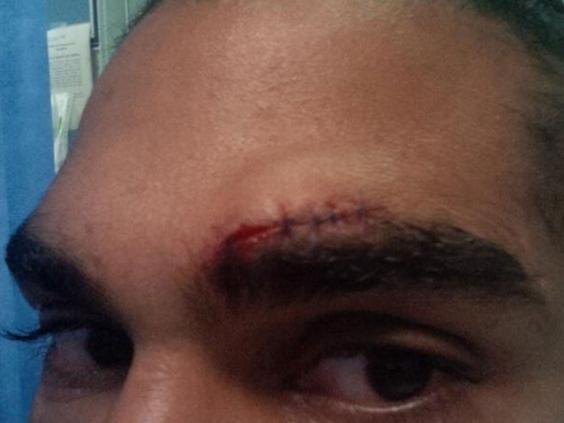 Reuse content