George Groves had reiterated his devastation at the way his super-middleweight title shot against Carl Froch on Saturday night came to an end after referee Howard Foster called an end to the fight in the ninth round in what was a highly controversial finish.
Groves not only rocked the defending champion but the boxing world as a whole when he floored Froch in the opening round, becoming just the second man to send the Nottingham fighter to the canvas in his professional career.
Groves was the dominant fighter throughout the early stages, before Froch began to work his way back into the bout as he re-grouped from the early setback.
London-born Groves took the unusual approach of telling his opponent his tactics before the fight, and he displayed them for everyone to see on the night with a devastating accuracy. But when Froch went on the attack midway through the ninth, Foster leapt in to stop the fight as he deemed Groves was no longer in a position to defend himself – much to the heartbreak of the 25-year-old and the near 20,000-strong crowd in attendance that were witnessing one of the greatest British fights of all time.
"The fight right up until the point of the stoppage was going exactly how I knew it would," said Groves. "I gave some bold predictions before the fight, I even went as far as telling Mr Froch how the first three rounds were going to go.
"It was even worse than he could possibly imagine, being put over in the first round. He had no success, no success at all throughout the whole fight. And the first time he landed a couple of shots, at the same time I was still defending, making him miss and punching back, the referee made a horrendous decision and jumped in and stopped the fight. I'm bitterly disappointed."
With the decision proving hugely unpopular with a crowd that booed the younger boxer to the ring only to applaud and cheer him out of it, Foster has come in for criticism for what many have claimed was a premature ending, while Groves also believes that Froch was allowed to get away with a number of late punches during the fight.
"I've gone back, I've watched the tapes. It was a terrible, terrible, decision," he lambasted. "At no point was I on shaky legs, my head was clear. The referee just had a terrible night.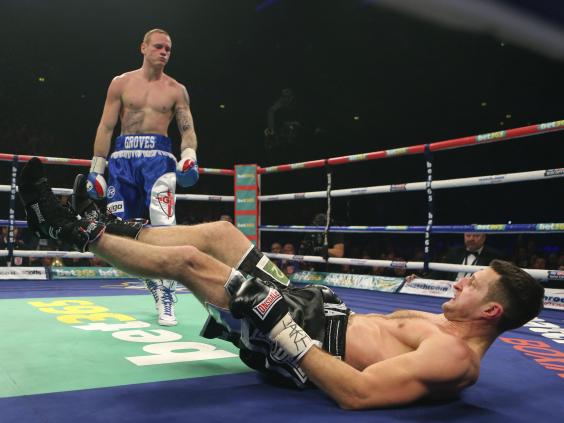 "Carl for all his great attributes, the best thing he does is take punches. That's the only thing he can take away from that fight in my opinion. He crosses his legs when he attacks, he leaves big gaping defensive errors. In the first round he had a cumbersome attack and he walked straight onto a right hand and that was it, he got put over.
"(In) Round 6 I landed double figures, heavy heavy, shots, consecutively with no reply. I was winning the rounds clearly, no one would argue that.
"He looked like Bambi in headlights, he was stunned, didn't know what to expect.
"I wasn't in a desperate place, we had some fundamental points that we wanted to bring up at the rules meeting. And one was that we wanted to work on the inside, much like Andre Ward did."
"In boxing you sometimes get up close, your arm gets tangled up and you can work the other arm, we were happy to do that.  I think they thought that was all just part of our game plan, that I was pretending. But I knew I could control him on the inside because he can't fight on the inside.
"So each time one of my arms was taken I was there working away with the other hand, the referee would stay stop and I would get hit on the break, which is a foul. To the point where I was letting Carl Froch hit me because it was that blatant, I thought how many warnings can the referee give him.  At some point he's going to have to take a point off and then he'll be in trouble and get disqualified."
Groves continued with his criticism of Foster's decision, claiming that the fight was still going exactly to how he had planned with three rounds remaining upon the completion of the ninth. However, the bout would not reach that point as Foster jumped in to save what he saw as a defenceless Groves.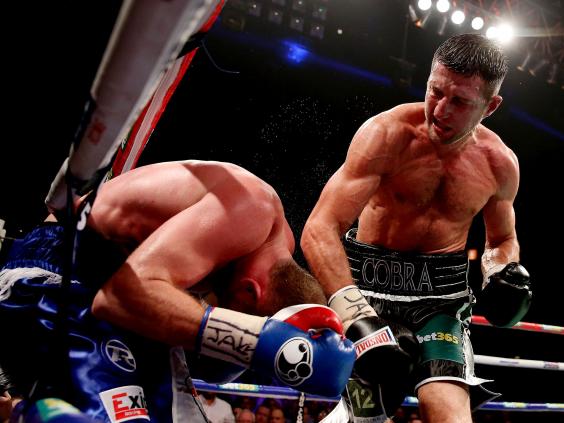 "The referee is supposed to stop the fight when you're in a dangerous position and can't protect yourself. If I'm making the guy miss and I'm still firing back that means I'm still conscious that I'm in the fight and that I'm doing the right things. Carl Froch was in my opinion on his last legs and emptying the tank. And I was happy to let him punch away and miss the majority of his punches because I had three rounds to go after that and that was when I planned to really step it up."
"To win over a boxing crowd, that's the ultimate goal and that's the only thing I can really take from this fight as a consolation."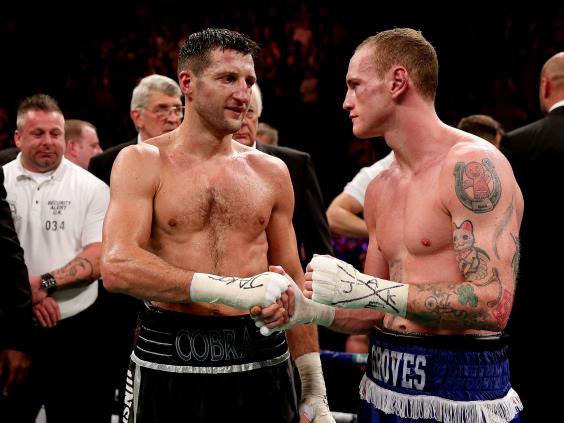 "After the fight, I didn't blame Carl Froch, I said it was a terrible decision, it's unjust, but I'm happy to shake his hand. He wasn't happy to shake my hand, he told me words that I can't repeat on TV.  And afterwards after my trainer went over and said you need to tell your fella to behave now, he needs to be a little more gracious in this win. He came over and we spoke, but he desperately tried to justify the win and I think that's another reason why people were booing him."
Meanwhile, former world champion Amir Khan was in full support of Groves, admitting that in his eyes the fight was stopped prematurely and that he had Groves ahead as a clear leader.
"I gave most of the rounds to Groves, I thought he was winning the fight with that long jab," explained Khan. "He was catching Carl coming in every time and in the first round when he put him down with that right hand, it was an amazing shot. Carl was very lucky the bell went, if the bell hadn't gone I think the fight would probably have been stopped because he was off his feet and he was really gone.
"When the referee did stop the fight, George got hit with two good shots, but his feet were still solid, he was still strong, he was still defending himself at the same time. I don't think he should have stopped the fight, there were two world titles on the line.
"Sometimes it's a good thing that the referee stops the fight because you always have another day, but I really believe the fight at the weekend, between Groves and Froch should not have been stopped, it was just a bit too early."
The full interview with George Groves and Amir Khan will be on Boxing Tonight tomorrow on BT Sport 1 at 8pm
Reuse content