Perhaps Tyson Fury's greatest gift is to persuade the neutral to stand in Dereck Chisora's corner when they meet in Manchester on Saturday night.
Chisora's charge sheet includes assaulting his girlfriend, possessing weapons, assaulting police officers, slapping Vitali Klitschko across the face during a press conference and brawling with David Haye at another, for which he had his boxing licence withdrawn.
So of what character must Fury be to make Chisora appear a choirboy by comparison?
Full marks to my colleague Alan Hubbard for confronting Fury at last week's head-to-head, asking why it was that he could not open his mouth without spilling sewage, and this in front of children.
Fury said he that does what he wants. Get you, Tyson. His message was laden with profanities, expressed with added vehemence to make his puerile points. Hubbard could see it was pointless to press the case. Had he had the will he would have liked to broaden the conversation to embrace the matter at hand: the eliminator with Chisora that books the winner's passage to meet the WBO gloves of Wladimir Klitschko.
Klitschko is, of course, a "pussy'" in the lingua franca of Fury, a terrified wimp on the run from the greatest fighter of this generation. This is the grandest delusion of all, that Fury, in his own tiny mind, is worthy of mention in the same sentence as the great Wladimir. Fury can fight all right. He's a tough lad, loves a rumble, would take on all-comers on the same night. But fighting isn't boxing, a subtle distinction way over Fury's primitive head.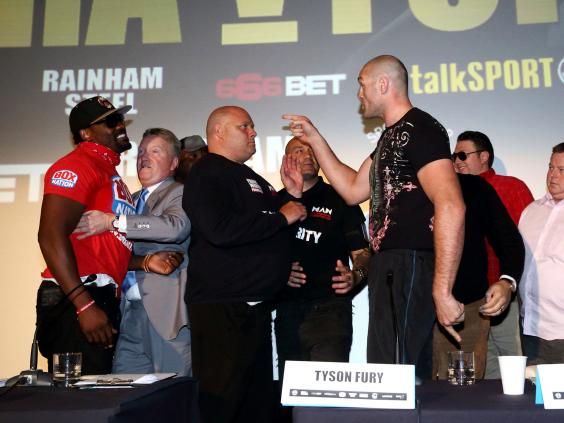 Boxing is a sport. The idea is to win. Not to kill. That death sometimes attends the pursuit is all the more reason to respect the bloke in the opposite corner. The idea is not to smash the skull of the opponent, not to maim or to cripple, but to triumph when the final bell sounds, to win by skill and endeavour, not brute force. Of course, pain and suffering are the inevitable consequences of combat but in the ring there is a civilising component governed by rules.
To be a boxer a man must acknowledge and accept the rules of the game. Respect lies at boxing's noble core for it also acknowledges the sacrifices made by the other. We see a lot of enmity before a contest but it is hard to sustain hatred for a beaten man.
No one knows more than the boxer the sacrifice, effort, work, dedication etc invested in this professional life. Twelve rounds taking lumps out of each other has a funny way of inducing sympathy for the vanquished. When you stare into defeated eyes you know just how much a man has given and that understanding melts the hardest hearts.
Fury made no one laugh the other day, only cringe in desperate embarrassment for him and those who stand at his side. The British Boxing Board of Control has, at its own glacial pace, called him to answer for this obscene pantomime at a meeting in August. The very least it should do is withdraw his licence to box. Or invite Klitschko to take the hearing. That would be a lesson I'd pay to see administered.
First of all Klitschko would explain in any one of five languages that it is not for the individual to pass judgement on his own abilities but for others to decide if we are good, bad or indifferent. To proclaim ourselves the best there has ever been is not worth the breath expended since it locks us into the self-referential argument from which there is no escape. We all see top men when we look in the mirror. But if another makes the claim on our behalf then that is an entirely different matter and might prompt the rest in the room to pay attention.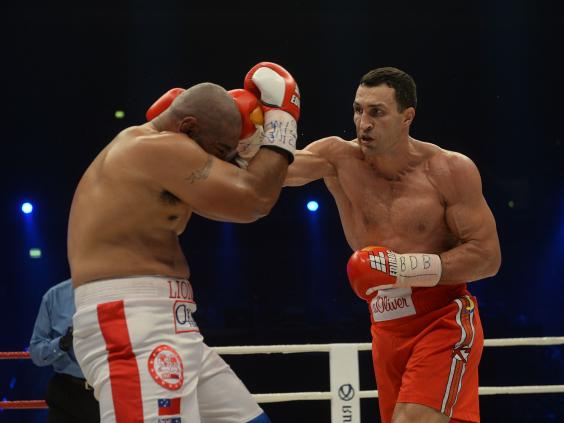 Looking at the merit of this contest, it is a reflection of the state of the heavyweight game that either Chisora or Fury might gain entry to a world championship contest. Klitschko shares top billing with the great figures of the past, and would have troubled a few.
Chisora fought the elder Klitschko, who never had his brother's range or talent, but was hard as tempered steel. Chisora looked OK that night but was exposed by the rapier fists of David Haye at Upton Park two years ago as a trier of limited talent.
It might be that Fury has the edge again on Saturday but there is nothing in his record to suggest he would fare any better in the highest class. I hope he gets his wish to meet Klitschko so that he might learn first-hand the difference between fighting and boxing, and discover what it takes to be boxer.