British UFC welterweight and UFC commentator, Dan Hardy, takes an in-depth look at the career of Brad 'One Punch' Pickett as the trilby wearing Londoner prepares for his flyweight bout against Chico 'The King' Camus this weekend.
Since making his flyweight debut back in March of 2014, Brad Pickett has added a win and a loss to his record. Both decisions were hard fought and unanimous, firstly a win against Neil Seery in London, who was a late replacement for Ian McCall. The second was a loss in Dublin four months later, when the bout with McCall was rescheduled. Being fairly new to the weight class Pickett will now have the opportunity to welcome another newcomer to flyweight. Hoping to tip the balance of his flyweight record into the positive, he will need to beat Chico 'The King' Camus.
At 36 years of age Pickett will be looking for a swift rise through the ranks of the flyweight division, to face Demetrious 'Mighty Mouse' Johnson. Pickett, better known as 'One Punch', is one of only two men to have beaten the current champion. With the recent lack of challengers at flyweight, he decided to drop the additional ten pounds to test 'Mighty Mouse' once more, in the hope on getting his hands on a UFC title. His opponent Camus, has clearly had a similar idea and will make his flyweight debut against Pickett.
Training out of the legendary American Top Team in Florida, the London native is constantly surrounded by world class talent. This shows in his fights, with eight performance bonuses since his WEC debut back in December of 2009. His wins come in a variety of forms. Obviously with a moniker like 'One Punch' you would expect plenty of knockouts, and you'd be right, but it's his under-estimated ground game that often gets the finish. Get on UFC Fight Pass and watch his bout with Yves Jabouin. I was on this card a couple of years ago and remember watching as I warmed up for my bout.
Pickett delivered a thunderous punch to Jabouin and we all knew immediately that I'd have to do something pretty special to beat it for the knockout bonus. His boxing-heavy, high pressure style can be suffocating, often persuading his opponent to initiate a ground game looking for a brief respite. If they leave their arm or neck unguarded though, it could be an early night, with ten of twenty-four wins being by submission. I have a feeling that his fight against Camus will be a striking war, with Pickett looking to score takedowns to keep his opponent guessing.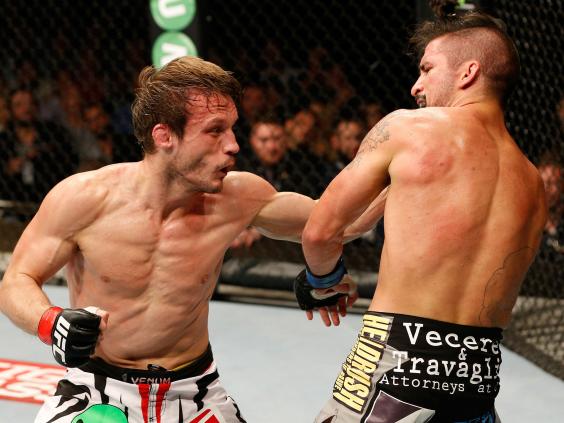 His career has had more than its share of ups and downs. He's faced some of the best guys in the world and always showed a lot of courage and determination. Even UFC president Dana White stated that 'One Punch' is one of his favourite fighters to watch. He has had a great following since the beginning of his career, recognizable by his signature trilby hat and white vest. We fought on a few local shows together back before our UFC careers and the crowd always anticipated his bout, often with matching hats to show their support. Win or lose the fans will always be happy to see his name on the fight card.
There is no doubt about it though, this is his time to make a run at the title. He is as wise and experienced as anyone in the division, well-rounded and heavy-handed enough to win any fight. His win over the current champion stands him in good stead if he can get a winning streak together, and that needs to start with Camus. Pickett has already stated that another setback at this weight class would encourage him to move back up to a more comfortable 135lbs (bantamweight).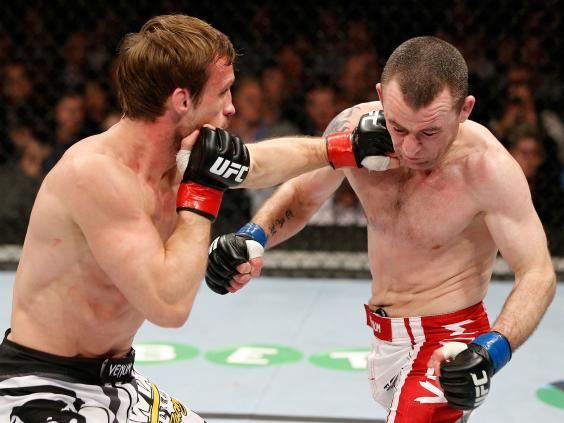 Dieting all of the time is miserable but it is a testament to Brad's determination to reach that title. It's hard not to root for him and as a fan of guys that love a scrap, I've been enjoying Brad's fights for some time. I think Chico Camus is a good match up for him given that he will have no problem engaging Brad on the feet. He has been known to get frustrated by guys that are always on their toes and in motion. Something he must get used to in the lightest men's division in the UFC, with these guys being so quick and agile.
The fight will be on the UFC Fight Night 57 card in Austin, Texas this weekend. It will be live in the early hours of Sunday morning in the UK on UFC Fight Pass and BT Sports. Luke Barnatt will also be on the preliminary part of the card and the headliner is a huge fight in the featherweight division. Cub Swanson taking on Frankie 'The Answer' Edgar in a fight that could shake up the 145lbs division and possibly present 'The Notorious' Conor McGregor with some idea of his future opponents at featherweight. 
Reuse content