It took Nigel Benn and Chris Eubank three years to agree terms for a rematch and, when they finally signed, the fight attracted more than 30,000 additional fans, they shared great money and it was unforgettable.
George Groves has spent £20,000 since last November to avoid a three-year delay and by lobbying, accusing and confronting the right and the wrong people he has his rematch with Carl Froch on 31 May. Groves has taken planes to America in search of a rematch, his lawyer has been busy keeping his name in profile and all bills have been paid from the boxer's pocket.
Groves lost the first fight, insists that he was outrageously denied victory and, even though he has no manager or promoter, he has dragged Froch kicking, screaming and joking to the ring.
"I had to go and see the people that mattered and argue my case for a rematch," said Groves. "He [Froch] never wanted to fight me again and I know he has been forced to take this fight. He tried to price himself out of it, tried to insult me, tried to ignore me – he must hate me." He certainly does.
Last November, Groves was leading on all three scorecards when he was caught, hurt and stunned by Froch in round nine of a gripping struggle and rescued by the referee. There was a lot of shock and mock outrage by people who had never seen the fight, certainly not up close, but the cynics in the boxing business were divided over the degree of controversy; I'm happy that there is a second fight but consider all conspiracy theories, claims of incompetence and screams of corruption pathetic.
"I looked at all the options," said Froch, who has always seemed slightly bemused by the howls of protest. "I think that the biggest fight out there for me is George Groves. The British public demanded it and, to be honest, I didn't know it was that big until my postman asked me when I was going to fight Groves." Froch was having his 11th consecutive world title fight and since the night he has never attempted to gloss over the early torrid rounds, including a knockdown in round one, but he has always insisted that the referee, Howard Foster, saved Groves from getting hurt. It was an intervention that fans and fight people still talk about.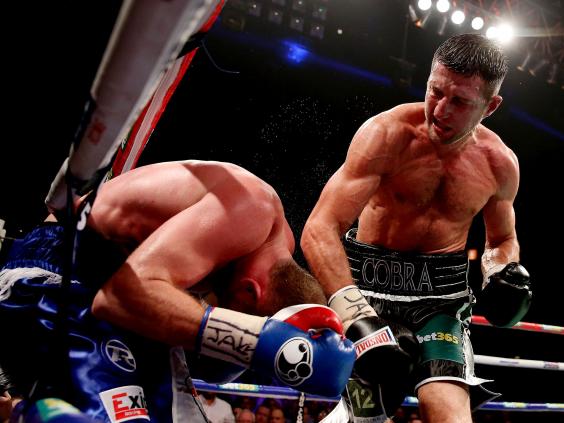 In the first Benn-v-Eubank fight in November 1990 it was Benn who was stopped in round nine of a fight that had too many ugly moments. Benn lost his WBO middleweight title in the ring, but he realised when it was too late that he had not feared defeat against his bitter enemy. Froch has admitted the same thing, insisting that he never underestimated Groves but that he did not have any respect for him. All fighters at this level need that edge, that essential level of fear and they need to know that there is a real threat of loss and pain.
"I was guilty of mentally not taking him seriously," said Froch. "My body was right, I took no shortcuts in the gym, but my mind was wrong. I looked at George Groves and I never considered him a serious threat; it's different now because he has my full attention."
Groves, who at 25 is 11 years younger than Froch, has dismissed everything the senior boxer has said since their fight was first announced last summer; his ability to listen has not improved in the aftermath of the rematch news. He has, it has to be said, gently goaded Froch for a long, long time and there is a strong sense that he has unsettled the IBF and WBA super-middleweight champion. Froch and Robert McCracken, his trainer, have always denied it.
"I know what Froch is thinking right now and what he has to do," said Groves. "He has to be careful at his age that he doesn't overtrain. And then he has to say to Rob: 'Rob, I put my trust in you and it never worked. What are we going to do now?' What are they going to do this time?" Groves inherited the twinkle in his eye from David Haye when the pair shared the gym for about five years.
There is no denying that Froch v Groves has that something special attached to it that dissolves the tools of hype and bluster; it is the same dangerous factor that Eubank and Benn shared during their years of hate between fights. Their rematch, watched by 42,000 at the Theatre of Dreams, ended in a draw and they left the ring to separate lives, but it is doubtful if they are ever far from each other's dreams.
"I did think about walking away," Froch admitted. "It was an option but I want to beat him again. I have to fight him one more time." In 1993, both Benn and Eubank told me the same thing.
Reuse content