The winner last November between Carl Froch and George Groves was the man who refused to back down; the winner on Saturday night at Wembley will be the man prepared to back down.
In their first fight a tremendous squabble of egos meant both took stupid risks and fought at times the wrong fight; it was left to guts, not skill, to determine the outcome. Groves was dragged away from Froch's fists after 93 seconds of the ninth round by the referee, Howard Foster, and he has been complaining ever since.
However, Groves had started to take unnecessary risks, going forward in search of a stoppage, standing and trading punches with a man who had no other options at that point; by round nine Froch could only win if he could stop Groves. At the time of the stoppage all three judges had Groves in front, though admittedly the lead was just one slender point on two of the three cards.
It is true that they have each done their bit to re-invent not just the final seconds but most of the fight. It is not a case of common deception but a simple coping mechanism from both fighters as they each left the ring shattered in different ways.
They both needed to make sense of what went wrong and what went right during the fight. Chris Eubank and Nigel Benn are still searching for answers 21 years after their second fight.
Froch was lucky to retain his IBF and his WBA super-middleweight titles in the first fight; his preparation was dreadful and his fight tactics close to non-existent in what was his 11th consecutive world title fight. He was too confident, then he was too hurt and finally he just opted to stand and trade punches in a desperate attempt to win. It was enough, thankfully for him.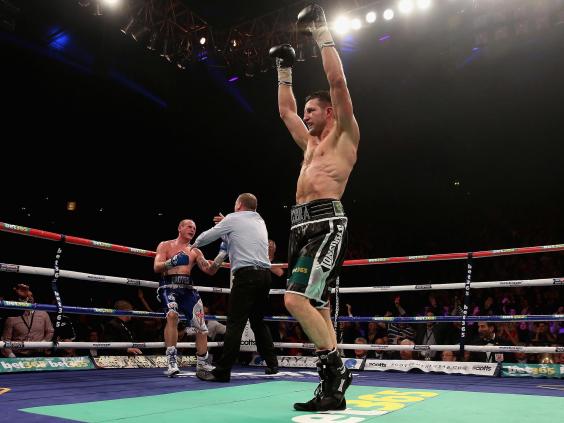 Groves had his tactics for half the fight perfectly under control, just like his emotions; but in the sixth round, one of the very best that I have ever seen, he tipped over the edge and switched off the alarm in his head that had been installed to warn him not to get involved.
There was simply no point after round six for Groves to take a single risk, leave his feet or body or head anywhere near the increasingly crazy punches and lunges of Froch. Groves needed, as they say in boxing, to go for a walk. "It's not illegal for a fighter to lose a round if he's in front and in control," said Virgil Hill, the American trainer and fight guru.
It has been a strange six months since the pair left the ring, with each talking about mistakes, missed opportunities and errors on the night.
They have each analysed the fight to such a degree that their devotion to correcting errors appears to have eliminated any prospect of a repeat tonight of the memorable slugfest they delivered by default the first time. However, a hefty knockdown, cut or simple dumb deviation from the plan could alter the fight's controlled pattern in the time it takes to land one sweeping hook.
On each occasion they have been thrust together in the 80 or so days since the rematch was announced there has been a flashpoint of some description. There was the Froch push on the Wembley turf, the Froch handshake that was twisted into an ugly pulling contest and this week's lame conference, at which they struggled to exchange vicious stares.
Groves talks about never letting fights get emotional and Froch insists that it is not personal. I think they are both telling lies and that is understandable because there is much to dislike about the way the pair react when they are together. They just seem destined to fight through the odd alchemy that erupts when they are near each other. In isolation they remain warm, funny and engaging men but in each other's vile orbit they drastically change.
Last September Froch started the first fight's first conference by saying: "I've become a massive international superstar. It's as simple as that." Groves, who is an astute listener, has never let the bold claim rest.
A few weeks ago, in a quiet moment away from the endless baiting, Groves asked me: "Do you know where the real Carl Froch has gone? I don't, I really don't." I know what he means and at the same time I can also understand the lofty podium upon which Froch, having now been in 11 consecutive world title fights, has plunked himself. Boxing, however, is never about reputations and it can be a brutal retreat for anybody in decline attempting to relive his glory.
Finally, the week of the fight opened with the pair prancing, holding babies and smiling for the fans in their respective cities. Groves held a public training session inside the glass and glitter of Westfield in Shepherd's Bush, which was built on wasteland that Groves once walked across to get from his Hammersmith home, just 100 metres from the Thames, to the Dale Youth Amateur Boxing Club where he started to fight. Groves is a man untouched and unimpressed by glamour, a fighter determined to be world champion so that kids will know him and other fighters will chase him. He means it, by the way.
Nottingham's Froch is still angry after all these years at the way he has been treated by television companies, some of the media and, after the jeers that greeted his win over Groves, by some fans. His record in major and difficult world title fights is genuinely astounding but he has, for a variety of reasons, been treated like an outsider far too often.
He won his world title on ITV in front of six million viewers and yet his first defence, against the brilliant Jermain Taylor in America, was shown exclusively live on an obscure online channel. The fight was incredible, with Froch dropped and trailing with just 14 seconds of the last round left before he knocked out Taylor. "It's hard not to be bitter," Froch said at the time.
Tonight Froch has been made to feel like he is the one in search of redemption and that Groves is out in search of justice; it is a nice way to sell the fight, which will have 80,000 converts baying for their man, but it is slightly misleading. If Froch had fought in the first fight like he did against Arthur Abaham one frozen night in Helsinki, when his boxing brain dominated his giant heart, then tonight's encounter would never have taken place. Equally, and as important, had Groves kept on moving like he did when he beat James DeGale in 2011 then he would have sent Froch into retirement and tonight would not be happening.
Thankfully, the pair split the fighting idiot gene last time, gave us an unforgettable night and guaranteed that they will share about £10m (heavily in Froch's favour) for tonight's glorious rematch.
If Froch can jab, the one punch that according to Naseem Hamed can keep a man off-balance, then he could make a hard night a bit easier. If Froch fights then it is a 50-50. Groves is the one under pressure in many ways and he has to prove that he can be better.
"You do know that George Groves lost the first fight?" Froch reminded somebody on Thursday at Wembley. Groves has not forgotten and, at the same time, Froch is painfully aware that he only narrowly avoided defeat on that night in Manchester.
The winner on Saturday night will be the man capable of avoiding a flashback and it is the ageing, soon-to-be-creaking Froch that can best do that. I expect it to be his final fight and we will miss him.
Reuse content