As a fight analyst I'm always intrigued when a fighter steps out of their weight class to take on a new challenge, especially when the fighter is of championship quality. When Stephen Thompson was sidelined with a rib injury it left Brandon 'Rukus' Thatch without an opponent in the headlining bout at UFC Fight Night 60. Ben 'Smooth' Henderson agreed to step up from his usual weight class and take on Thatch, who will have a distinct size advantage. The thing that evens out the playing field though, is the calibre of opponent Henderson has faced in his twenty-six fight career.
Since signing with the WEC back in 2009, 'Smooth' has faced the best that the lightweight division has to offer. Scanning down his record you see names like Cerrone, Melendez, Diaz, Edgar… The list goes on and on. Having dropped two in a row though, one has to wonder if the cut to lightweight has become too much. He does carry a lot of muscle mass and may perform better in a higher weight class. Just as we are seeing with Anthony 'Rumble' Johnson, a change in division can be a good time to reinvent yourself.
It's clear that he is world class. As a former UFC champion, he defended his belt three times, to three of the toughest around. Will the reach advantage be too much though? Thatch is a sizable welterweight, with more than four inches of reach over Henderson, and five inches in height. But with only one notable name on his record, he is still in the early days of his career. Although impressive since joining the UFC, we have yet to see him truly tested. Another thing to keep in mind, size advantages don't always equate to a strength advantage and Henderson is a powerful athlete.
With a wrestling background and a black belt in Brazilian Jiu-Jitsu, he might be wise to drag Thatch to the canvas and out-grapple him. Brandon's only loss is a split decision back in 2008, where Brandon Magana stifled him on the floor and took away his reach advantage. Thatch has excellent kickboxing. Speaking from first-hand experience, he was in Montreal helping GSP out ahead of his Condit fight, and I had the privilege of being there at the same time. He moves very well, and his ability to fight in either stance makes him unpredictable.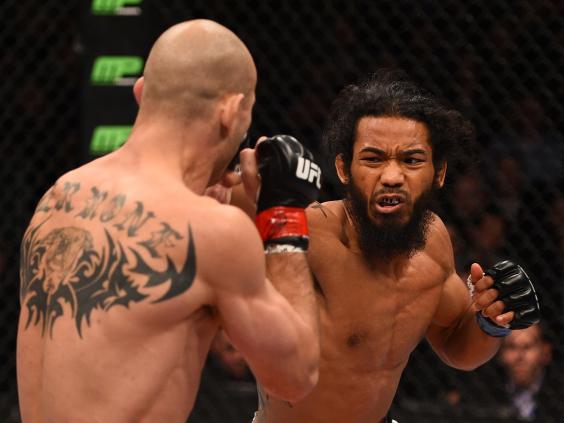 His beautifully timed knee on Paulo Thiago shows just how dangerous a striker he is, so even with a grappling game plan, Henderson can't be careless with his takedowns. Whether this is a toe in the water for a Henderson at welterweight, with a thought about moving up, or just an opportunity to take on a new challenge and get back in the win column, it's an intriguing match-up. Henderson has the experience and the ground skills to make it a very difficult night for Thatch. On the other hand Thatch has the reach, height and probably the weight advantage as well. He comes from a solid camp and has the power and skills to send 'Smooth' crashing back down to lightweight.
To find out which way this one goes, tune in to BT Sport 2 from 1am for all the action from the Prelims and the Main Card
Reuse content