A heavyweight main event always garners much fan interest, especially when they are of championship quality. This weekend in Porto Alegre, Brazil, former UFC heavyweight champ, Frank Mir will face Antonio 'Bigfoot' Silva, the first man to stop the great Fedor Emelianenko with strikes. It's a clash of two hugely talented and sizable athletes. Mir is well known for his devastating submission skills whilst 'Bigfoot', a powerful puncher, has knocked out his opponent in 13 out of 18 victories.
Mir's career has been fascinating ever since he joined the UFC way back in 2001. His grappling skills are unquestioned, and throughout his 14 year stint in the UFC his striking skills have been continuously improving. Fighting out of Las Vegas, he works closely with seasoned boxing coach, Jimmy Gifford, and wrestling phenomenon, Ricky Lundell.
His opponent, 'Bigfoot', a title challenger only a couple of fights ago, has been a life-long martial artist. He began Karate at six-years-old and then progressed onto Brazilian Jiu Jitsu and Judo in his teens, picking up black belts in all three. He has a wealth of experience fighting all over the world but actually started his professional career in the UK. This weekend though the Brazilian will have the hometown advantage, and given the fact that both guys need a big win, any advantage will be most welcome.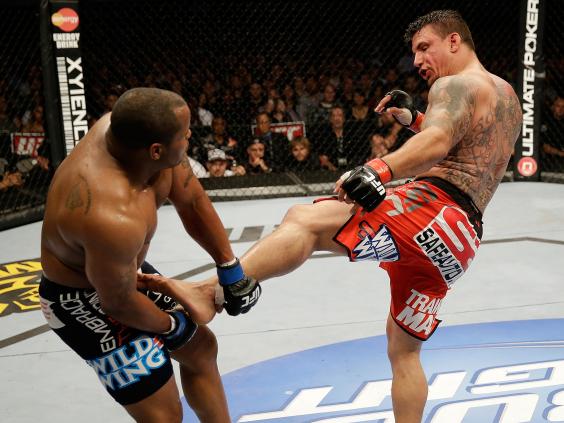 As much as I'm looking forward to the main event, it is in fact the co-main fight that I am most intrigued about. Number six ranked Edson 'Junior' Barboza will be put to the test by fast rising contender, Michael 'The Menace' Johnson. With a three-fight win streak and an impressive second round stoppage over Gleison Tibau, Johnson will be able to push his way into the top ten with a win over Barboza. It won't be an easy night for him though, as the upper echelon of the lightweight division is a shark tank, and he is fighting in his opponent's home country.
Barboza has some of the most vicious kicks in all of combat sports. He has stopped three opponents with leg kicks throughout his career, and picked up a highlight reel knockout over Terry Etim with an amazing spinning wheel kick. His skilful boxing and head movement helps him break his opponent down and set up his leg attack. He also has excellent takedown defence which may be called upon in this bout, as 'The Menace' has a strong wrestling background.
And Johnson will have done his research. He'll know that Barboza can be dropped if hit cleanly.  With a quick and explosive southpaw he will surely look to counter Barboza with the straight left. If he can catch his opponent while he is off balance it may deter him from throwing as many heavy leg kicks.
Both fighters have the potential to be a big player in this division, and this could be the fight where one of them steps up and makes the UFC brass aware that they are ready for the next challenge. In Barboza's case this should mean a title shot in the next fight or two. For Johnson it would be the biggest win of his career to date and will show that he is really finding his rhythm at the top level. Whatever happens, this is an exciting supporting fight for the main attraction, which will get the in-house fans fired up before the headliner.
Brazil has always been at the forefront of Mixed Martial Arts, producing many champions and top contenders. These local shows give the lower tier guys an opportunity to compete in front of their home country fans, and the added pressure can lead to some outstanding performances. It's going to be another sleepless weekend for me, and as always I'll be on Twitter during the fights at @danhardymma if you have comments or questions. It's always nice to connect with other UFC insomniacs that can't wait until the morning to watch the fights!
To catch all the action from UFC Fight Night: Bigfoot vs. Mir tune in to BT Sport 1 from 11pm on Sunday night
Reuse content