There are lots of great match-ups this weekend at UFC 180 in Mexico City. The main event was salvaged after a training injury side-lined the heavyweight champion, Cain Velasquez. As a result we have a clash between the original challenger, Fabricio Werdum, and late replacement Mark Hunt. 
Coming off a stunning victory in September over Roy Nelson, Hunt is now presented with the opportunity of a lifetime. As the division waits for the return of Velasquez, the winner of this bout will hold the interim World Title. Frustrating for Werdum I'm sure, as he now has to defeat two guys to become the heavyweight king!
Werdum is regarded by many as the best representative of Brazilian Jiu Jitsu in the heavyweight division. But it is his much improved striking that will be tested by his new opponent. Hunt has scary power in his hands. That was demonstrated better than ever when he became the first man to knock out Roy Nelson, who is notorious for his iron chin and hard-nosed style. 
Hunt has the experience of a seasoned kick boxer, having spent time competing on the Japanese circuit. This last minute chance to finish the year as the number one contender will surely make for a very competitive bout. Werdum, who has a significant height and reach advantage, will want to keep Hunt on the end of his jab if he doesn't immediately insist on a grappling exchange. 
In the co-main event we see two welterweight powerhouses go head to head as Ultimate Fighter winner, Kelvin Gastelum takes on veteran, Jake Ellenberger. The previously undefeated Gastelum faces a man with three times his mixed martial arts experience, but is in need of a stern test having gone 4-0 in the UFC, against tough opposition, thus far. 
Ellenberger, has 18 knockouts on his record and his 12 fights in the UFC have seen him go 8-4, including wins over big names like Jake Shields, Mike Pyle and Nate Marquardt. A win here for either guy would establish their position as a potential title challenger candidate. 
We also have a big fight in the featherweight division as two of the top ten clash in a fight that will definitely shake up the rankings. Ricardo Lamas and Dennis Bermudez both have their eye on the top of the division but to get into the mix, they'll need to come out on top this weekend. It's hard to get much attention right now with Irishman Conor McGregor drawing most of the featherweight limelight, so an impressive win could be hugely valuable.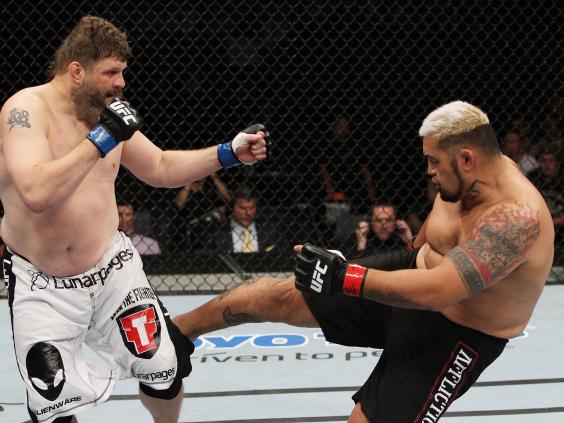 Bermudez, currently riding a seven fight winning streak, surely feels a title shot is in his near future but Lamas will have other ideas. Suffering the only loss in his last five fights to the current champ, Jose Aldo, Lamas will want to keep Dennis Bermudez out of the title picture. Both fighters have a wrestling background but I believe Bermudez has the edge here, which could go a long way if he can use his wrestling advantage to keep away from Lamas' ground game. Be sure to tune in and watch. I'm expecting some surprising finishes!
Catch the action from UFC 180 live on BT Sport 1 from 1am on Sunday morning.
Reuse content