Many fans were disappointed when the original main event was removed from tomorrow night's card. The highly anticipated rematch between Alexander Gustafsson and light-heavyweight king Jon Jones topped a card that is stacked from start to finish. An injury to the Swedish challenger made way for determined replacement Daniel Cormier to step in and save the bout from being scrapped. Two weeks later however, the light-heavyweight king was forced to withdraw and the fight was rescheduled for 2015.
In a hurry, UFC matchmakers removed the flyweight title fight from UFC 177 a month previous, and sat it atop tomorrow night's bill. As unfortunate as it was to lose what was looking to be the grudge match of the decade, it has created an opportunity for the rest of the fighters to emerge from the shadow of the Jones vs Cormier showdown. This is a real 'pick-your-own' main event type of fight card, and although the replacement headlining bout doesn't have the same draw as the original it still promises to be a great scrap.
Chris 'Kamikaze' Cariaso is a huge underdog on the betting lines. The truth is Demetrious 'Mighty Mouse' Johnson, the current flyweight king, has had the division locked down for two years now. He has beaten five of the top contenders without much trouble so the next guy in line is Californian challenger, Cariaso. He will be stepping into the Octagon for his eleventh time, riding a three fight win streak over some tough opposition.
Having trained in a series of striking arts, the Kamikaze draws upon all weapons in the kickboxer's arsenal. Known for his kicking ability, he creates openings by wearing his opponents down with a barrage of strikes. Often able to lower their guard by punishing the shoulders and forearms with an onslaught of shin kicks. His footwork will be key against Mighty Mouse, who is as quick and elusive as they come. A patient accumulation of damage would be the way to go, if I were in the challenger's corner. Trying to match the pace of the champion would be foolish, especially with twenty-five minutes to work.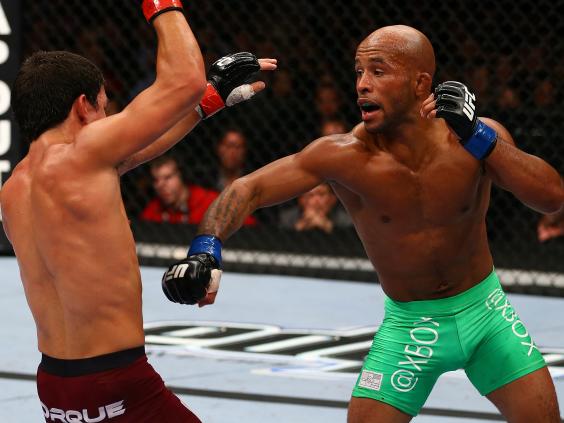 The other four fights on the main card could all be a headliner in their own right, but the Poirier vs. McGregor and Cerrone vs. Alvarez fights are where, for me, the real interest lies. A featherweight clash between Dustin 'The Diamond' Poirier (#5) and 'The Notorious' Conor McGregor (#9) is for many the pinnacle of the card, including Dana White himself I imagine. McGregor burst onto the scene with a combination of charismatic one-liners and dramatic finishes. He has quickly become the man on every featherweight's hit list, having called out half of the division.
With an impressive first round stoppage over Diego Brandao in Dublin back in July, he claimed a place in the top ten and was matched up immediately with Poirier. The Diamond will be studying tapes of McGregor and preparing thoroughly. The last thing he wants is to have his name added to the win column of The Notorious one. Especially since McGregor has already referred to him as a "broken man" and is talking about title fights and selling out football stadiums in his home country.
The hype thus far seems to be real, but Poirier is a tough act to beat. His traditional approach to striking battles could see him expose some of the downsides to McGregor's open and confident style. His reliance on head movement and footwork, although beautiful to watch, does leave him exposed from time to time. A power right hook from Poirier is enough to put most guys on the canvas. Whether he can find a home for it through the dynamic kicking of the Irish sensation is a question that can only be answered by a fist fight. And that's exactly what we will get come Saturday.
Next up is the long-awaited debut of Eddie Alvarez. Regarded for a long time as one of the best light weights in the world, he has yet to step inside the Octagon and really prove it. With contract disputes keeping him away from the UFC for some time, we will finally get to see where the land lies for this highly touted prospect.
Welcoming him to the big show will be one of the most dangerous strikers at 155lbs. Winner of ten post-fight bonuses, Donald 'Cowboy' Cerrone is one of the most exciting finishers the UFC could offer the newcomer, Alvarez. His ability to break opponents down with vicious Muay Thai skills would force most fighters to close the distance and attempt to get the fight to the floor. A closer look at his record though, will show you 15 of his 24 wins came by way of submission.
Eddie Alvares rivals Cowboys submission skills with power punching, scoring 14 knock out victories in 25 bouts. He will need to control the range of this fight from start to finish. Finding ways to connect with Cerrone's chin will be difficult as the right leg of Cowboy is well known for troubling his opponent. Shin kicks, front kicks and knees will be the deterrent for Alvarez but if he can find a way inside he can hurt Cerrone and send a message to the lightweight division. 
His wrestling skills might be adequate enough to initiate a ground fight but if he does he will be in constant jeopardy as he works his aggressive ground and pound. I can't imagine this fight will make it the distance and I can't decide where the fight will take place. Both guys have such opposing skill sets and with no common opponents it's hard to gauge exactly where they will be able to test each other. If I strip it down to the bare bones, it's the rear leg and submissions of Cowboy versus the power-punching and wrestling of Alvarez. It will really depend on whose game plan comes to fruition on the night.
Watch UFC 178 on BT Sport 1 from 1am on Sunday or via UFC Fight Pass
Reuse content