Often, in the UFC, the main event gets the majority of media attention and this weekend is no different. There are so many fantastic match ups on the bill though, so I just had to show them some love. Here, I've picked a handful of match ups that really stand out to me…
The preliminary card will be kicked off by the UK's Tom 'Kong' Watson, who takes on Rafael Natal. Watson is looking to even out his 2-3 UFC record and begin stringing some wins together. Certainly one to watch from the get go!
Slightly higher up the card, we have a match up in the flyweight division, which really deserves a higher place on the card. No. 6 ranked John 'Hands of Stone' Lineker takes on No. 3 ranked, Ian 'Uncle Creepy' McCall. Not only will this be a firecracker of a fight but their nicknames have to be the best on the card!
McCall, with his blitzing style, will do well to stay away from the power punching of Lineker. It's rare that we see a flyweight with such power, and that we have a fighter with such an appropriate moniker! Stopping four of his opponents in five victories inside the Octagon, Lineker will only need one shot to derail 'Uncle Creepy' and climb a few steps towards the title. Pinning McCall down for long enough to hit him cleanly is easier said than done, though, as Britain's Brad Pickett found out during his bout against McCall last May in Dublin. California native, McCall, is fast and technical with a foundation in wrestling to fall back on. This promises to be a great fight.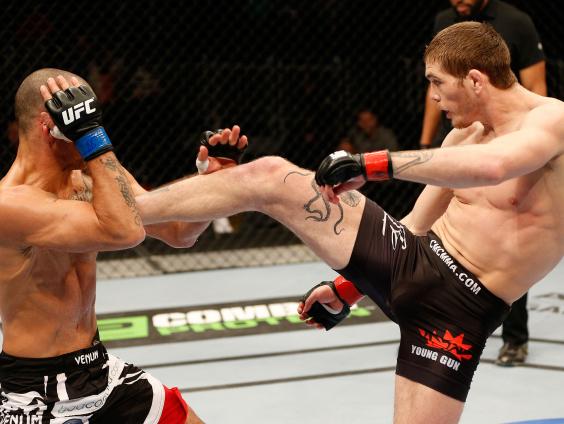 We have the No. 2 and No. 3 ranked women's bantamweight fighters, Miesha 'Cupcake' Tate and Sara McMann, topping the preliminary card, both of whom, having fallen short in their title bouts against 'Rowdy' Ronda Rousey, will be looking for another chance at the belt. This should be a highly competitive bout with both athletes having a wrestling-heavy style. McMann will no doubt have the edge, being an Olympic silver medalist in freestyle, so I would expect Tate to use her ability to keep the fight standing and force a kick boxing match. The winner will surely be the next title challenger.
As we move into the main card we see rising welterweight, Jordan Mein, take on fan-favorite, Thiago Alves. Mein's ever-improving skill set favours long-range boxing combinations to close the distance, with heavy elbows and body shots in close quarters; a great opponent for the more classically trained Muay Thai specialist, Thiago Alves. Better known as 'Pit Bull', Alves has a very straightforward style. His low kicks are a fantastic example of proper technique, and with that comes power and fluidity.
Expect a gritty striking contest with some back and forth clinch work. Mein will know how important this win would be for his career. A win over Alves, a one-time contender for the title, would push Mein up through the rankings and establish him as a real contender. For Alves this would be a win for the old guard - seemingly one of the previous generation of welterweights, in what will surely be known as the 'GSP' era. At 31, Alves is still young. And with the experience he already has, another run at the title is surely in his future.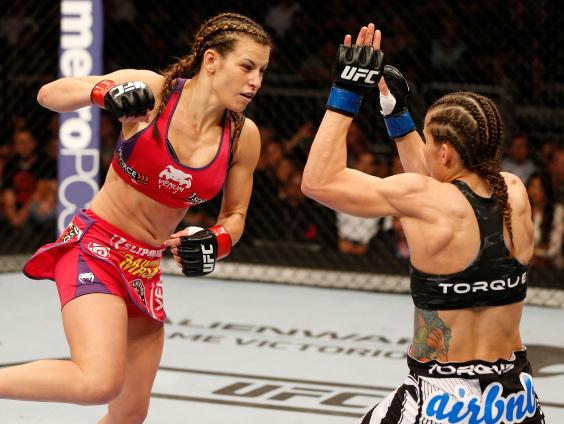 Multiple bonus winner and Boston scrapper, Joe Lauzon, is also on this weekend's fight card. Lauzon will battle another emerging contender in Al Iaquinta. 'Raging' Al is coming off an impressive second round stoppage over the UK's Ross Pearson, and stems from the celebrated Serra-Longo camp alongside middleweight champ, Chris Weidman. Neither of these guys will back down easily; both are very durable, and if it hits the mat I think we will see some great exchanges. If Iaquinta has the potential to crack the top ten, there couldn't be a better test for him than Lauzon.
Lastly, the co-main event features another two welterweights destined for big things in 2015. At only 23, Kelvin Gastelum has made all of the right moves so far in his UFC career. Winner of The Ultimate Fighter TV series, undefeated Gastelum has beaten some big names in his recent fights. After picking up decisions over Rick Story and Nico Musoke, Gastelum went on to impress UFC fans with a first round submission over Jake Ellenberger.
Standing across the Octagon in the co-main will be a man in equally as strong a position. Since the Strikeforce days Tyron Woodley has been knocking off top-flight opposition in spectacular fashion. A powerful athlete and American Top Team product, Woodley is poised ready for a run at the top ten. In his last fight he really showed his potential, needing only one minute to run through South Korean fighter, Dong Hyun Kim. The welterweight division is a real shark tank....and this fight proves it.
UFC 183: Silva vs. Diaz. Watch the early prelims live on UFC Fight Pass from 11:30pm GMT on Saturday January 31st, and catch the prelims and main card LIVE on BT Sport 1 from 1am GMT on Sunday February 1st.
Reuse content