With the sport of Mixed Martial Arts growing exponentially, we can find ourselves spoilt for choice when it comes to exciting fights. Some match ups, however, echo through the UFC fan base from the moment they are signed.
Since the rematch was agreed between featherweight champ, Jose Aldo, and number one contender, Chad Mendes, I was counting down the days. Having the satisfaction of watching it a few times now, I can honestly say it exceeded my expectations. 
Aldo is effortlessly impressive, sometimes to a fault, appearing nonchalant as he picks his opponents apart and wrecks their base with thunderous leg kicks. Having dispatched of Mendes fairly quickly in their first bout, I'm sure he's been paying close attention as Chad smashed his way back to Aldo's front door to request a second shot. 
There is no disputing Chad 'Money' Mendes' credentials. He had made improvements and proved it against everyone the UFC matchmakers stood in front of him. Now the not-so-proud owner of two losses to the world champion (the only two blemishes on his otherwise perfect record), at least he can head home knowing that he gave a great account of himself and gave Aldo his toughest test to date. 
The start of the fight saw Mendes show improved footwork, typical of the Team Alpha Male products of late. He was light on his toes but took opportunities to sit down on his punches and dig power shots when Aldo was in range. Ringing his bell midway through the first and temporarily putting the champion on the seat of his fight shorts with a quality left hook. 
Aldo rallied and was able to catch Mendes behind the ear, causing him to stagger backwards and place a hand down to steady himself. The champion pushed forward and a one-two combo just after the bell dropped the challenger one more time against the fence.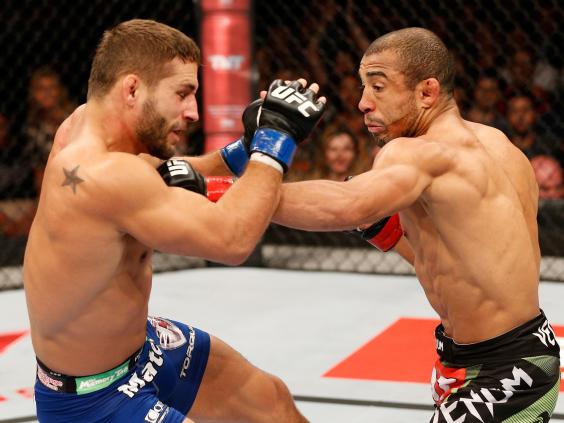 It was a hell of a first round and as the fight progressed it was obvious how evenly matched the two were. They traded on the feet mostly, Aldo being the busier fighter with Mendes constantly looking for that hook or takedown to turn the tide. It was clear that Chad was connecting, and when he did there was enough power to cause obvious damage to the champs' face. 
It was a beautiful performance from both fighters. Aldo, with his speed and accuracy, showed that he has a tight grip on that belt. Mendes making it clear why he is the man to beat if you want to be considered worthy of a shot at the one man above him. He demonstrated great improvement and caused the featherweight king problems that, so far, nobody else has been able. 
For any of the doubters out there that judge us and our sport, take a look at this contest. Two world class athletes, the best in their division, duke it out for twenty five minutes, through accidental eye pokes and groin shots, and a lot of hostility and trash talking. To see them laughing with each other during and hugging it out after their bout, was as beautiful as the fight itself. 
We are here to test ourselves. Of course we get riled up, caught up in the drama of the event sometimes. But the respect for our fellow athletes is without question. Aldo needs Mendes and vice versa. Without each other they would not have demonstrated such greatness and graciousness on that night. 
They helped each other grow by challenging one another like no other man on earth could. High profile fights are so exciting because we get to see the world's best perform under such extreme pressure. This kind of pressure makes diamonds and these two shined brightly for the benefit of the whole MMA world. It was a privilege to watch them compete.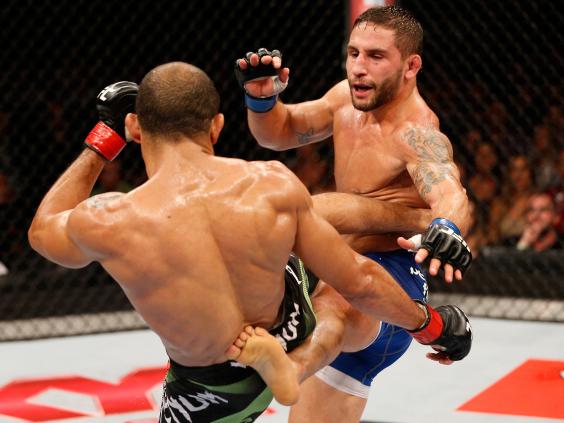 One take away note from the evening. Current fan favourite and UFC golden boy, Conor McGregor, has clearly done great work to draw the attention of the top tier of his division. After the fight, Aldo referred to himself as 'King', Mendes as 'the Prince' and McGregor as the 'joker', Chad went a step further and called out the Irish star directly. 
Whatever happens next, featherweight could be the hottest weight class to watch in the coming months. Regardless of how the UFC match these guys up next, the addition of McGregor to this division might be just what was needed to stir things up and to help draw some worthy attention to these lighter athletes. 
Watch footage of both Jose Aldo and Chad Mendes in action via UFC Fight Pass
Reuse content