This weekend we will get to see a true, indisputable number one contender step into the octagon, against the featherweight world champion. Chad 'Money' Mendes has faced Jose Aldo before. In fact, this will be like a re-run of their first fight, but Mendes will be determined finish this one with the belt around his waist. Like the first fight, back in January 2012, they will be facing off in Aldo-friendly territory.
For Chad, flying out to Rio with his team to challenge for the world title will be familiar. I'm sure he is confident that things will be different this time around and, since their first bout, he has looked dominant against world class opposition. The previous fight highlighted a clear advantage that the champion held over the challenger. Since then Mendes has been working diligently on his striking skills under the tutelage of Duane Ludwig, who has done great things for the Alpha Male team.
Aldo is the only loss on Chad's record and we can see in his subsequent fights that his first defeat really spurred him on. He came into their first fight riding a four-fight streak of decision wins, and went on to stop his next four opponents in impressive fashion...Sometimes when a contender is approaching a title shot they can become a little more cautious, not wanting to risk losing the opportunity.
In this case, the loss at the hands (and knees) of Aldo could be just what Mendes needed to push through that last bit of anxiety and realise his potential. His improved striking may not be enough to cause the champion a lot of trouble on the feet, but it may be enough to earn Aldo's respect and open up that takedown, which gets the fight to the ground.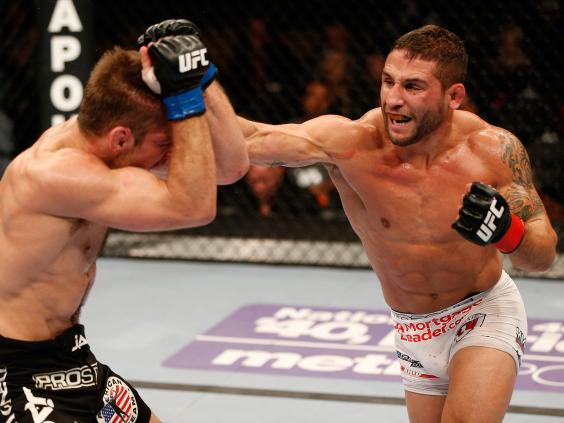 Many think that Aldo will still have the advantage on the ground, but with Mendes in top position if the submission attempts don't pay off, getting back to his feet could tire him out. That might be enough to create an opportunity for Mendes to land some quality strikes and take that belt back to the US. The local Brazilian crowd will be useful in urging Aldo on if we reach the later rounds, where we have seen him slow in the past.
With a similar level of respect in the Mixed Martial Arts community as other greats like Anderson Silva, many still see Aldo as unbeatable. He has certainly looked impressive over the past few years, coming into the UFC as the undisputed WEC champion and going on to defend his UFC belt six times. He has wins over the best the division has had to offer, such as Frankie Edgar, Ricardo Lamas and the 'Korean Zombie', Chan Sung Jung.
For Mendes to defeat Aldo and claim that last UFC title to be held by a non-American fighter, he needs to plan on a long and arduous battle. The champion is always dangerous but if he has shown one weakness in the past, it is his slowing down as the fight progresses. Possibly due to being a big weight-cutter from a camp that is known for making hard work of the process, we have seen him take his foot off the gas pedal in the later rounds. I remember sitting Octagon-side for Aldo's fight against Mark Hominick, where Aldo was beating him convincingly for most of the fight. Then in the 5, he did very little, allowing the challenger to excite his fans and get a little payback.
My other concern for Aldo is that his last fight against Mendes was the quickest in his career as a champion. If he is too eager to get the fight won, that could play right into the hands of the challenger.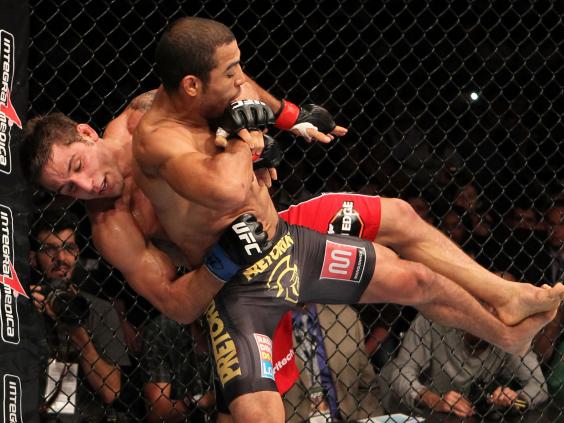 Make no mistake; Aldo is the champion for good reason. He is a master at work when he is on point. Timing, speed and accuracy are his distinct advantages, along with a versatile skill set of strikes, takedown defence and Jujitsu. He will be all Mendes can handle. But with the emergence of new challengers like Conor McGregor and old foes like Cub Swanson, putting on a dominant display is essential.
Will Jose Aldo continue to be the only fighter outside the US to hold a UFC title, or will Mendes fly to Rio to collect the last belt residing outside of North America? The Brazilian fans surely see Aldo as the last bastion of hope for a country usually so dominant in MMA.
Can Aldo fight against the ebbing tide and prevent another belt leaving Nova Uniao? Or can he get some payback for his team mate Renan Barao, who relinquished his title to Alpha Male product and Ludwig student, TJ Dillashaw a few months back? If you love MMA and want to see two of the best in the world go head to head in the Octagon, you need to watch this fight!
Watch UFC 179: Aldo vs.Mendes 2 from midnight on Saturday 25 October live on BT Sport 1 (Prelims also available on UFC Fight Pass).
Reuse content