It is Alaska's biggest sporting event: a gruelling, 975-mile dog sled race across the remote state's snow-carpeted tundra, through its snow-covered pine forests and over its snow-capped mountains. Yet this year the Iditarod proved even more gruelling than usual for its human and canine competitors. Why? No snow.
Following an uncharacteristically warm winter, large sections of the traditional trail were left gravelly and brown. The race began on 2 March with 69 teams, and by Tuesday morning 17 mushers had dropped out, several due to injuries caused by the unseasonable conditions. One, Scott Janssen from Anchorage, broke his ankle and had to be airlifted to hospital by a National Guard helicopter.
Hugh Neff, a former winner of the Yukon Quest, another major annual dog-sledding event, told reporters: "It's a minefield out there."
Four-time Iditarod champion Jeff King said: "It's the roughest I've ever seen."
However, the harsh conditions did not prevent the race's eventual winner, 27-year-old Dallas Seavey, from setting a record time of eight days, 13 hours, four minutes and 19 seconds.
Mr Seavey crossed the finish line in Nome early today, with a team led by his dogs Beetle and Reef. During the weekend, workers in Nome had trucked in snow from elsewhere to ensure the final stretch of the race would be sufficiently blanketed.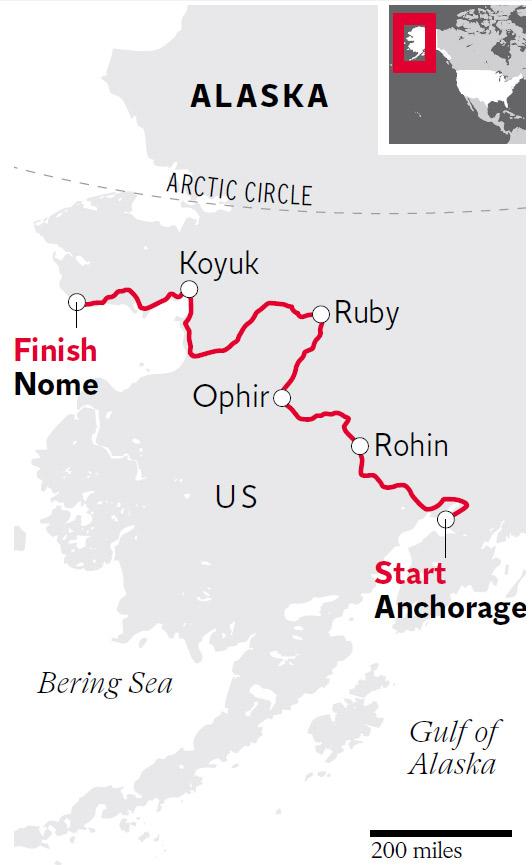 Mr Seavey claimed the title from his father, defending champion Mitch Seavey, who last year became the oldest musher ever to win the Iditarod, at 53. Dallas Seavey was the youngest ever when he won his first race in 2012, at 25. He won this year after coming from behind in a nail-biting finish; King, who had led the race until its last hours, was blown off course by a storm. The runner-up was 44-year-old Aliy Zirkle, who finished two minutes behind Mr Seavey. Ms Zirkle has finished second for three consecutive years as she attempts to become the first woman to win the Iditarod since 1990.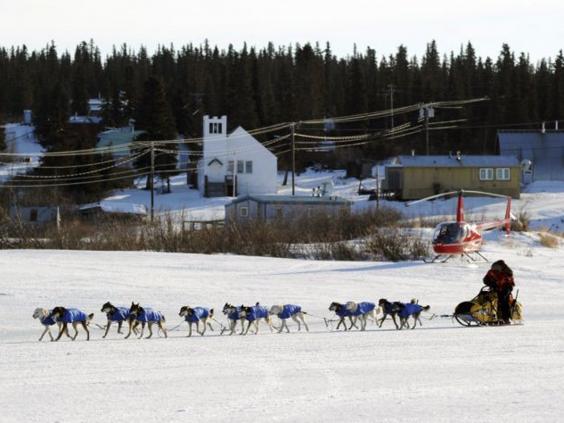 The race is a reminder of Alaska's history, when dog sleds were the only way to traverse the rugged state. In the 19th century, mushers delivered mail to the now-abandoned town of Iditarod by driving a sled along a route known as the Iditarod trail. In 1973, as roads and planes threatened to render dog sledding redundant, the race was introduced as a way to keep the tradition alive. The route and the non-stop race were designed to commemorate an emergency dog sled relay that brought the diphtheria serum to Nome in 1925 to prevent a burgeoning epidemic.
Over the past 40 years, the Iditarod has attracted mushers from across the world, including competitors from as far afield as Sweden, New Zealand, Australia and Jamaica.
The last winner who was not a resident of Alaska was a Norwegian, Robert Sørlie, who finished first in 2005. The winner's prize is $50,000 and a new Chrysler Ram truck.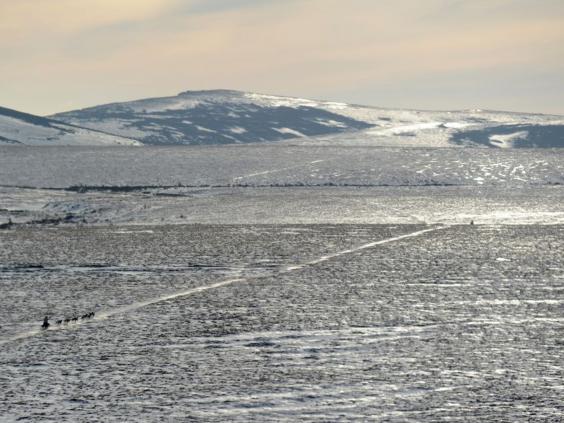 Each team must start the race with 16 dogs and finish with at least six of them remaining. The Iditarod begins with a ceremonial start in Anchorage, the state's largest city, followed by its official start in Willow, around 80 miles to the north. Until 2008, the official start was held in Wasilla, but had to be moved due to the latter town's annually decreasing snow cover.
Similar problems plagued the Russian organisers of this year's Sochi Winter Olympics, who were also forced to import snow to make up for the unseasonable conditions.