Cyber bullying became a fashionable buzz phrase late last year when a film about a fictional plot to kill the North Korean leader, The Interview, was initially pulled by Sony Pictures following threats by alleged hackers in Kim Jong-un's fiefdom.
However, it was a trend of which one British sports star was already acutely aware. Earlier in the year, Elise Christie was the victim of vicious online abuse from Korean sources – not in the North but the South, where fans were furious that her collision with one of their own idols in a sport in which they excel may have robbed them of a gold medal in the 500m speed-skating final at the Sochi Winter Games.
"I was devastated by it," recalls the British No 1 skater. "There were literally thousands of messages, many of them quite obscene. The collision was accidental, but obviously they didn't see it that way."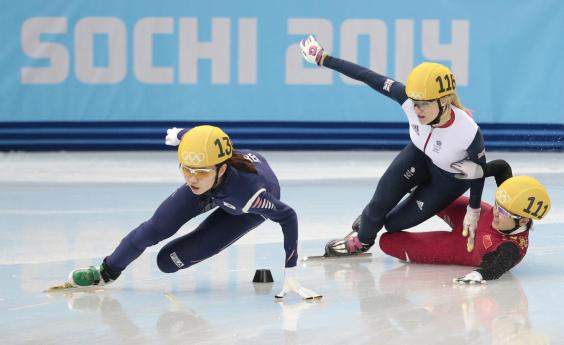 To compound her Olympic angst, Christie had been controversially disqualified in all three of her events, 500m, 1,000m and 1500m, a heartbreaking experience.
A strong medal favourite herself, Christie inadvertently sent South Korea's Park Seung-hi crashing in the 500m final. She was disqualified for causing the incident and subsequently swamped with furious Twitter messages, forcing her to delete her account and reopening the debate about whether social networks are doing enough to protect users from abuse.
Such was the extent of the Korean ice rage that Christie admits she even considered quitting the sport – and had reservations about ever competing again in South Korea, where the 2018 Winter Olympics will be held in Pyeongchang.
But the 24-year-old Scot finally took the decision to confront her demons and with boyfriend Jack Whelbourne, a fellow Team GB skater, headed off for a two-month training camp in the country of her antagonists immediately prior to the World Cup season. She was surprised to find no animosity at all.
"When the coaches first came up with the idea I thought there is no way I want to go," said Christie. "Obviously I didn't want to face anyone out there and I was worried about what would happen. But for the whole time I was in Korea it was never mentioned at all. Everyone I met was fine.
"I came to realise it was nothing to do with the South Korean team, it was just a few idiots sitting at their computers. It was a tremendous experience to train with their skaters. It definitely made me stronger."
Christie won two bronze medals at the World Cup meeting in Seoul in December. Yesterday she completed her return to form by taking gold in the 500m and 1500m at the European Short-Track Championships in Dordrecht, Holland – though she endured a nervous wait after clipping Italy's Arianna Fontana on the last lap of the 1500m.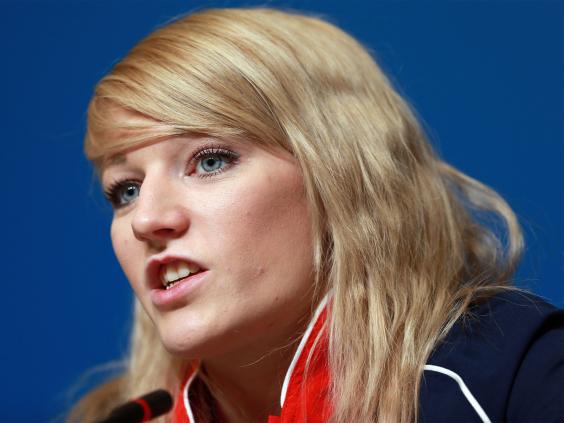 She admits it has been a struggle to recover from the psychological trauma of the cyber attacks and the astonishing hat-trick of Olympic disqualifications – unusual even for a sport where collisions and crashes are an occupational hazard.
"Sochi was one of the biggest competitions of my career but I have been able to use what happened as a positive in the sense of being able to take a step back and be much more unemotional about it all," she said.
"I have been a lot less nervous than usual this season and I've been able to work a lot on my tactical skills, so I am definitely looking forward to putting in a strong performance at the Europeans ahead of the World Championships in Moscow in March. My main goals are based on the next Olympics. I'm already thinking about Pyeongchang again."
Livingston-born Christie says she is focusing on complementing her power and speed on ice. "I've been taking a step back from the physical side of training to concentrate more on tactics. Hopefully next year or the year after, the two will mould together and I can become the perfect speed-skater.
"I'm back in the swing of things and liking the challenge every day and seeing how much pain I can go through. I do feel some pressure as I want to make people proud, not let them down."
Christie believes she is still on course to become Britain's first female Winter Olympic medallist in short-track speed-skating. "I'm not totally over what happened in Sochi. I have moments where I'm on the ice and I just get emotional at times, and for me that's unusual. Hopefully by the end of the season I won't be thinking about Sochi any more.
"But at the time I was thinking, 'I'm going to quit; I can't do this again.' I did hit a real low and I didn't think I could carry on for four more years.
"At first I thought it was going to have broken me but it hasn't. It's made me train even harder and try and push my limits. Whether or not it makes me a better person, well, we'll see."
Reuse content