From Ben Stokes lamenting a broken wrist to Rory McIlroy explaining a broken engagement, here's the sporting year in quotes
JANUARY
How do you get bowled out in 32 overs? I would have just been getting my eye in.   
Geoffrey Boycott after England are all out for 166 in the fifth Ashes Test
I put the bottle down on the court and it started melting a little bit underneath, so you knew it was warm    
Caroline Wozniacki on the heat at the Australian Open
What he's really saying is: "Floyd, can you help me solve my tax problems, get me out of debt?"    
Floyd Mayweather Jnr on the possibility of fighting Manny Pacquiao
The best thing would be to legalise drugs so the entire peloton is on a level playing field.    
Danilo Di Luca, banned for life from cycling, claims 90 per cent of riders in the Giro d'Italia use drugs
--
FEBRUARY
I will continue to play but deeply regret that it won't be for England    
Kevin Pietersen after the ECB ended his international career
Kevin Pietersen in pictures
Kevin Pietersen in pictures
1/55

Pietersen scored a career-best 326 not out in Surrey's County Championship match against Leicestershire.

Getty

2/55

Kevin Pietersen hits a four during his innings for Surrey against Glamorgan

Reuters

3/55

Pietersen is the centre of attention despite sitting on the end of Surrey's team photo yesterday

Getty Images

4/55

Pietersen had an IPL deal said to be worth £200,000 with the Sunrisers Hyderabad before negotiating his release

Getty Images

5/55

Pietersen was part of the Melbourne Stars side that lost the Big Bash final earlier this year.

Getty Images

6/55

Kevin Pietersen walks during his final England appearance during the 2013/14 Ashes.

GETTY IMAGES

7/55

Pietersen in the latest Ashes series

Quinn Rooney/Getty Images

8/55

Andy Flower with KP

Tom Shaw/Getty Images

9/55

Kevin Pietersen with Andy Flower

GETTY IMAGES

10/55

Kevin Pietersen looks on as England crumble once against in the Fourth Ashes Test in Melbourne

GETTY IMAGES

11/55

Kevin Pietersen of England bats during day one of the Fourth Ashes Test Match between Australia and England at Melbourne Cricket Ground on 26 December 2013

Gareth Copley/Getty Images

12/55

Kevin Pietersen makes a gesture to the Gabba crowd

13/55

England batsman Kevin Pietersen walks off at the Waca after the fall of his wicket

GETTY IMAGES

14/55

Kevin Pietersen is all smiles at The Gabba ahead of the first Ashes Test

Getty

15/55

Kevin Pietersen: The local daily in Queensland carried the headline: 'He's so arrogant not even his own team likes him'

Getty Images

16/55

Kevin Pietersen will have a scan and treatment on a knee

Getty

17/55

Kevin Pietersen prepares for the ODI series against Australia

GETTY IMAGES

18/55

Kevin Pietersen bats in the nets at The Oval a

Getty images

19/55

Kevin Pietersen is honoured for becoming England's leading all-time run scorer

Getty Images

20/55

Kevin Pietersen

PA Wire

21/55

Kevin Pietersen of England celebrates with fans after England retained the Ashes

GETTY IMAGES

22/55

Kevin Pietersen's after his 23rd Test match hundred

Getty Images

23/55

Kevin Pietersen – 2
Lasted a grand total of 13 balls in the match, making 7 runs. Played a particularly stupid shot to get out in the second innings and then played no further part in the game due to a calf strain. Doubtful for the next Test, although on this performance he won't be greatly missed.

Getty Images

24/55

AP

25/55

Pietersen must wait until the opening Ashes Test next month to make his first appearance

Getty Images

26/55

Kevin Pietersen: The batsman was spoken to by the referee in the Mohali airport toilets

Getty Images

27/55

Pietersen doing charity work

AFP/Getty Images

28/55

Kevin Pietersen on a celebratory Twitter post

29/55

Alastair Cook and Kevin Pietersen

GETTY IMAGES

30/55

ECB chairman Giles Clarke listens to Kevin Pietersen speak at a news conference in Colombo

Reuters

31/55

Pietersen was one of the more enthusiastic participants in England's victory parade through London

Getty Images

32/55

Pietersen is left out of England's squad following the controversy over provocative text messages

Getty Images

33/55

England retain the Ashes in Australia, their first series win in the country since 1987. Pietersen ends the series with 360 runs at an average of 60.

Getty Images

34/55

Pietersen arrives with England for the one-day World Cup in India in high spirits, but the trip ends in disappointment for him, with injury eventually forcing him him out.

Getty Images

35/55

Pietersen is named in England's Test squad for the first Ashes Test at Lord's, taking the place of the hugely experienced Graham Thorpe.

Getty Images

36/55

Pietersen hits a swashbuckling maiden test century to rescue England in the final Ashes Test at The Oval. The draw means England reclaim the Ashes for the first time since 1987.

Getty Images

37/55

Going on to score further centuries in East London and Centurion, Pietersen ends up being Man of the Series, making 454 runs at an average of 151.33 and becoming the fastest man in history to reach 500 one-day international runs in the process.

Getty Images

38/55

Kevin Pietersen and the team after winning the World T20 in 2010

GETTY IMAGES

39/55

Main attraction: Kevin Pietersen celebrates his century against South Africa. He finished the day on 149 not out

AFP

40/55

Flintoff and Pietersen in 2005

PA

41/55

Kevin Pietersen enjoys a superb match-winning century for Delhi

AP

42/55

England beat Pakistan to take an unassailable 3-0 lead in the one-day series. Kevin Pietersen notched a century in the process.

GETTY IMAGES

43/55

Pietersen with the Ashes

PA

44/55

KP at Wimbledon

GETTY IMAGES

45/55

getty images

46/55

AP

47/55

Kevin Pietersen does the 'teapot' after England win the Ashes in Australia

Getty Images

48/55

Kevin Pietersen gives his verdict on the Lamborghini Gallardo

AFP/GETTY IMAGES

49/55

Pietersen in his early England day

GETTY IMAGES

50/55

GETTY

51/55

GETTY

52/55

GETTY IMAGES

53/55

PA

54/55

Kevin Pietersen (left) and Andrew Flintoff

GETTY IMAGES

55/55

KP in his first Ashes triumph

GETTY IMAGES
Maybe four World Championships really have turned him into a screaming prima donna. Perhaps what really happened is Seb leapt out of the car and started foaming at the mouth
A Red Bull statement after reports Sebastian Vettel threw a "hissy fit" at a pre-season test
I don't want to cry, I want to be tough
British speed skater Elise Christie after being disqualified from a third event at the Winter Olympics in Sochi
I've got a sore neck from looking down one end of the field for the entire second half     
Scotland's Scott Johnson after Six Nations defeat to England
A big man goes down from a slap in the face. I'd be more embarrassed about that. It's wrong because I've seen worse cuddles    
Worcester coach Dean Ryan on Northampton's Sam Dickinson
--
MARCH
I was not horrified by the noise, I was horrified by the lack of it
Bernie Ecclestone on F1's new V6 engines
It's shit
Vettel's reaction
I'm the @MileyCyrus of heavyweight boxing young crazy super sexy & don't give a fuck    
Tyson Fury
We need to get it up. I wish I could still get it up, but anyway... 
Ecclestone returns to the lack of engine noise
--
APRIL
Punching lockers isn't the way forward for anyone. There's only going to be one winner there    
England's Ben Stokes after breaking his wrist
They were three times the size of bees. Thirty or 40 of them started to attack me big time. I start running like a crazy guy, the players told me to jump in the lake   
Pablo Larrazabal finds the water to escape a swarm of hornets at the Malaysian Open
Someone needs to tell Lewis that move was NOT ON!
Nico Rosberg on the Mercedes radio during the Bahrain GP
--
MAY
Maybe I'm sick of pasta. The Chinese stomach is a little bit different    
Li Na after stomach trouble at the Rome Masters
The problem is mine. The wedding invitations issued at the weekend made me realise that I wasn't ready for all that marriage entails   
Rory McIlroy breaks up with Wozniacki
That was the best punch of my life. You define a good punch from what it means, and what that meant was the whole George Groves saga came to an end...
Carl Froch on beating George Groves at Wembley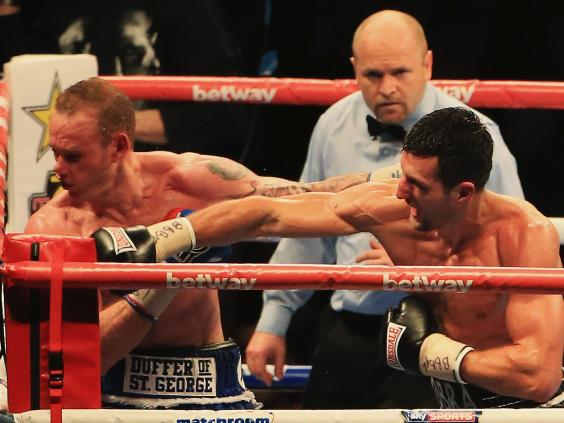 I can't stand losing anything, not even tiddlywinks, and to lose anything in Australia against the Australians is appalling. It's a very bad experience
Giles Clarke, chairman of the ECB, is still not over the 5-0 loss in the Ashes
There's not much to say about our relationship at the moment. We are not friends. We are colleagues
Hamilton describes life with Rosberg
--
JUNE
He's a beautiful person    
Rafael Nadal's feelings for Andy Murray did not stop him beating the Scot in the French Open
Should we talk about my match or just talk about Mauresmo?    
James Ward not happy at being continually asked about Murray hiring Amélie Mauresmo as coach
We left the door ajar for them and they kicked it open    
Tom Wood rues England's narrow defeat to the All Blacks in Dunedin
I'm trying to figure out when this is going to end. I'm really losing focus up here. Is this the last question?    
Serena Williams does not enjoy a press conference at Wimbledon
I witnessed the worst day of captaincy I have ever seen at international level in almost 25 years in the game.     
Shane Warne is not impressed by Alastair Cook after England draw with Sri Lanka in the first Test at Lord's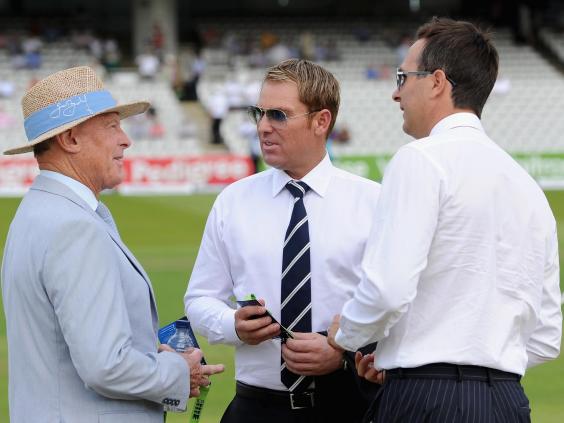 Jamie is the No 1 son. He's the priority! My brother's always been the favourite so my family all went to watch him    
Murray feeling left out at Wimbledon
I'm devastated the team don't trust me to do the job as I've always done. I'm in shock. I don't understand why I'm not selected    
David Millar on being dropped from a farewell Tour de France by Garmin-Sharp
--
JULY
My name is Lou Vincent and I am a cheat
The New Zealand cricketer comes clean
I'd just like to say that, despite me being a Manchester United fan...
Rory McIlroy's acceptance speech earns boos after he wins the Open at Hoylake on Merseyside
The cover drive is the easiest shot in the world to play. Every kid can do it so why not someone as talented as Cook?
Pietersen has his say, for once, on the England captain
It's plastic, it must have cost £10. It's so bad
Hamilton is not impressed with the trophy he got for winning the British Grand Prix at Silverstone
It wouldn't have been a British start without a bit of rain     
Chris Froome enjoys Yorkshire's Grand Depart to the Tour de France
I'm waking up to this nonsense. Journalists, please don't create lies to make headlines
Usain Bolt denies criticising the Glasgow Commonwealth Games
I think there should be more made for him – stick a whopping great statue outside. He won't complain because he's far too nice, so I'll complain for him
Sir Bradley Wiggins sticks up for Sir Chris Hoy over his velodrome in Glasgow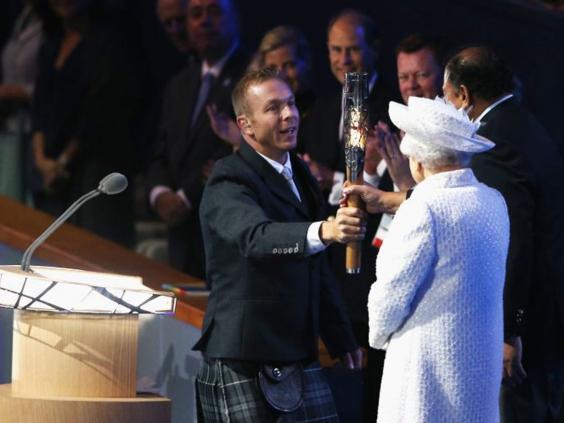 Until I get that tap on the shoulder saying 'We don't want you to be captain' I'm desperate to turn things around for England. If I'm not good enough at the  end of the summer, then so be it    
Cook pledges to stay on despite defeat to India at Lord's
I've not eaten properly  for the last two days and I've been living off porridge. I'm not really a porridge fan    
Laura Trott overcomes a kidney infection to win cycling gold at the Commonwealth Games
--
AUGUST
It feels a bit surreal. It is really special to think I am 40 with two children
Jo Pavey after her 10,000m gold at the European Championships
Pain-free, yes, except for the headache of talking to you guys    
Tiger Woods charms the press ahead of the US PGA Championship
I don't think it's that helpful, especially from a so-called friend      
Cook on criticism by Graeme Swann of England's one-day efforts
--
SEPTEMBER
They're getting into the sort of last few holes of their careers, and that's what happens    
McIlroy has a playful dig at Woods and Phil Mickelson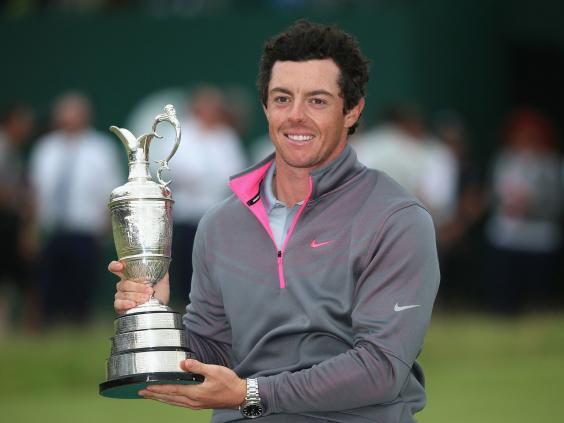 Why? Why this? I've gone from the top of the world to the bottom of the ocean    
Kell Brook struggles for answers after being stabbed on holiday in Tenerife
Not only are we able to play together, we also don't litigate against each other, and that's a real plus, I feel, heading into this week    
Mickelson tries to stir things with Graeme McDowell and McIlroy prior to the Ryder Cup
Unfortunately, we have strayed from a winning formula in 2008 for the last three Ryder Cups and we need to consider maybe getting back to that formula that helped us play our best
Mickelson criticises the captaincy of Tom Watson after the United States' defeat
I made a poor decision regarding the limits of my alcohol intake     
Aaron Cruden explains why he missed the All Blacks' flight to Argentina
--
OCTOBER
I want to put this nicely but, reading the book, it strikes me that maybe, just maybe, team sport's not for you?
TV chat show host Graham Norton to Pietersen
I have never seen a grown man of the stature of Ben Flower cry as much in my life
Ian Lenagan, the Wigan chairman, after Flower was sent off for punching St Helens' Lance Hohaia in the Super League Grand Final
These are guys you go to battle with, guys I share the dressing room with and then I get this feeling of total horror when I find out this is going on. It is like when you lose your wallet or phone – that hollow, empty horrendous feeling
Pietersen on the KP Genius parody Twitter account
It riled the team that KP allowed Piers Morgan to belittle [Alastair Cook] and the team on social media. KP laughed at the players and told them to get a thicker skin   
A leaked ECB document highlights how Pietersen divided the England camp during the last Ashes
--
NOVEMBER
This is the greatest day of my life. 2008 was special but the feeling I have now is way past that. It's the greatest feeling I have ever had
Hamilton after winning his second F1 world title in Abu Dhabi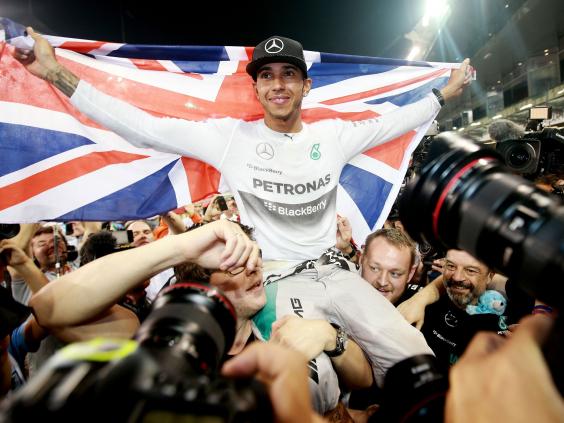 He's got talent, he's good looking, he speaks good English, he has Maria Sharapova for a girlfriend. What more can you ask for?    
Novak Djokovic reveals his admiration for Grigor Dimitrov and his partner
If you boo Rhys Priestland, you boo myself, you boo Warren Gatland, you boo Leigh Halfpenny, you boo the Welsh jersey    
Wales assistant coach Shaun Edwards sticks up for Rhys Priestland
I was playing Mario Kart when I got the call. I was winning at that – Mario Kart is better than my tennis     
Murray on being drafted in to replace the injured Roger Federer on the last day of the ATP World Tour Finals
You never want to be the guy who talks it up and then can't back it up, training like Tarzan and playing like Jane    
James Haskell aims high on his England recall
I had some watermelon juice, three poached eggs, some baked beans and a couple of pieces of toast
Hamilton celebrates his second world title in style
--
DECEMBER
Love me or hate me. I don't hate anyone. Peace and love. I just don't like Cocks    
Toulon prop Martin Castrogiovanni does not miss working with coach Richard Cockerill at Leicester
Floyd Mayweather is just using it to get to me and get in my head. He's just trying to disrupt me    
Amir Khan believes Mayweather is just playing for time by offering to fight Pacquiao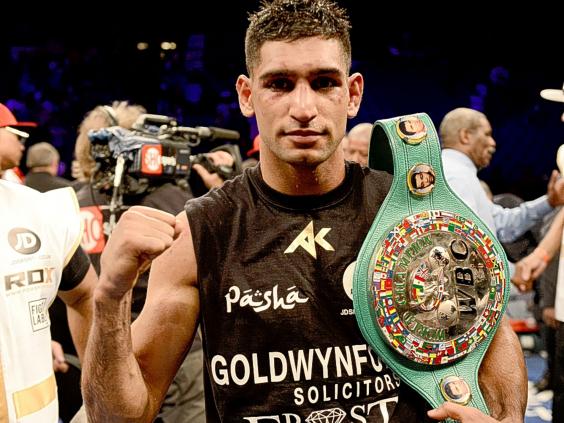 The generous money they were offering and the promise of around 300 days of sunshine made the opportunity to play abroad very tempting    
Northampton's Dylan Hartley finds it hard to turn down Montpellier
You can get absolutely everything. Everything the athlete wants
Former Russian discus thrower Yevgeniya Pecherina alleges doping is rife among her compatriots
Reuse content