Lizzy Yarnold likes to call it the circus, and the circus is on the road once more.
Ten months after Yarnold was crowned Olympic skeleton champion in Sochi, in a season when she also won the World Cup title, the Briton is back in competition, ready to race down the ice at around 90mph, starting on Saturday.
The Lake Placid location of the first World Cup race of the new season is befitting, a setting for one of last season's four World Cup race wins on her way to a title which proved she is the dominant force in her sport.
But the intervening 10 months since the romantic tale of winning the Olympic title on Valentine's Day on a sled co-created by her boyfriend James Roche, who was watching from the icy sidelines, has been a whirlwind.
While her rivals have prepared for racing in the United States, Yarnold's final warm-up was to meet the Queen to receive her MBE last week.
Was the Queen among the five million Britons who tuned in to watch that fourth and final run in a nail-biting climax in Sochi?
"I didn't have a chance to ask but she seemed to know a lot about Sochi and wanted to know how they got the snow and ice there when it was so warm," recalls Yarnold. "I remember the smile on my face just before going into the room to meet her was just so big. She was absolutely lovely, the experience surreal."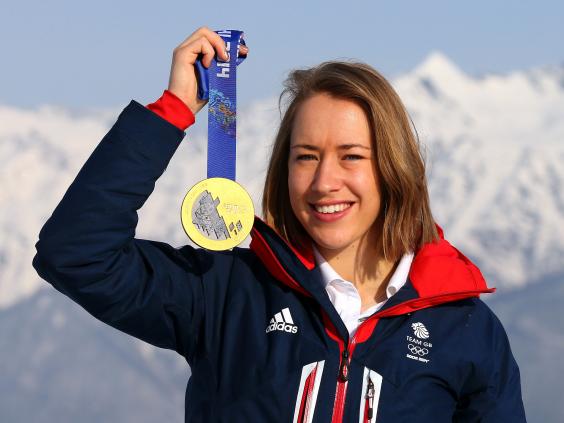 Surreal is a word that punctuates conversation with Yarnold as she looks back on the repercussion of winning that gold, from the trip to Buckingham Palace to a litany of end-of-year award nominations.
And life has changed. Roche is no longer by her side, at least in a sporting sense, having switched from working with McLaren Applied Technologies, an offshoot of the Formula One team that designed the sled. Instead, he was headhunted to be part of the design team for Ben Ainslie's America's Cup operation. It is an appointment the keen sailor calls "a dream job" and Yarnold claims her boyfriend is even more ambitious than her.
But in the lead-up to Sochi it was apparent that her focus was absolute, and never seemed to waver once.
With time to reflect, Yarnold is not afraid to admit that the build-up to Sochi was tough, her own expectation bigger than anything the media or public at large could collectively heap on her.
"Last year was like a long tunnel closing in on you – my whole life was about just that race," she says. "I wanted to do myself justice, I really wanted to do everything right."
Everything was fine until the night before the first of her four runs when the nerves finally kicked in, nerves worse than anything the 26-year-old can remember from her countless runs on sheet ice.
But as she arrived on race day, a switch flicked. "I realised there was nothing more I could do. All the preparation was finished and it was now a case of ready or not."
And supremely ready she proved to be, winning all four runs to take the gold by nearly a second, a gargantuan margin in a discipline so often decided by hundredths of a second.
"I had a big margin going into the final run and was determined to enjoy it but I made a mistake at corner two and started to skid to corner three. I knew once I got there I could relax."
Many people talk of the relief of such a moment, but Yarnold likes to reminisce about "the best fun I've had in a long time", a moment she says she will never emulate – winning gold at her first Olympics.
Other Olympic champions have struggled in the aftermath. The previous Olympic champion, Amy Williams, was forced to retire with injury  just two years after her  own gold.
Yarnold, though, is adamant the drive remains undiminished despite reaching the pinnacle of her career.
"I feel ready for the circus of skeleton racing again but in a very different way," she says. "I can now trust myself knowing what I was capable of and I can challenge myself a bit more, trying different lines. I'm still a novice, and there's a lot of tracks I don't know. You never know how good you can be and I like that."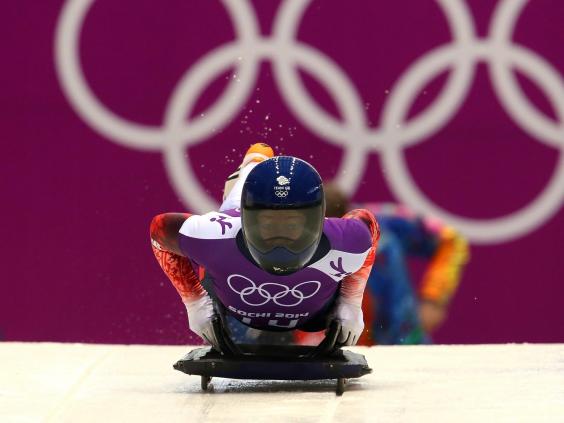 She has heeded words of advice given to her by the 400 metre hurdles Olympic gold medallist David Hemery – "never limit yourself to what you're capable of achieving".
The top goal in the 2014-15 season is to add a first World Championship title to that Olympic crown.
She has not let herself imagine the "what if" of not having won gold but had been wondering whether her drive may have dipped post-Sochi until she made one of the many school visits that have peppered recent months.
"I went to this school and had a badminton lesson and suddenly the super competitive me kicked in again," she says. "I still really want to succeed."
After Lake Placid she returns to the UK for the BBC Sports Personality of the Year awards with those closest to her admitting split loyalties.
"My family went to see Charlotte Dujardin at the Olympics while I'm a big golf fan so my vote would probably be for Rory McIlroy," she says.
But as a 100-1 fifth favourite to take the accolade, Yarnold knows that this is one contest in which she may well have to settle for being an also-ran.
BBC Sports Personality of the Year will be aired live from Glasgow on BBC One and BBC One HD this Sunday, 14 December, at 8pm.