Two Melbourne Demons players will be disciplined by the Australian Rules club after they celebrated "Mad Monday" by dressing up as disgraced children's entertainer Rolf Harris and a young girl, with a picture appearing on Instagram.
The day marks a celebration for Australian athletes that usually involves heavy consumption of alcohol and – in regular circumstances – tends to do more damage than good to the reputation of the sport and the clubs within the league.
Melbourne star Dean Terlich was seen in the picture dressed up as Harris while his club colleague Alex Georgiou was spotted wearing a dress and a wig with pig-tails to replicate the image of a young girl.
In July, Harris was sentenced to five years and nine months in jail for 12 indecent assaults against four girls.
Melbourne's coach, Paul Roos, has issued an "unreserved apology" to anyone offended by his players' behaviour and has labelled their actions "unacceptable".
"I find it hard to believe a couple of players could turn up like that and as a footy club (we are) completely unhappy with their behaviour," Roos said a news conference on Tuesday.
Melbourne is investigating whether Dean Terlich came dressed as Rolf Harris for #MadMonday. Did he? pic.twitter.com/zu27bJNofS

; Tom Elliott (@TomElliott3AW) September 1, 2014
"It's unacceptable and we unreservedly apologise to anyone that we have offended.
"I was just speechless. The problem with days like yesterday is they just don't think," he added.
"There is no malice, there's no intent, there's just no thought process goes into it and I think that is the worst part about it.
"Some people take the view 'boys will be boys', I don't take that view, it's just unacceptable."
Roos also added that that while they had not yet decided what disciplinary action would be taken, both Terlich and Georgiou will face action and could be forced to go on an education program.
It of course isn't the first incident to occur on "Mad Monday", where large groups of Aussie Rules players come together with their team-mates to either toast the previous season or drown away their sorrows after a year to forget.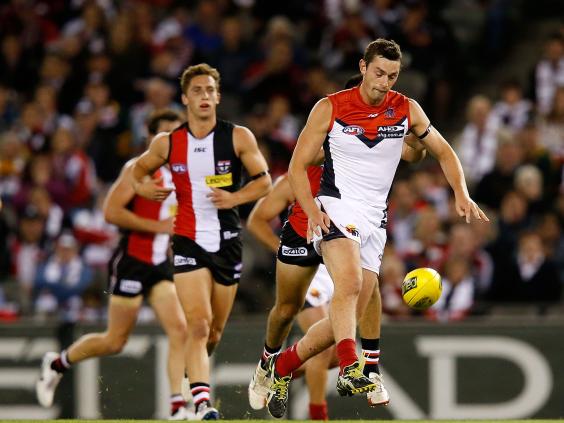 One of the more high profile controversies was that involving current Warrington Wolves star winger Joel Monaghan, who was sacked by the ARL side Canberra Raiders in 2010 after pictures emerged of the Australian simulating a sex act with a dog.
There was a further incident the following year when Geelong players Jimmy Bartel and Mitch Duncan dressed up as disgraced player agent Ricky Nixon and the "St Kilda schoolgirl".
Reuse content