Imagine a world where transfer deals don't exist, where the only way a player can move club is by being swapped for another player or by waiting until his contract has reached its end.
Read more: LeBRON JAMES RETURNS TO THE CLEVELAND CAVALIERS
Imagine a world where Lionel Messi and Cristiano Ronaldo were free agents and were open to negotiate with any team in football.
That's what's happening in NBA free agency right now.
The world's best player, LeBron James, and a bona fide superstar in Carmelo Anthony are just two of almost 150 players without contracts in the NBA – every team in the league, if they can afford it, are open to make an offer to James, Anthony and the rest.
They are doing just that.
LeBron James is a once in a generation player who will make any team he decides to join an instant contender for the title. The best player since Michael Jordan (with some arguing he's as good), James is easily in the top 10 players of all time, despite only being 29-years-old.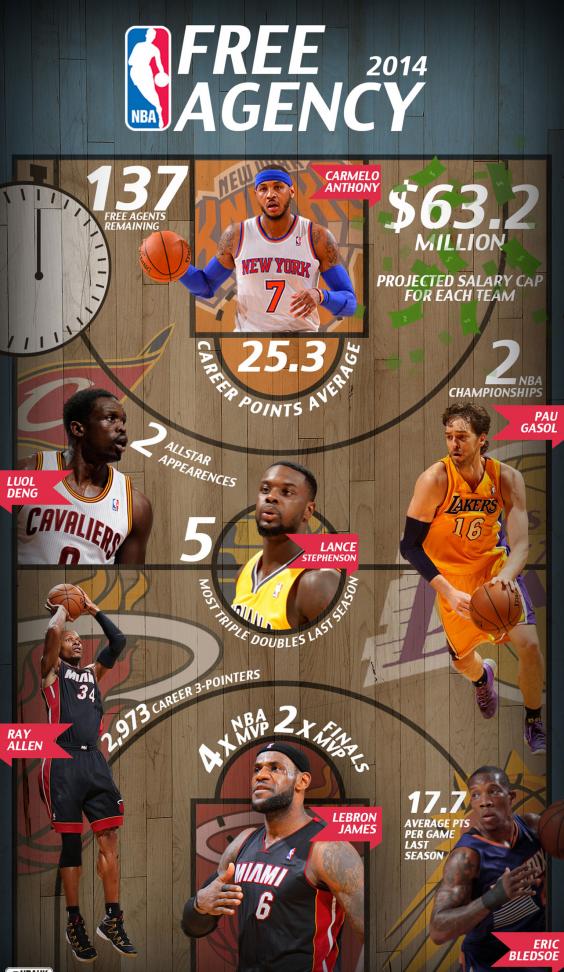 Cristiano Ronaldo wouldn't be able to lift Crystal Palace from 11 in the Premier League to the title, but James will make any team, no matter their record from recent seasons, a team capable of winning the Larry O'Brien trophy every year until he retires.
Where he lands in the next few days (or weeks) will have massive implications across the league. Four years ago, 'The Decision' brought James to Miami, where he and the Heat have reached the Finals every year since, winning twice.
Several teams are leaving other stars in limbo as they chase James one last time. He's that important. But away from James there are a number of other players who will be getting big deals or who could become the final pieces in a puzzle to win a championship.
How does Free Agency work?
NBA players who have reached the end of the contract with their previous team are able, in theory, to negotiate with all 30 teams in the league. Each team has a salary cap, set at $63.2m this season, which they will be penalised if they exceed. Within that cap individual players can earn as much or as little as they are worth (James will likely command in excess of $20m) but as a whole a team's squad, or roster, must not go over that value. In addition there is a minimum salary cap, $56.6m that teams have to go above.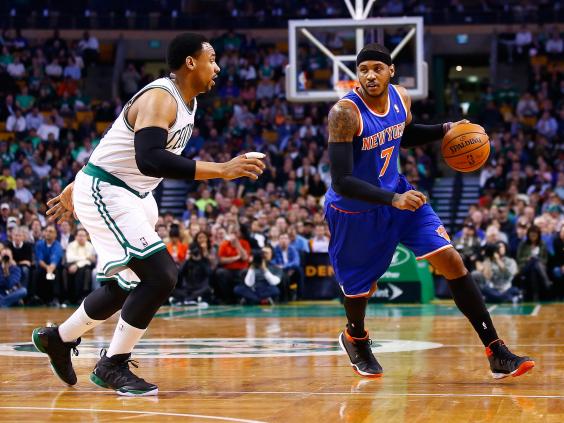 Unrestricted/Restricted free agents
If a player is an unrestricted free agent (UFA) he is allowed to sign with any team he wishes. If a player is a restricted free agent (RFA) his current team can match any offer given by another team – if said team decides to match the offer sheet the player has to sign with his current team.
Contract clauses
LeBron James 'opted-out' of the last year of his Miami Heat contract to become a free agent – he had a 'player option' that allowed him to do so after four years. Teams typically add this risky clause when trying to entice a player to sign. Teams can also add a 'team option' to contracts if they are unsure how a player might perform and don't want to give an individual a longer contract.
Bird rights
Named after Boston Celtics great Larry Bird, if a player has been at a team for more than three years without being signed or traded, that team is able to offer more money than other teams – this was brought in to incentivise players to stay with the franchises that drafted them, rather than heading to bigger/better teams.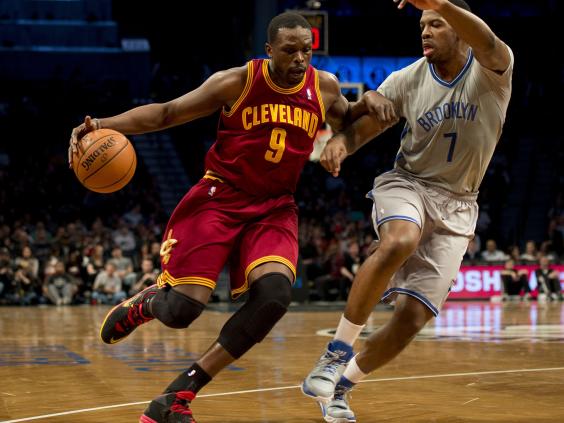 Top free agents left on the market
LeBron James (small forward, UFA)
The world's best player – could remain with the Heat or make a sensational return to the Cleveland Cavaliers. Expect a decision very soon.
Carmelo Anthony (small forward, UFA)
Elite level scorer and perennial All-Star who is being chased by a number of franchises. Will instantly improve any team on the offensive end
Chris Bosh (power forward/centre, UFA)
James' No 2 for the Heat, Bosh already has an $88m offer from the Houston Rockets on the table but is waiting for James to make his move
Pau Gasol (power forward/centre, UFA)
Kobe Bryant's favourite player might be ageing but still has plenty to offer a number of teams, still a has great vision and basketball IQ.
Luol Deng (small forward, UFA)
The Team GB star suffered from injury last season but has suitors in Chicago, Dallas and Miami. A guarantee to leave it all on the floor every night.
Lance Stephenson (shooting guard, UFA)
A very inconsistent player but the high-energy guard led the league in triple-doubles last season. Just don't mention ear-blowing.
Dwyane Wade (shooting guard, UFA)
Still a superstar name but his skills, along with his knees, are forever deteriorating. His decline is part of the reason James may want out of Miami.
Eric Bledsoe (point guard, RFA)
Only played 43 games for the Phoenix Suns last season because of injury but showed he was more than good enough to be a starter in the NBA.
Ray Allen (shooting guard, UFA)
The best three-point shooter ever, 38, is getting old and struggled in the NBA Finals, but could be key in snaring James to a particular team. Though he is considering retirement.
Greg Monroe (power forward/centre, UFA)
Performed well on a poor Pistons side but the three-headed frontcourt experiment of Monroe, Andre Drummond and Josh Smith didn't work.