Just over two weeks after it began, the free-agency period has seemingly began to quieten down. There has been plenty of action so far, Michael Vick, Eric Decker and Golden Tate are just three of the star studded names to have found new homes already. The name of the game during the period is to strike gold with maximum talent at the lowest price possible and with several talented individuals still unclaimed, and the NFL Draft just on the horizon, we take a look at the ten best players still available on the market.
Jared Allen (position: defensive end)
Five time pro bowler Allen is probably the best defensive player left in this season NFL free agency. The former Viking accumulated 128.5 career sacks, an average of 14.5 per season over the past seven seasons.  The only triumph to have evaded the Idaho State Defensive end's illustrious career is the coveted SuperBowl ring, and if a reported move to the Seahawks this off season becomes a reality then he may just get his wish very soon.
Maurice Jones-Drew (position: running back)
Jones-Drew led the NFL in rushing yards during the 2011 season and also broke the Jacksonville Jaguars franchise records for both rushing yards in a season and also yards from scrimmage in a season. The three time pro bowler out of UCLA isn't getting any younger, but at 29 he still has plenty of options available to him. Steelers and Jets are both interested parties.
Jermichael Finley (position: tight end)
Green Bay Packers free-agent tight end Jermichael Finley suffered a season ending neck injury in the team's Week seven win over the Cleveland Browns and had to undergo spinal fusion surgery as a result, he is reportedly still two months away from signing with any team. However, when that time comes Super Bowl XLV champion Finley would still be more than capable of making a difference to several teams offensive line ups.
Kenny Britt (position:  wide receiver)
Former Titans bad boy is certainly more known for his off field antics than on, with almost as many arrests as he has career touchdowns (9 arrests, 19 touchdowns). However, being selected with the 30 overall pick in the 2009 draft, the 25 year old certainly has a lot to prove, all he needs is the right team and he may well shine.
Mark Sanchez (position: quarterback)
Despite a promising start to his NFL career and being the number 5 overall pick in the 2009 draft, the career of Mark Sanchez has certainly taken a turn for the worse. Leading the Jets to back to back AFC championship games in his first two seasons, a run of bad performances led the 27 year old to be benched over the past couple of seasons and subsequently released. He'd be one of the better backup options in the league and the Rams look his most likely destination.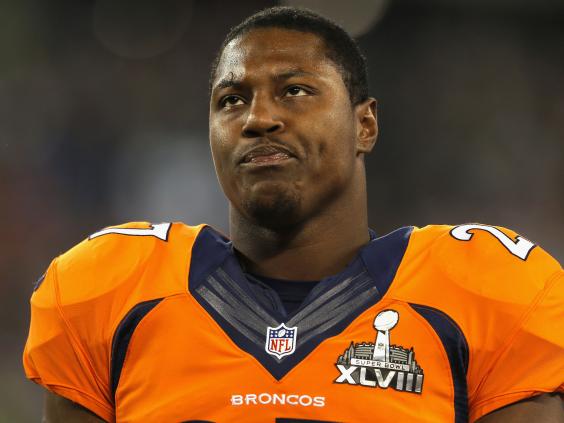 Knowshon Moreno (position: running back)
Free-agent running back Knowshon Moreno played a key role in the greatest offensive in NFL regular-season history, the 2013 Denver Broncos and his release may have come as a surprise to most. The 26 year olds mixture of rushing ability, pass-catching talents and blocking merit certainly make him a prized asset to almost any roster, expect to see him on South Beach next season.
Owen Daniels (position: tight end)
Two time pro bowler Daniels has enjoyed a strong NFL career so far, amassing 385 receptions and scoring 29 touchdown passes. At 31 years old, the former Houston Texan would bring some welcome experience to any offensive set up and is perhaps looking for one last big move before hanging up his boots.
Pat Sims (position: defensive tackle)
A player who will perhaps go under many peoples radars during this year's free agency is Defensive tackle Pat Sims. Although looking likely to re-sign with the Oakland Raiders this off season, the 28 year old out of Auburn should certainly attract some attention from sides that were lacking in the defensive department last season.
Josh Freeman (position: quarterback)
No one could have foreseen the fall from grace of former Viking Quarterback Freeman. Regarded as one of the brightest prospects in the 2009 draft, he was selected 17 by the Tampa Bay Buccaneers. Despite spending four seasons as arguably the Bucs star man he was picked up during last season by the Vikings. There is clear quality pulsating through many aspects of his game, a strong character standing over him may just revive his career.
Santonio Holmes (position: wide Receiver)
Former Green Bay Super Bowl XLIII MVP Santiono Holmes has struggled with injuries over the past two seasons with the Jets. The 30 year old has 376 receptions and 36 receiving touchdowns to his name and may struggle to find a new home this free agency. However, he has proved he has the ability to provide on the big stage and should get one last chance to shine.
Reuse content