Part Two: What made us laugh, gasp, cry and clap
--
Sam Wallace - Chief Football Correspondent
Live moment of the year
Nothing beats the World Cup Final for the sense of history. It transforms forever the standing of the players who win it. The game at the Maracana was intriguing, if lacking in the spectacular moments that had been so plentiful in the first two rounds. It was fitting that the great German generation won it, although Lionel Messi deciding the game with a moment of brilliance would have been the Hollywood ending.
Worst disappointment 
Easy: England's World Cup. Having low expectations is one thing, fulfilling them is another. For all the sense that has been spoken and the progress of a few young players since, you fear nothing changes and a familiar narrative will unfold at Euro 2016.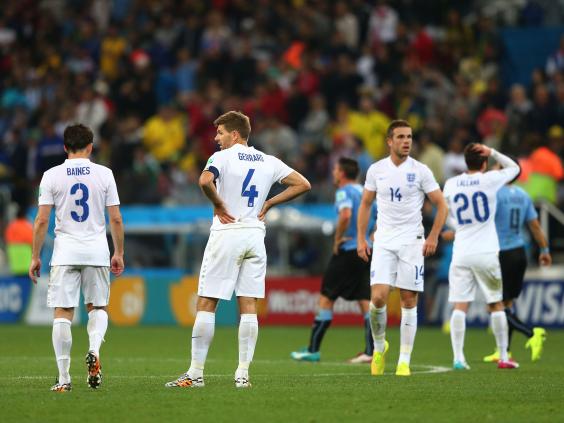 Shock of the Year
I still find it hard to believe that San Marino got a point against Estonia in Euro 2016 qualifying in November. It was only the second game in their history that did not end in defeat, and from what I have seen of them against England they are getting worse.
Favourite interviewee
I enjoyed the insight and honesty of Ronald Koeman and Franny Jeffers. Interviewing Fernando Torres in April, however, was the best. Nato treaties have been agreed in less time than it took to get to see him but when we finally met, he was open and frank. An insight into the kind of mentality required to survive football's highs, and lows.
Newcomer of the year
Harry Kane has exceeded expectations and become the kind of striker that Tottenham hoped Roberto Soldado might be. The curious thing about Kane is that he does not have an obvious quality in abundance – speed, strength, finishing – but the whole package is impressive. He scores goals, has self-belief and has a chance of becoming an international by Euro 2016.
Footballer of the year
Thomas Müller. The most effective footballer in a World Cup-winning side. Not everyone's cup of tea, but the kind of player that few defences ever get a handle on. Unorthodox and supremely confident.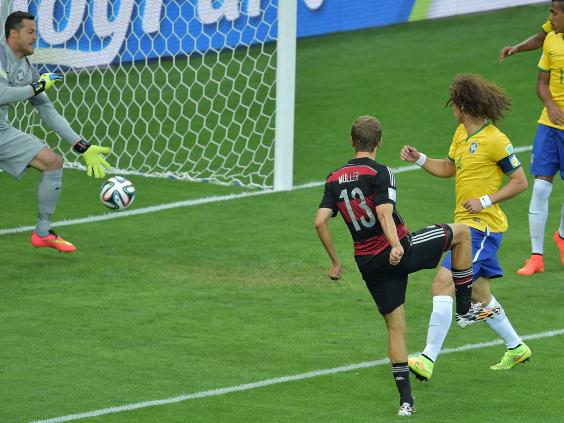 Funniest moment of year
The Uruguay coach Oscar Tabarez's lengthy denouncement of Fifa for having the temerity to ban Luis Suarez for his third biting offence. It felt a bit like a Gabriel Garcia Marquez novel with one of those South American generals rallying his men in a dusty town square. The Uruguayan press loved it though, and broke into applause.
Best Press conference
For the drama it was hard to beat Luiz Felipe Scolari's grave address to the nation after his team's 7-1 mauling by Germany in the World Cup. This was a man who had won the World Cup for Brazil and now had to accept that his legacy had changed forever. He admitted as much.
Villain of the year
Isn't this supposed to be Sepp Blatter's title every year? He has probably won it enough times to keep the trophy. He can have it again for the Michael Garcia farrago and his decision to stand for a fifth term as Fifa president.
Saddest moment
The account of the lives – and deaths – of some of the immigrant workers on Qatar's 2022 World Cup final infrastructure, revealed by the reporter Pete Pattisson, was appalling.
--
Steve Bunce - Boxing Correspondent
Live moment of the year
The moment George Groves dropped to the canvas for a full count of 10 in front of 80,000 at Wembley. Carl Froch connected cleanly in round eight and the sickening knockout silenced the booing from a restless crowd on an extraordinary night under the stars.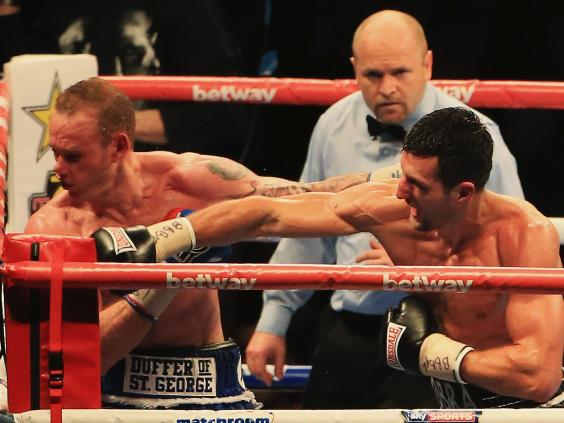 Worst disappointment 
The increasingly blurred lines between amateur boxing and professional boxing. The men in charge of what was known as amateur boxing now have two tournaments where their boxers compete without head guards and over as many as 10 rounds. It will end in tears at the Rio Olympics.
Shock of the Year
The return of heavyweight boxing in America. Bermane Stiverne, a Haitian based in Las Vegas, won the WBC heavyweight title, next year he fights Alabama's Deontay Wilder, who is unbeaten in 32 with 32 knockouts. The big boys are back and that is good news for boxing.
Favourite interviewee
In 1997 Dave Radford had four days' notice to travel to South Africa for 10 rounds with Roberto Duran. "I was just a plasterer from Yorkshire and he was Roberto Duran. He was dirty, but I gave him back a bit of it. It was a bloody good scrap." The pair were reunited in Cannock in September.
Newcomer of the year
Kid Galahad from Brendan Ingle's Sheffield gym won the European super-bantamweight title. He is the free antidote in a business driven by hype.
Person of the year
Easy. He fought as an amateur, trained amateurs, trained and promoted professionals and then managed one of the great heavyweights. He made enemies of boxing's rulers, never stopped searching for a new champion and in the summer declared he was a woman. Step forward, mind those heels, Kellie Maloney.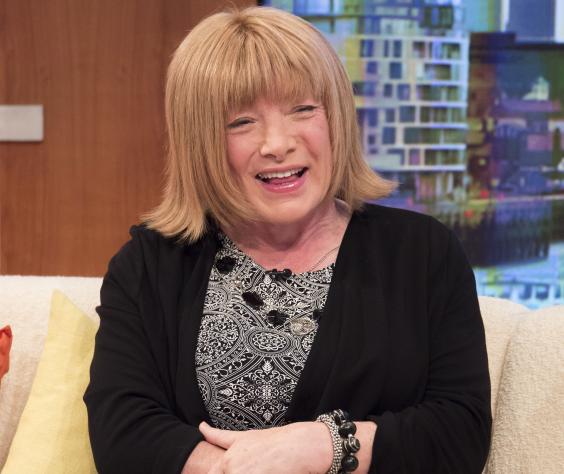 Funniest moment
Any of the glorious cameos by Chris Eubank in the life and fighting times of his son, Chris Jnr. The father played a blinder by removing pressure from his son's shoulders. However, his corner antics and outfits of sleeveless jackets and purple winklepickers were fabulous.   
Best press conference
Any of those that Shannon Briggs invaded. He was world heavyweight champion in 2007, lost to Lennox Lewis in 1998 but this year he pursued Wladimir Klitschko relentlessly; his abuse moved him to the top of Wlad's list for a March fight in New York.
Villain of the year
Tyson Fury was the pantomime villain again. A second seven-figure fight with David Haye collapsed, his showdown with Dereck Chisora was postponed at five days' notice and he had to pay a £15,000 fine for ranting and raving.
Saddest moment
The painful twilight, obscure fights of Danny Williams who is now 41. This year he fought five times in four countries and won once. He is fighting to put his children through school. "I have to do it," he said. He's probably right, but it's still wrong.
--
Paul Newman - Tennis  Correspondent 
Favourite live moment
Gaël Monfils is a wonderful showman but a winner against Alejandro Gonzalez at the US Open was outrageous. Gonzalez played a ball deep to the middle of the court and Monfils leapt into the air and smacked an unstoppable forehand cross-court winner.
Disappointment of the year
Andy Murray worked desperately hard to reach the World Tour Finals but seemed a spent force by the time he got there. He started with a lame defeat to Kei Nishikori and was crushed in just 56 minutes by Roger Federer.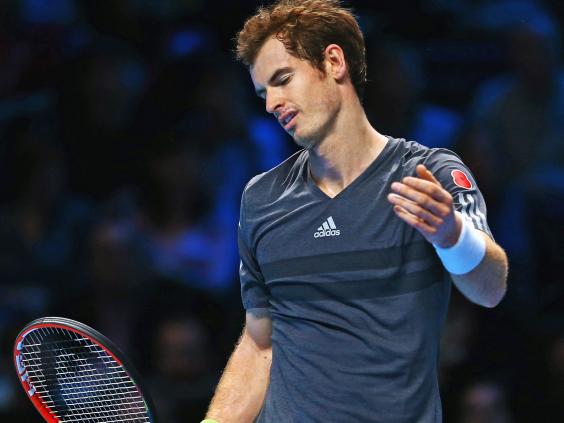 Shock of the year
A modest upturn in Marin Cilic's form in the summer gave little indication of the devastation he would wreak when he won the US Open with three successive straight-sets victories. Tomas Berdych, Roger Federer and Kei Nishikori were blown off the court by an awesome display of power.
Favourite interviewee
Maria Sharapova must have discussed it a million times but she looked back on her 2004 Wimbledon triumph with the joy of someone doing so for the first time. The Russian is the game's ultimate professional, whether on the court, in the boardroom, on the catwalk – or in the interview room.
Newcomer of the year
Nick Kyrgios was ranked No 226 in March but ended the season at No 52. At Wimbledon the 19-year-old Australian saved nine match points before beating Richard Gasquet and then produced one of the shocks of the year with his defeat of Rafael Nadal.
Player of the year
Rory McIlroy called off their wedding after the invitations had gone out, but Caroline Wozniacki's response showed great strength of character. She played her best tennis for years to reach the US Open final, rejoined the world's top 10 and ran the New York Marathon.
The 10 biggest sporting events of 2014 on Twitter
The 10 biggest sporting events of 2014 on Twitter
1/10 1. #WorldCup2014 / #WorldCup

The tournament in Brazil was a classic, with the 7-1 semi-final victory for Germany over hosts Brazil being the most tweeted about moment of the tournament.

Getty Images

2/10 2. #CommonwealthGames

John Barrowman's appearance in the opening ceremony and the Queen 'photobombing' were a couple of the most talked about moments.

Getty

3/10 3. #Wimbledon2014

Andy Murray returned as defending champion but could only reach the quarter-finals at which stage he was knocked out by Grigor Dimitrov. Novak Djokovic beat Roger Federer in a five-set thriller in the final.

GETTY IMAGES

4/10 4. #AusOpen

Perhaps a surprising inclusion so high up the list. Stanislas Wawrinka was the surprise winner of the Australian Open, with the Swiss beating Rafael Nadal in the final.

GETTY IMAGES

5/10 5. #WorldCupFinal

The final between Germany and Argentina generated huge interest, with Mario Goetze scoring a deserved winner for the European team in extra-time.

AP Photo/Victor R. Caivano

6/10 6. #Glasgow2014

An alternative hashtag for the Commonwealth Games.

Twitter

7/10 7. #Sochi2014

The iconic image for many from the Games in Sochi was the failure of the fifth ring to light up during the opening ceremony. The hosts brilliantly worked a joke about the mishap into the choreography of the closing ceremony.

Twitter

8/10 8. #BBCSochi

Perhaps the most entertaining part of the Winter Olympics was the wild commentary of Aimee Fuller, Ed Leigh and Tim Warwood as Jenny Jones won bronze in the slopestyle event. Some didn't enjoy it so much, with over 300 people complaining to the BBC.

PA

9/10 9. #GrandNational

This great horse race continues to be one of the biggest sporting events of the year. Pineau de Re came through in first at Aintree.

Getty Images

10/10 10. #FACupFinal

Arsenal finally ended their trophy drought in a thrilling final at Wembley that saw the Gunners come from two goals down to beat Hull City 3-2.

AP
Funniest moment
After winning the Australian Open Li Na thanked her agent:  "He made me rich – thanks a lot". And her husband: "He's my hitting partner, fixes the drinks, fixes the rackets. You do a lot of jobs. Thanks a lot. You are a nice guy. You were lucky to find me."
Best press conference
Ernests Gulbis was asked at Wimbledon what he thought of John McEnroe's idea to get rid of umpires. "Get rid of vampires?" Gulbis said. "I completely agree." The bemused Latvian spent the next two minutes talking about hangers-on who were like vampires, "sucking the energy out of players".
Villain of the year
Fabio Fognini was fined $27,500 (£17,600), a Wimbledon record, after his victory over Alex Kuznetsov. Having been deducted a point for throwing his racket, the Italian argued at length with officials. He was given two fines ($20,000 and $5,000) for unsportsmanlike conduct and a third of $2,500 for a "visible obscenity".
Saddest moment of the year
Elena Baltacha, who died from liver cancer at 30, had the warmest smile in tennis. She had defied illness and injury throughout her career, but was always positive, never more so than when working at the academy she had set up for under-privileged children.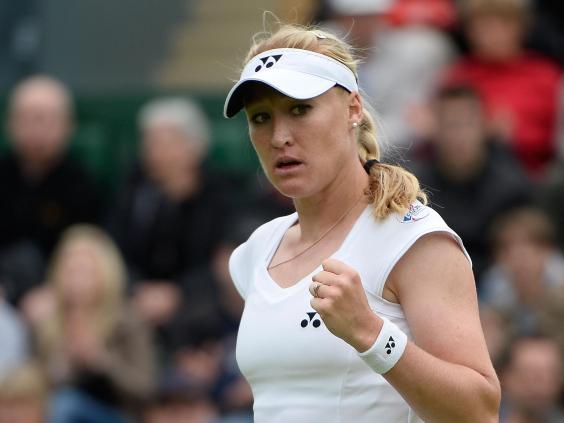 --
David Tremayne - Formula One  Correspondent
Favourite live moment
Nothing beats a World Championship showdown, and Abu Dhabi provided the perfect venue as Lewis Hamilton's date with destiny saw him rise from defeat by title rival Nico Rosberg in qualifying to make the best start, then win both the race and the title in devastating style.
Disappointment of the Year
F1's engineers created cars which used 30 per cent less fuel. It was a major environmental success story that went completely untold by the FIA's feeble communications department.
Shock of the Year
As he celebrated victory in America during his string of nine consecutive successes in 2013 Sebastian Vettel told his Red Bull crew: "We have to remember these days, there's no guarantee they'll last forever." In 2014 Mercedes put a stop to them, but who would have foreseen Vettel's failure to even look like winning?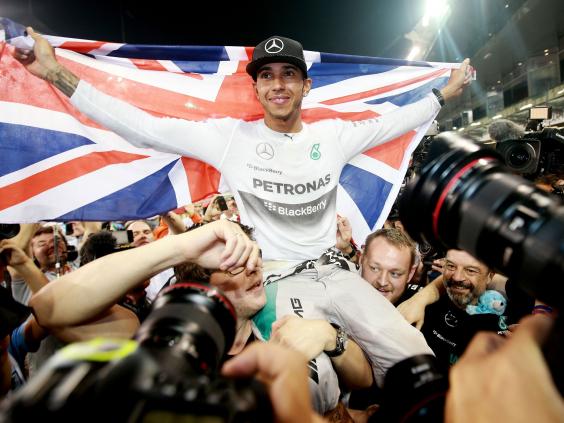 Favourite interviewee
Daniel Ricciardo, he of the amazing smile. This is a guy who is just happy with his life and what he does. He's funny, polite, engaged.
Newcomer of the year
The performance of Red Bull's Max Verstappen, 17, in Brazilian Friday morning practice holds the promise of great excitement next season.
Person of the Year
Susie Wolff did a fine job with Williams, especially in her free practice run in Germany when she was two 10ths off Felipe Massa. But besides underlining her credibility as F1's first woman driver since 1992, she demonstrated tremendous class off the track.
Funniest moment of year
In Abu Dhabi a reporter from Saabrucker Zeitung launched into one of those multi-layer questions including a Niki Lauda quote about monkeys capable of driving F1 cars, seeking to know whether it's now too complicated. When he was finally done after five minutes, Vettel asked with his impish smirk: "Can you repeat the question?"
Best press conference
In Sochi the FIA bared its soul in candid fashion when president Jean Todt and race director Charlie Whiting faced the media for 90 minutes as every question relating to Jules Bianchi's horrible accident in Suzuka the previous weekend was asked – and answered.
Villain of the year
It served former Ferrari chairman Luca di Montezemolo right that he raged against the new technical regulations ("taxi cab racing") at the very event in which the 2014 battle between Hamilton and Rosberg exploded into brilliant on-track-drama – and his red cars were a feeble ninth and 10th.
Saddest moment of the year
In October, the cruel accident that befell Jules Bianchi in Suzuka left a future Ferrari driver trapped in a netherworld from which everyone in F1 continues to pray he will return safely.
--
Matt Majendie - Athletics  Correspondent
Favourite live moment
Jo Pavey at 40 and still breastfeeding daughter Emily earlier in the year winning European gold over 10,000m. "Supermum" did that just 10 days after winning Commonwealth Games bronze.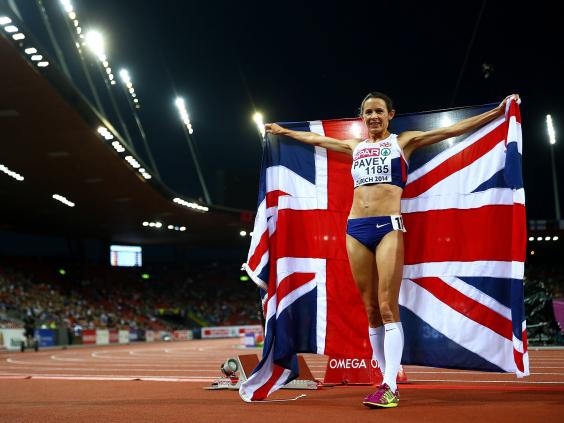 Disappointment of the year
The injury to Katarina Johnson-Thompson denied fans the chance to see how capable a successor she may yet prove to be to Jessica Ennis-Hill.
Shock of the year
That Olympic champion David Rudisha is a mere mortal after all. The favourite to win Commonwealth gold, he was well clear before Nijel Amos, a part-time Botswanan DJ, picked his way through the field to pip Rudisha.
Favourite interviewee
David Rudisha at his Stuttgart training base. It was bizarre to find the great 800m runner living in what was akin to student accommodation. He covered every subject before making chai and inviting me to watch Star Trek with him.
Newcomer of the year
Matthew Hudson-Smith was a breath of fresh air as he made the shift from the 200m to 400m. The ever-smiling Midlander won double relay gold at the Commonwealth Games and then the European Championships, winning individual silver in Zurich as well.
Athlete of the year
A share between Pavey and Greg Rutherford who became Commonwealth and European champion in the space of a few days.
Funniest moment
France's Mahiedine Mekhissi-Benabbad had just swept the floor with his rivals in the 3,000m steeplechase at the European Championships and, in the home straight, whipped off his top and swung it over his head. The outrage at his actions were laughable.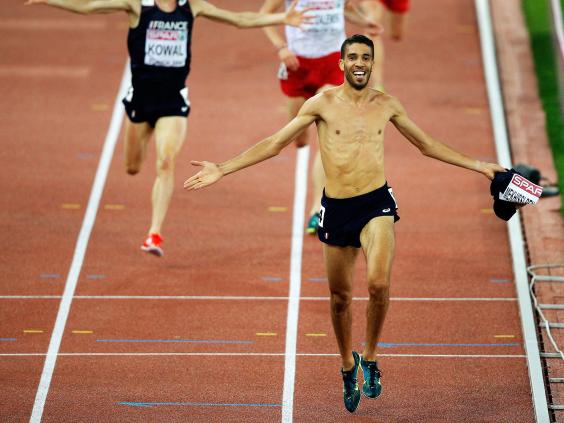 Best press conference
Usain Bolt – again. At a Commonwealth Games press conference he took questions on everything from the Arab-Israeli conflict to Scottish Independence – then posed for a selfie with an Australian television reporter.
Villain of the year
Justin Gatlin who professes his innocence despite having served two doping bans.
Saddest moment
Lynsey Sharp's disappointment after "only" winning silver in the Europeans when she collapsed into her mum's arms and burst into tears.
Reuse content