Super Bowl XLVIII is being played at MetLife Stadium in New Jersey, the first time the showpiece event has been played in the open air in one of the USA's cold states.
There has been talk about 'Super Bowl Tuesday' - moving the big day to later in the week in case of apocalyptic snowstorms.
Fortunately the snow has stayed away and in fact the weather seems surprisingly mild.
So much so that the special heat lamps that have been put into the press area have led some members of the media to complain about it being too hot!
Heating lights in the press seats. Approximate current temp: 157 degrees. pic.twitter.com/d7Gk3mVMvy

; Chris Burke (@ChrisBurke_SI) February 2, 2014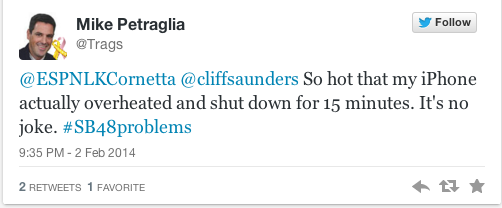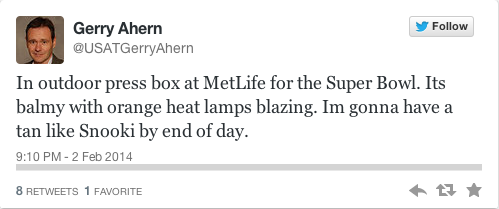 The most controversial Super Bowl halftime shows
The most controversial Super Bowl halftime shows
1/7 Janet Jackson – Super Bowl XXXVIII – 2004

The Carolina Panthers clash with the New England Patriots was overshadowed by a nipple in 2004, a nipple belonging to Janet Jackson which was exposed by Justin Timberlake on stage and earned its very own scandal nickname 'nipplegate'

Getty Images

2/7 M.I.A – Super Bowl XLVI – 2012

The British rapper joined Madonna for a rendition of Give Me All Your Luvin' in 2012, but wound up being sued by the NFL for £900,000 for flipping the bird during the performance

3/7 Patti Labelle & Indiana Jones - Super Bowl XXIX – 1995

It was Indiana Jones and the Shilling of Doom in 1995, when Disney used the halftime show to shamelessly promote its new Indy-themed Disneyland attraction

4/7 Beyonce - Super Bowl XLVII – 2013

104 million people tuned in to see Beyonce reunite with Destiny's Child for an explosive performance, which some blamed for the 22-minute power outage to the stadium that followed and interrupted the game

5/7 Prince – Super Bowl XLI – 2007

It was no exposed breast, but some were unhappy with the phallic imagery brought about by Prince's guitar in 2007

6/7 New Kids On The Black ft Mickey Mouse – Super Bowl XXV – 1991

The performance went without a hitch, only for the Disney star to creepily chime in at its close "Thanks to our armed forces everywhere!"

7/7 Black Eyed Peas – Super Bowl XLV– 2011

Will.i.am and co's Super Bowl stint went without major disaster, but went down in history as one of the weakest half-time performances thanks to some dodgy vocals and tacky space-themed visuals