Over 700,000 lined the streets of downtown Seattle yesterday, as the city's heroes paraded through in an open-top bus to celebrate the Seahawks' Super Bowl win on Sunday.
For the city with a population of 634,000, Sunday's victory brought the first major sporting title since the Seatlle SuperSonics won the NBA finals in 1979.
The Seahawks are known to have one of the best fanbases in the NFL, the '12' man, and according to Seattle public schools, 25% of children, along with 565 teachers were recorded as absent as it was believed they skipped school to attend the parade.
The open-top bus tour made its way to Seattle's home ground, CenturyLink field, where quarterback Russell Wilson emerged last on the field along with the Vince Lombardi trophy.
To win the crown, the Seahawks had to overcome the Denver Broncos and their record-breaking offense, but with the help of their defense, 'The Legion of Boom', they blew the Broncos out in a 43-8 rout on Sunday night.
Media-shy running back, Marshawn Lynch, sat on the front on the cheerleaders' parade bus eating skittles and at one point reached for a bottle of whiskey that he spotted in the crowd.
The Super Bowl champions, as tradition, will also visit the White House while on Twitter, coach Pete Carroll revealed he spoke the President after their win.
He tweeted: "We were so honored today with a call from President Obama and an invitation to visit the White House later this offseason!"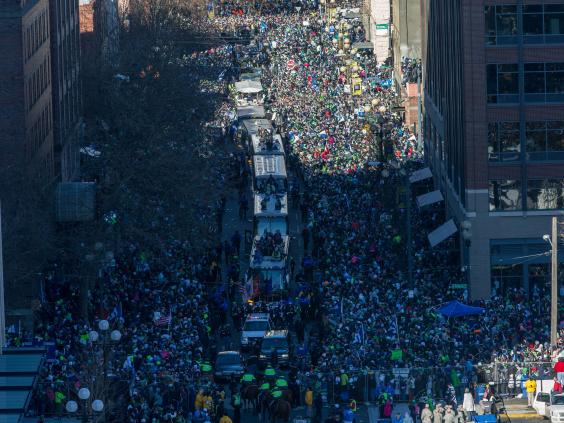 In picture: Super Bowl 2014
In picture: Super Bowl 2014
1/19 The Broncos make their way onto the field

2/19 Queen Latifah gives a rendition of 'America the Beautiful'

3/19 Joe Namath did the coin toss in a superb coat

4/19 The Broncos concede a safety very early on

5/19 The Broncos concede a safety very early on

6/19 Seattle kick a first quarter field goal

7/19 Wide receiver Doug Baldwin #89 of the Seattle Seahawks makes a reception in the first quarter

8/19 Bruno Mars in the half time show

9/19 Bruno Mars and the Red Hot Chilli Peppers

10/19 Doug Baldwin of the Seattle Seahawks scores a touchdown against the Denver Broncos

Doug Baldwin of the Seattle Seahawks scores a touchdown against the Denver Broncos

Getty Images

11/19 Jermaine Kearse of the Seattle Seahawks holds off Tony Carter of the Denver Broncos to score a touchdown

12/19 Wide receiver Percy Harvin #11 of the Seattle Seahawks runs 87-yards to score a touchdown

13/19 Wide receiver Doug Baldwin #89 of the Seattle Seahawks celebrates his 10-yard touchdown

14/19 Tight end Zach Miller #86 and quarterback Russell Wilson #3 of the Seattle Seahawks dump Gatorade on head coach Pete Carroll

15/19 MetLife Stadium is shown after the Seattle Seahawks won Super Bowl XLVIII

16/19 Quarterback Peyton Manning #18 of the Denver Broncos walks off the field after their 43-8 loss

17/19 The Seahawks mascots celebrates

18/19 Tackle Russell Okung #76 of the Seattle Seahawks celebrates after winning Super Bowl XLVIII

19/19 Seattle Seahawks Owner Paul Allen celebrates with the Vince Lombardi Trophy

Seattle Seahawks Owner Paul Allen celebrates with the Vince Lombardi Trophy

Getty Images
Reuse content