SEATTLE SEAHAWKS
With the Super Bowl only days away, it's time to take a closer look at NFC Champions, the Seattle Seahawks...
The Quarterback
Russell Wilson, 25, is one of the stars of the future in the NFL. Drafted in the third round out of Wisconsin in 2012 by the Seattle Seahawks, he has quickly established himself as an athletic young QB, capable of decimating defences with both his legs and his arm. Since his inauguration into the league, Wilson has thrown for 6,475 yards and 52 touchdowns, whilst also running the ball for over 1,000 yards. Quarterbacks in the NFL have traditionally been fairly immobile athletes; using their wits and throwing ability to beat the opposing team, but Wilson has the uncanny ability to keep defences guessing. A pass play that turns into a run play can be devastating; the continuous threat that this could happen is even more so. Teams have to prepare for Wilson in ways they don't need to with 90 per cent of the rest of the league, which subsequently creates confusion, then mistakes.
Inexperience can often be a young quarterback's downfall and Wilson has proven this point in recent weeks. In the NFC Championship game against San Francisco, he scrambled out of the pocket too often, loosely carrying the football which in the first play of the game resulted in a fumble. For a quarterback who has only played 36 games in the NFL, Wilson has had a remarkable start to his career, helping his team rather than hindering them in the majority of situations. However, it wouldn't be a surprise to see Wilson struggle on Sunday. With hundreds of millions of people watching the game from across the globe, it's hard to tell just how he'll react under such immense pressure, so early on in his career. Despite Wilson's inexperience, his abilities make him a dangerous threat, one that shouldn't be discounted come Super Bowl Sunday.
The Legion of Boom
Richard Sherman's post game rant following his team's victory in the NFC Championship game not only took away the focus from his team's victory but also from the rest of the secondary that won them the game. Seattle's defence that day forced three turnovers in the final three drives to send them to the Super Bowl and it was the cornerback's supporting cast that helped achieve this.
Now widely known as the 'Legion of Boom' (LOB); Richard Sherman fronts a group of four defensive backs that have become renowned across the league for their hard hitting and intelligent play making. Along with Sherman; cornerback Brandon Browner and safeties, Earl Thomas and Kam Chancellor make up a secondary that has given up the fewest number of passing yards (2,752) in the League this season, and they also have the most interceptions between them (28). Their successful use of man to man to coverage has smothered opposing receivers, forcing quarterbacks to throw into holes that simply don't exist. By dominating the deeper area of the field, they allow Seattle's linebacker core to blitz more often, which subsequently puts pressure on the quarterback, forcing him to make mistakes. By playing with such a high level of physical intensity, this secondary has become the defining feature of Seattle's organisation, one that dominates the opposition right from the kick-off. Sunday poses the biggest challenge of the season, when they come up against a Broncos offence that threw for the most passing yards (5,444) and touchdowns (55) in 2013; a dream matchup for any fan of the game.
The Running Back
Marshawn Lynch, 27, is 5" 10 and weighs in at 98kg. Nicknamed 'Beast Mode', Lynch has become one of the most punishing running backs in the league, dominating opposing defences with his size and physicality. Drafted out of the University of California in 2007 by the Buffalo Bills, Lynch experienced a turbulent few years in the NFL but has since found his best football since moving to Seattle in 2010. In three full seasons, he's rushed for over 1,000 yards in each, and recorded 35 touchdowns in that time. His value truly emerges in the postseason, as his ability to relentlessly plough through a defence leaves teams tired and unable to retaliate. Lynch has also become a fan favourite in Seattle, despite his reluctance to talk to the media (for which he was fined $50,000). Two of Lynch's touchdown runs have resulted in the crowd at CenturyLink Field creating small earthquakes in Seattle; it has also become a tradition in the North Western Stadium to throw hundreds of Skittles in the air when he scores after Lynch was caught eating a packet of the sweets on the side line one week. 
The Coach
Seattle's head coach, Pete Carroll, will return to New York safe in the knowledge that he has now become one of the top coaches in the league. Before masterminding his team through the 2013 season, Carroll had to graft his way back into the sports elite, following two previously unsuccessful head coaching stints in the NFL. In 1994, Carroll lasted just 16 games with the New York Jets before being fired. He was soon given a second chance with the New England Patriots in 1997, but was once again fired not long into his tenure. Carroll turned to head coaching at the collegiate level, taking over USC in 2001, much to the dismay of many as he was far from the College's first choice. Over time however, he built back up his reputation, becoming one of College football's finest head coaches, an accolade which would eventually give him his third chance with Seattle in 2010. Carroll remains a player's coach, and a youthful one at that, even being described by the New York Daily News as the 'NFL's Peter Pan'. Despite being 62 years old (the second oldest head coach in the league), he is still running up the side lines with more enthusiasm than most. After starting his head coaching career in New York, it seems only fitting that it be the place where he comes back to prove the NFL wrong once again.
DENVER BRONCOS
Here, we take a closer look at AFC Champions...
The Quarterback
Peyton Manning, 37, is a four time (soon to be five time) MVP who will be playing in his third Super Bowl on Sunday. Winner of the Lombardi Trophy back in 2007 with the Indianapolis Colts, Manning has had a glittering 16 season career, leading his team to the playoffs 12 times. This year has been his best statistically, setting single season passing records for yards thrown (5,477) and touchdowns (55), records which have come following three neck surgeries. He is by far one of the best to play the position and because of this; questions have arisen about his lacking of more Championships. A lot has been said over the season as to why Manning has been unable build on the one Lombardi Trophy he won back in 2007. Criticisms over his age and injuries have mounted, unjustifiably so, seeing that Manning is the only player in the Super Bowl this Sunday to have a Championship to his name. Nevertheless he remains the key to the Broncos success over the last two seasons. Long gone are the days of Tim Tebow for Broncos fans.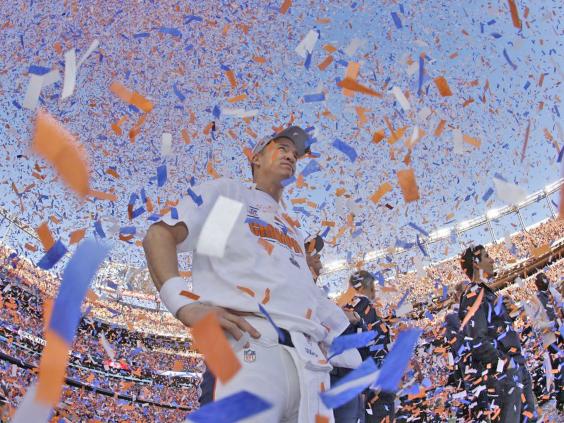 Manning has given the franchise stability both on and off the field. When he was brought in by John Elway in 2011, he epitomised the win now culture that has engulfed the NFL, but it worked as the Broncos are now only one game away from its first title since 1998. Whatever the outcome of Super Bowl XLVIII, Manning will still be regarded as one of the best in the league. He will come up against the league's best ranked defence on Sunday, one that is likely to pressure him in an attempt to expose any weakness. Just how he reacts might determine where he is considered one of the best or the best quarterback to ever play the game.
The Receivers
Although Manning deserves a fair share of the credit for the success of the Broncos offense this season, his receiving corps has done much of the unsung work. Most NFL teams tend to have a number one receiver that is often targeted by the QB, be it Detroit with Calvin Johnson or Dallas with Dez Bryant. The Broncos have been incredibly successful utilising multiple receivers this season; this is evident as Denver have had eight players with at least one receiving touchdown. Out of the top five receivers with the most touchdowns in the NFL this season, Denver have two, Demaryius Thomas (14) and Eric Decker (11), so their ability to consistently get open is something not many teams can master. Wes Welker has also been a welcome addition to the Broncos offence this season, providing Manning with a receiver whose agility and route running penetrates opposing Defences. On Sunday they face the league's top passing defence, with the likes of Richard Sherman and the rest of the 'Legion of Boom' who pose a considerable threat to the Broncos chance of another Super Bowl title. Who emerges from this match victorious will likely be on the team who wins the title.
The Coach
Broncos head coach, John Fox will coach in his second Super Bowl this week, having lost his first during his tenure at the Carolina Panthers in 2004. A defensive minded coach, Fox is one of the most experienced NFL coaches, with a career that spans back to 1989 where he started out as a defensive backs coach for the Pittsburgh Steelers. Fox has had a remarkable turnaround this season after suffering a cardiac related issue that forced him to have an aortic valve replacement. In November, Fox was forced to relinquish his duties to defensive coordinator Jack Del Rio, whereby after successful surgery, he returned to coach his team into the Super Bowl. If anything, one of Fox's greatest achievements has been withstanding the expectation that was placed on this Broncos team. By bringing in Peyton Manning in 2012, the message was clear, Super Bowl or bust. Despite a crushing defeat to the Baltimore Ravens in last year's playoffs, Fox has successfully withstood the pressure to succeed. Although they've still yet to win the big one, just getting to the big game is an achievement in itself, one that many coaches will never realise.
The Executive
Two decades ago, John Elway's job title with the Denver Broncos was starting quarterback; today it's executive vice president of football operations and despite the time gap, Elway is still having a considerable impact on the franchise. When Elway took up the role following a disappointing 4-12 season in 2010, he made it clear that change was coming. One of Elway's first major challenges was dealing with the Tim Tebow situation that had embroiled not just Denver but the entire country. Tebow was soon traded to the New York Jets, clearly not fitting the mould of Elway's new franchise. Tebow was pushed out with grace however, Elway understanding that to banish him would wreck any future job opportunity for the young QB, something the  two time Super Bowl winner knows all too well about having been a player. Since then, Elway has formed not just a winning team but a dominant team, his biggest and best acquisition being Peyton Manning in 2012. People forget that Manning could have chosen any NFL team to go to after his release from Indianapolis, yet Elway's persuasiveness and vision was clearly enough to bring in the four time NFL MVP. He now has the opportunity to do something that has never been done in professional football before, to become the first person to win the Super Bowl MVP award as well as a Super Bowl as a team's executive. On Sunday, he'll have to leave it to another Future Hall of Fame Quarterback to achieve it for him.