Nelson Mandela forgave, but we should not forget. On January 26, 1990, a heartbeat ago in historical terms, a father took his son to a cricket match. During the lunch interval, they paused on a grass bank behind a chain-link fence and watched riot police set dogs on protesters.
It was a pleasantly warm day. From the verdant plateau of the De Beers Diamond Oval in Kimberley, the father looked down on to a dusty plain, where 3,000 fellow human beings choked on teargas and stampeded for safety. "Look," he said to the boy, "Baboons. They're baboons."
I thought of that man when Mandela passed away. His blind, bitter prejudice, given additional toxicity by the trust in the eyes of his son, remains my most haunting memory of the second, and last, England rebel cricket tour of South Africa.
Mike Gatting, the captain, dismissed the disturbances as "a few people singing and dancing". At the next match in Bloemfontein, where rubber bullets were added to the police arsenal, he agreed to receive a petition. As he did so, John Sogoneco, a demonstrator, lifted his shirt to reveal his wounds.
BOSS, apartheid's secret police, broke into the hotel rooms of British writers following the tour. My visitors removed a pair of socks from a locked suitcase and lay them on my pillow in mute contempt.
Madness took hold. Spectators spat in our faces. A press-box brawl between English and Afrikaans journalists stopped play. Back home, Tory MPs unsuccessfully petitioned my editor to sack me, for reflecting the obscenity of the situation.
The tour collapsed when Mandela was released, officially cut short on February 13, when he made his first speech as a free man for 27 years, at Soccer City in Johannesburg. Sport meant something then. It felt as if it was pivotal in a society convulsed by the centrifugal force of change.
It developed from a symbol of division and despair to one of acceptance and adaptability. Cricket highlighted the resistance movement in 1990; reconciliation was engineered through rugby union, the settlers' sacred code, in 1995. Football's World Cup in 2010 was a reaffirmation of rainbow nationhood.
Sport was not a panacea for poverty. It did not impact upon mass unemployment, or the ravages of avoidable disease. It will not build houses for those who still live in shacks in sight of the freeways linking great cities with their airports. And that's where the sorrow sets in. Those of us privileged to witness the growing pains of the new South Africa were reassured by the relevance of ball games, but we took our eyes off the ball. We wanted to believe so badly that we pushed self-evident faults to the margins of our consciousness.
The 2010 World Cup was an illusion of opportunity. Once the corporate circus left town, reality set in. Public money was wasted on stadiums which were manifestations of municipal ego. It will be the same in Brazil next summer.
Sport has been cheapened and corrupted. Mandela's mystique was no more than a prop for the egregious antics of Sepp Blatter at Friday's draw. I would love to take the Fifa scriptwriter who came up with the wretched line that "this is how we create a great society in a country of joy" back with me, to that January day, nearly 24 years ago.
Time moves on. The ANC activists, who briefed us behind tinted windows of black BMWs, are now ministers. Sam Ramsamy, the anti-apartheid campaigner, is a senior member of the IOC. Gatting is president of the MCC and hails Mandela as "a great man". I often wonder what happened to that boy in Kimblerley. He probably has children of his own. I pray he is a better father than his father.
Kevin Pietersen caught out by his own ego
When the Ashes are surrendered, most probably in Perth later this month, the search for scapegoats will be savage and revealingly simple to execute. Matt Prior, the sensitive soul who suggested he deserved greater respect, has forgotten how to bat. James Anderson might care to take lessons on how to bowl from his nemesis, Mitchell Johnson.
Yet no one embodies the misplaced arrogance and preening self-regard of this England team better than Kevin Pietersen (below). Nothing illustrates the consequences of complacency more vividly than the manner of his first-innings dismissal in Adelaide.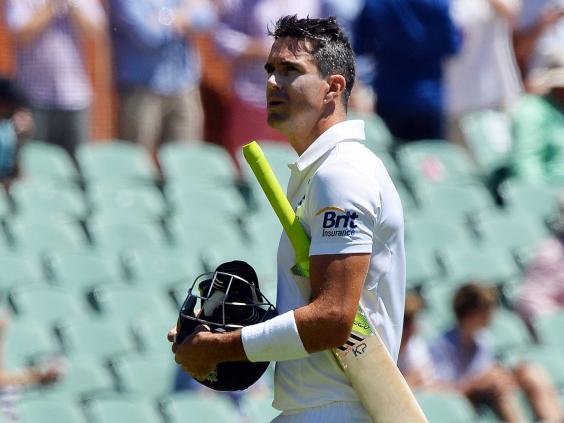 It beggared belief that someone playing his 101st Test should fall into such an obvious trap, set by Peter Siddle. Pietersen's engorged ego prompted him to manufacture a shot to one of two midwicket fielders posted to profit from his impatience.
His last 10 innings for England in Test or one day internationals have yielded 4, 26, 18, 6, 57, 8, 0, 5, 6 and 60. However innocent his 3.30am visit to a nightclub in the build-up to the Second Test, it was rank stupidity. He deserves every micro-second of the humiliation to which he has submitted with such insouciance.
Brazil Nuts
A medium in Bromley, who says she is the reincarnation of Joan of Arc, claims aliens informed her that Crystal Palace will survive in the Premier League. She nearly got away with it, until she predicted England would win their group in Brazil next summer.