There has never been a more dominant female fighter than 'Rowdy' Ronda Rousey, a fierce competitor of Olympic calibre with a desire to win like nobody else on the UFC roster. Her drive to be the best has brought about great change in her skill set since her first professional bout. With years of Judo training behind her, her ability to throw opponents around like rag dolls sets a strong foundation. Couple that with the time invested in her striking game under the tutelage of Edmond Tarverdyan, and she has become an unstoppable force.
Her Mixed Martial Arts (MMA) debut was back in 2011 and, as first and foremost a Judoka, she arm-barred her first eight opponents. In Rousey's last two fights though, she has shown a more diverse skill set. She stopped fellow Olympian, Sara McMann, with a heavy knee to the body and then badly hurt Alexis Davis with a short right before launching her through the air with a perfect Harai Goshi (sweeping hip) throw. There is a point that champions reach when the question changes from, "how do you beat them?" to "can they be beaten?". Ronda is at that point right now.
Enter 'Alpha' Cat Zingano. Another unbeaten fighter who has punched and elbowed her way to the number one contender spot and overcome much adversity on the way. Cat began her journey into MMA after taking it up to stay in shape, and took to it like a duck to water – partially due to her solid wrestling background as a four-time All-American champion, and partly because she is instinctually very resilient. Even when bloodied and bruised, 'Alpha' always has the drive to turn it around, as demonstrated against Amanda Nunes and Meisha Tate in her last two bouts. 
Weathering an early storm is more than within her capability, and that is often where Ronda's opponents fall. Zingano will no doubt be under a lot of pressure in the first round, however. Since Ronda's last fight she has taken time to get a much needed surgery and allowed her body to heal after many years of top-flight competition. That's a scary prospect when you watch her fights and see how absolutely dominant she has been, even without being at 100%.
On Saturday night I very much expect to see the best version of both these fine athletes. The two best female bantamweights in the world, both thoroughly conditioned and prepared, both with a diverse and well-rounded skill set. Neither believing that this weekend could deal them their first defeat, and neither willing to back down at any cost. I'm a big fan of both fighters. Ronda for demonstrating ever-evolving, elite level skills in such beautiful fashion, and Cat for taking to the Octagon with the ferocity of a lioness fighting for a meal.
And if that headliner is not enough, the UFC are making history again with the first all-female co-main and main event bouts. 'Rocky' Raquel Pennington, coming off a first round submission over Ashlee Evans-Smith, steps in for what will surely be her toughest test to date. Making her long awaited UFC debut, multi-titled boxing standout, Holly Holm will look to shake up the division with a big win. Holm's credentials speak for themselves, with an impressive 33-2 record as a professional boxer.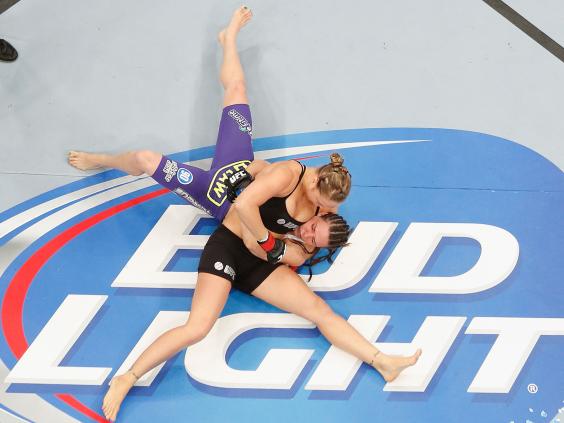 Having the fortune of walking into a gym to start training and stumbling upon the great striking coach, Mike Winkeljohn, Holm has had great teaching from the start. Being such a well-versed striker, one would assume that keeping the fight standing would be her priority. In a recent interview though, she did state that she would have stayed with boxing if she wanted to keep punching people in the face! That would insinuate that she is ready for a different kind of challenge.
At Greg Jackson's camp in Albuquerque, New Mexico, she is surrounded by great MMA talent, including light-heavyweight champ, Jon Jones. She has also been working with Ricky Lundell on her grappling, so a ground attack could be the game plan. To cover all bases and be fully prepared, Pennington has brought in a couple of the top female amateur boxers from the U.S. Olympic team for sparring sessions. Pennington obviously sees the great opportunity in front of her, but must also realise that it won't be easy. Holm is a well-respected athlete and expectations are high. There is already talk about her being a title contender in the near future. 
It's refreshing to see women's MMA getting so much coverage. Rousey has definitely lead the way but these girls that are coming through now are tough and talented. With a victory this weekend Ronda would secure herself as the Queen of all combat sports. Zingano might be the first person to rival the champion for tenacity and determination, but it will be her skills that are tested on the night. Will 'Rowdy' reign supreme once more or will the belt be wrapped around a new waist, shocking the world and halting the seemingly unstoppable roll of the first ever female UFC champion? Tune in to BT Sport 1 from 1am on Sunday morning to find out.
Reuse content