A week ago I was sat writing an article about the great Ronda Rousey and her next challenger. I had a lot of faith in her opponent, Cat Zingano, and I still do. Admittedly though, I wasn't surprised when a panicked Zingano charged across the Octagon and into a trademark Rousey arm bar in just 14 seconds. Yet again the UFC's bantamweight title was wrapped around Ronda's waist in front of an astonished and euphoric California crowd.
In Zingano's defence, a UFC title fight can be overwhelming, and fighters never really know how they will react when the first bell sounds. Whether it was a spur of the moment decision or a strategically planned opener, Cat took flight. I think a rematch would be a gritty affair, and Ronda herself admitted at the post-fight press conference that the loss didn't mean Zingano wasn't worthy of a rematch. I'm sure with one solid win in the next couple of months, we'll see them face off once more.
For now though, the question is once more, who is next for Ronda?
There is a lot of talk about how the Champ has cleared out the division, but I don't think that's the case. If we look down the rankings Ronda has already knocked off the top five and all of them bar-one met their fate in the first round. So let's just give an honourable mention to Meisha Tate, Ronda's biggest test to date, and the only person to have faced her twice. That could be key. Given another chance I think that both Zingano and Sara McMann would at least be able to push into the later rounds with Rousey.
So what about new challengers? We have to look a little lower in the rankings, but as we have been reminded over and over, anything can happen inside the eight-sided arena. One fighter has made it quite clear that she is willing to step up and face Rousey. Ranked seventh and still unbeaten, Bethe Correia is an obvious candidate. Having already beaten two of Ronda's team mates, there is already a storyline there, and amotivating factor for Team Rousey to prepare for another title defence.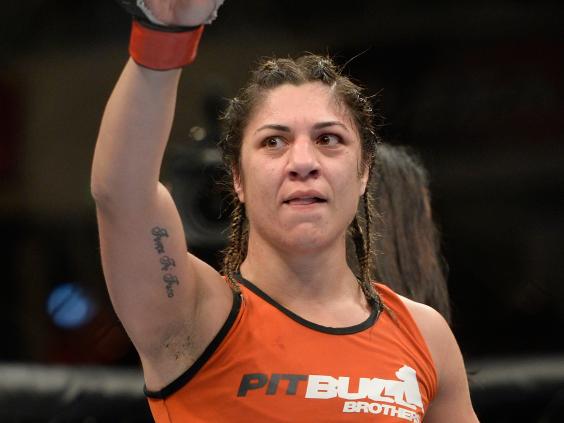 Correia is coming off a big win over Shayna Baszler, one of the revered 'Four Horsewomen' alongside Ronda, Marina Shafir, and Jessamyn Duke. Brazilian born Bethe, also known as 'Pitbull', is a stubborn battler who likes to stand and trade punches until she feels the momentum shift in her favour. From then on she will increase the pressure and rack up the points, unless the referee steps in and saves you. Her aggressive style is fitting of her out-of-Octagon persona – she has made several comments about Rousey being 'selfish' for taking time out of training to make movies.
Ronda has acknowledged that Bethe is a contender. We also have Jessica 'Evil' Eye to pay close attention to, if she can get a couple of solid wins together. I don't feel that she has found her groove yet in the Octagon, but she has the tenacity and kickboxing skills to climb the rankings over the next year or two.
Lastly I think it's worth mentioning the newest addition to the division, as she is one of the most decorated and experienced female athletes in all of combat sports. Holly Holm made her debut in the co-main event of UFC 184, so she experienced some of the attention that Rousey and Zingano were experiencing. Getting that first UFC win is always a big step and Holm managed it against top 15 prospect, Raquel Pennington. It was a back and forth scrap that really allowed both fighter to showcase their capabilities, but in the end Holm took the split decision and moved up to tenth in the rankings, making her a relevant contender. Holm's professional boxing record stands at 33-2, and she is currently unbeaten in MMA at 8-0.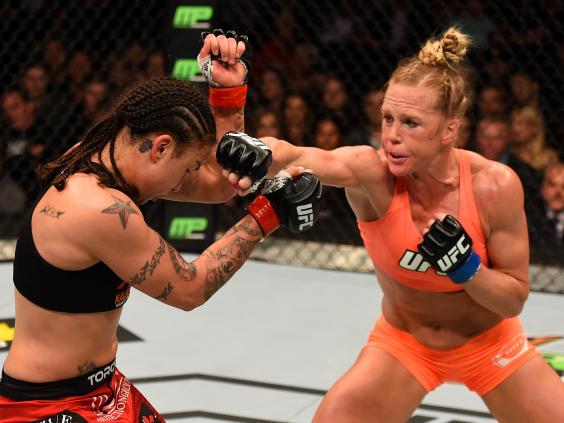 I therefore expect Holm to be challenging for the title in the very near future. Her experience as an 18 time world champion boxer, over three weight classes, stands her in good stead when dealing with the pressures of a title fight. I'd like to watch her face a strong grappler to see how she handles a wrestling heavy attack, but should she be able to keep the fight standing she should be able to test the standard of Ronda's striking skills. It won't take long for one or two of these fighters to rise to the top, and in the meantime Rousey has deserved the accolades and opportunities she is receiving as the best female fighter in the world.
Reuse content