American disco troupe The Village People certainly weren't afraid of a bit of fancy dress so it's curiously appropriate that it should be a re-worked version of their 1979 hit "Go West" that brings the Alexandra Palace to its feet.
"Stand up! If you're in the stands. Stand up! If you're in the stands! Stand up!" comes the cry and from their seats rise a wave of 19 elves, seven dwarves (but no Snow White), 16 Teenage Mutant Ninja Turtles, four Lego figures, seven Cistercian monks, three giant foam bananas, three Fred Flintstones, two Super Marios, the entire cast of South Park, a solitary Spongebob Squarepants and a bipedal moose in the coronation crown of King Charles II.
This incessant call-and-response baiting between those at the tables in the centre of the arena and those slumming it in the cheap tiered seating is an integral part of an event now firmly established as one of the most popular in the sporting calendar.
Somewhere, away in the far distance, like a radio left switched on in the corner of a room, the wide glabrescent shape of Michael Van Gerwen is blasting his way past Robert Thornton with an astonishing 105.26 average and into the semi-finals of the World Darts Championship. It hardly seems to matter.
Only one noise makes the tables and the stands rise as one and as the Dutchman's eyes narrow at the front of his cannonball head and the tungsten starts its tiny journey toward the bullseye it's clear it's about to happen.
In it goes, a 170 check out, the man in the gantry presses play on "Chase the Sun" by Planet Funk for the 100th time that day, and the air is a shower of lager raining down on the alternating raised fists below. "Der der der der der der der der der der der der der da de duh. Oi! Oi! Oi!"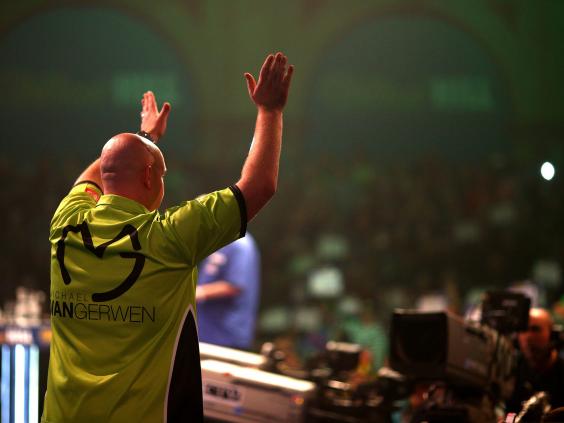 If Wimbledon, with its Pimms and strawberries and Centre Court debentures for the Tunbridge Wells Ladies Captain does nothing to counter its entirely fair stereotype, neither does this.
But this year, some arguably unlikely attendees have cemented its already confirmed place in the mainstream. Prince Harry has been (he does every year), but so too has Clare Balding. The England cricket captain Alastair Cook has had an exhibition match on stage against his team-mate Jimmy Anderson. Two days ago, the former Tottenham midfielder and now assistant coach Steffen Freund turned up dressed as Tinky Winkie from the Teletubbies.
This year has been vintage. Barry Hearn, the promoter who masterminded its reinvigoration more than a decade ago has called it "our most successful championships ever". So many epic contests, the highest standard ever, the near mythical thing of a nine-dart finish, old champs like Raymond van Barneveld and to a lesser extent Phil Taylor wrestling not just with their opponents but with their own waning powers, and in Van Gerwen a new, potentially unstoppable force.
But to the crowd, it's hard to tell how much of this seems to matter. "It's fun, but you've definitely got to be pissed," says Woody from Toy Story. It's New Years Day, 8pm, and he definitely is pissed. So is Buzz Lightyear.
Behind them Shrek and Princess Fiona (both men) share a passionate clinch, their arms round Donkey who, predictably, is on selfie stick duty.
It would have been quite the moment, but they are mobbed by the monks, whose vow of silence could not be more lackadaisically interpreted.
It's extraordinary, really, to compare all this with similar sporting pursuits. Phil Mickelson recently had a fan thrown off the course for daring to making a noise too soon before he played his ball.
"Maybe you need to be quiet at golf because they earn a bit more," says Van Gerwen.
"When you're confident and playing well you don't really care about the noise. You just enjoy what you do. It doesn't really bother you."
But it wasn't always this way. The story is well known, but this tournament is one of two professional organisations in the game, the Professional Darts Corporation, formed via a breakaway from the British Darts Organisation in 1992. Thanks to Hearn, It has now all but obliterated its rival, but some of the means through which it has done so, are a little odd.
For a start, every player must have a nickname. Peter Wright, a middle-aged Scotsman who lost in the final last year, could only think of "The Snakebite", named after his preferred drink, a cocktail of lager, cider and (usually) a drop of blackcurrant cordial.
Wright comes dancing on to the stage in yellow tartan trousers, blue mohican, a striking cobra painted down the side of shaven head in glitter and he star jumps across the oche compelling the crowd to make yet more noise, assisted by a quartet of cheerleaders. But it's not his night. The more subdued Gary Anderson comfortably has the better of him. He and Van Merwen will be back for the semi-finals tonight, and on Sunday it's the final.
Then, as now, crowds of 2,500 almost exclusively men, will drink, dance, shout and occasionally watch from a distance of more than 250 feet as the last two standing bear down with their arrows on the single square inch of the treble 20 – surely the most gloriously pointless vantage point in all of sport. None of them, neither player nor spectator alike, will be in anything like rude health, but their sport certainly is.
Reuse content