In an age of multi-million pound contracts, cynically sky-high ticket prices and less than edifying governing bodies, it can be increasingly tricky for fans to experience the pure unadulterated joy of sport.
As the Premier League season fizzles sadly towards an underwhelmingly predictable conclusion and the English cricket team stumbles catastrophically towards an ever-looming Ashes series, it is becoming harder and harder to find something that can offer the thrills and enjoyment that all sports junkies crave.
However, fear not, the solution may well be at hand, and, luckily enough, on its way to England for the very first time.
What, you may ask, is this saviour, this Hercules to wash out the Augean Stables of joyless modern sport? The answer of course is freestyle motocross.
Night of the Jumps, the sport's oldest and largest event, is not only celebrating its 15th anniversary this year, but also making a debut appearance at London's O2 arena, bringing with it an evening of undiluted sporting spectacle.
For the uninitiated, imagine crossing the aerial athleticism of diving with the speed and power of motorbikes and you are someway towards having an understanding of the excitement of freestyle motocross.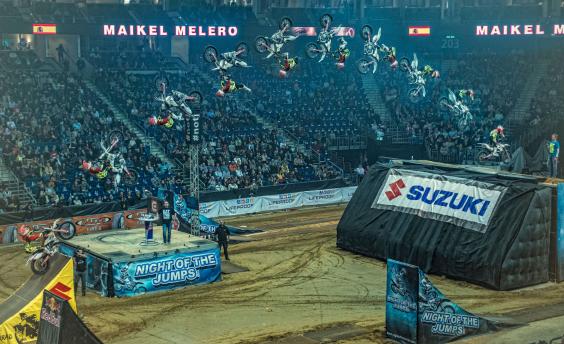 The World Championship tour, which began spectacularly in Berlin this March, is a closely fought affair although competition between the riders is extremely friendly, each man encouraging his rivals to greater and more spectacular feats on the back of a bike.
It is an impressive and diverse crop of riders who are currently battling for the Freestyle MX World Championship, from the reigning champion and current tour leader Maikel Melero of Spain to Australia's no-nonsense star Rob Adelberg.
Fans of sporting siblings will also be delighted as not one but two pairs of brothers currently compete on the scene, Czech Republic's laid back Filip and Libor Podmol and Germany's Ackermann bros.
The younger Ackermann, Luc, broke the record for the youngest motorbike backflip aged 12, and now aged just 17 is the undisputed wunderkind of the tour.
Wandering around backstage before the competition in Berlin started, you could easily have mistaken the slightly scruffy-haired teenager riding around on a micro scooter for a competition winner or just another hanger on to one of the riders, but a couple of hours later, with Ackermann on the back of a bike, there was no mistaking why he is considered one of the world's biggest FMX talents.
Divided between a main competition and various side contests, including the Highest Air competition (think pole vaulting with a bike instead of a pole), Night of the Jumps is equally thrilling whether you know your Tsunami Flips from your California Rolls or if the closest you've got to extreme sports is pulling a wheelie once on your cycle into work.
Put simply, until you have seen a man hang one-handed off an upside-down bike as it flies through the air (and then, fortunately, land safely on the other side of the arena) you haven't quite lived.
This is pure sporting theatre at its most thrilling and when the motorised circus rolls into town, you'd be mad to miss out on it.
Night of the Jumps will come to London's O2 Arena on Saturday 5 September. www.theo2.co.uk
Reuse content