The best of Australian and British rugby league collide on Saturday at the end of a week that showed how difficult it has become for either to retain their crown jewels.
Wigan, last season's Super League champions, are in Australia to play their NRL counterparts, the Sydney Roosters in the World Club Challenge – the first English club to go Down Under and attempt to win the world title since the same club did so in 1994. The significance of that match still resonates 20 years later, because it led indirectly to the inception of Super League.
All that has been overshadowed this week by the news that Sam Burgess, England's most feted and feared export to the NRL since he joined South Sydney four seasons ago, has signed to play rugby union for Bath.
League has had a highly successful World Cup last year and it can stage compelling one-offs like the Wigan-Roosters game, but it is still vulnerable to having its cream skimmed off by union clubs often helped by central funding.
Thus, by 2015, if all goes to plan, Burgess will be playing for England in the union World Cup, possibly against Kiwi code-crosser, Sonny Bill Williams, who is in the Roosters team for Saturday's game.
The biggest change from the Wigan side that won the Grand Final in October is the absence of another of the select group of global rugby superstars – Sam Tomkins.
At one stage, he also looked set to change codes; in the end, there was relief in league that he had "only" joined the New Zealand Warriors. At least he is still a rugby league player, albeit on the other side of the world.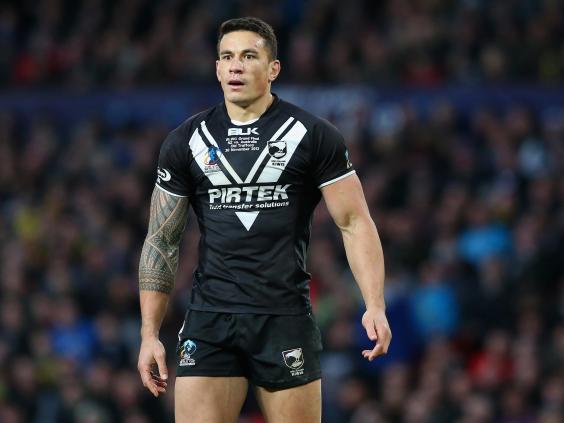 Denis Betts, who played for Wigan in Brisbane in 1994 and now coaches Widnes, says that top players now have a different sense of the possibilities open to them.
"He is one of the best rugby players in the world," Betts says of Burgess. "So why would he not want to appear on the biggest stage? We've just had a very successful World Cup, but if we think it compares with the union World Cup, we're kidding ourselves. That is massive."
Betts, who sampled the other side of the fence when he was on the coaching staff at Gloucester, believes that Williams' cross-code adventures have redrawn the rugby map. "People have seen what he has done and they fancy that challenge as well," he adds.
Betts is one of eight members of Wigan's 1994 World Club champions who subsequently played or coached in rugby union.
Wigan had won everything under the coaching of John Dorahy in 1993-94, but it had been a turbulent season, culminating in a scuffle between him and the chairman, Jack Robinson, on the way back from Wembley. Dorahy was sacked and replaced by Graeme West, a popular, long-serving and easy-going Wigan player.
"He was pretty relaxed about what had gone on," Betts recalls. "Graeme gave us three or four days off and we just let our hair down. It was an unusual approach, but it worked for us."
Wigan beat the Brisbane Broncos 20-14 in front of a crowd of over 54,000, with tries from Betts and from two players who went on to win England caps at rugby union, Jason Robinson and Barrie-Jon Mather. It was the day after the match, on a paddle-steamer on the Brisbane River, that the Broncos' chief executive, John Ribot, unveiled for the first time his vision of a global Super League.
It never quite happened the way he painted it that day, but it did lead to massive changes in both countries, notably the switch to summer rugby in Britain.
There will be no comparable announcement in Brisbane this weekend and, Betts fears, no comparable result. "I think it's going to be very, very difficult for them," he says of his old club, who have lost four key players since they won the Grand Final at Old Trafford. "But then again nobody expected us to win 20 years ago."
Reuse content