It won't quite be the end of an era at Wigan, but it will be a punctuation mark in the club's history as a breeding ground of great players.
Sam Tomkins confirmed the worst kept secret in rugby league this week when he announced that he will be playing next year for the New Zealand Warriors, who are paying Wigan a world-record transfer fee of around £700,000.
Regardless of the result of their Super League play-off against Leeds this evening, it will be his last game at the DW Stadium.
The club and their supporters have had plenty of time to get used to the idea, so the initial disappointment has long since worn off.
The Wigan chairman, Ian Lenagan, has tried his hardest to put a positive spin on the move, arguing that it should be regarded as a compliment to the British game and stressing that, if he comes back to Super League, it will be to Wigan.
Shaun Wane, the coach who has done more than anyone to make Tomkins the player he is, says: "We are lucky to have had him for eight years."
For the game as a whole, it is regarded as the lesser of two evils, the greater being to have taken the shilling from rugby union. Either route would have earned him more than he could get from league, while the experience of plying his trade on the other side of the world, in its toughest rugby competition, the NRL, is also a strong attraction. As he says, the timing is right for him to test himself in that setting. At 24, he has the capacity to improve and become, like Sam Burgess at South Sydney, accepted as one of the best players in the world. He has not chosen the easy option. For all their access to a massive talent pool, the NZ Warriors have under-achieved over the last few seasons. He is in line to displace a local favourite in Kevin Locke and, if he does not consistently perform like Superman, he can expect more than his share of criticism. Two Wigan players of an earlier era, Denis Betts and Andy Platt, found that out the hard way.
There is no doubt that Wigan are going to miss him. The difference between their record with him in their side and without him is proof of that. For charisma and entertainment value, there is nobody in Super League, let alone in the Wigan side, to touch him.
Yet life will go on, as it has done in the past, with the loss of players like Andy Farrell and Jason Robinson.
It is a splendid irony that one of the candidates to be Tomkins' long-term successor as Wigan full-back is Robinson's son, Lewis Tierney.
Both he and another young player, Ryan Hampshire, have shown that sort of potential in their first-team appearances this season, but, in the shorter term, Wigan want a bit of experience in the role. Having failed to sign Anthony Minichiello, the Sydney Roosters and Italy World Cup captain, they have homed in on the North Queensland Cowboys' Matt Bowen.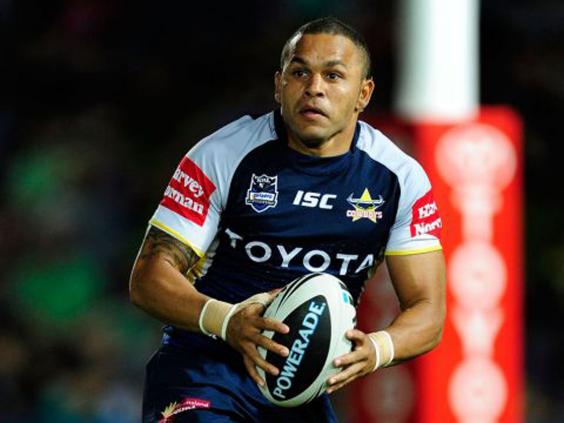 There is no doubting his talent or his crowd-pleasing capabilities – he can be a thrilling player to watch – but he is the wrong side of 30, injuries are starting to mount and he would surely be only a one-season proposition. If he stays fit, though, he could be the ideal mentor to bring through Tierney and Hampshire.
More immediately, it would suit Tomkins' sense of occasion to sign off with a couple of performances which underline just what a special Wigan player he has been, ideally one against Leeds and one next weekend in the Super League Grand Final at Old Trafford.
Leeds will have something to say about that, however. No side is better than them at play-off rugby and it is appropriate that one of their most potent weapons is the next-best English full-back after Tomkins, Zak Hardaker.
Hardaker does not quite have the electrifying footwork of Tomkins, but it is when he comes into the line and links with his three-quarters that the Rhinos are at their most dangerous.
Much will depend, though, on the fitness or otherwise of two of their workhorses, Jamie Jones-Buchanan and Brett Delaney. They both finished injured in the thrilling win over St Helens last week.
Mind you, so did Danny McGuire and he still managed to put over the drop goal that won the match. It was another illustration of Leeds' instinctive knowledge of what needs to be done at this time of year.