If there's one thing Leeds Rhinos do well, it's the Super League play-offs. A team who has devised a mentality of rising to the big occasion, hitting their stride at the right time and ultimately experiencing more success at the Grand Final than any other club since the turn of the Millennium.
The Rhinos have celebrated victory at Old Trafford six times since their first Super League triumph in 2004 – matched only by St Helens since the competition's inception – but that they've only claimed the League Leaders Shield on two of those campaigns reveals just how threatening they can be when coming from deep in the play-offs.
So what happened last season? Having won the Challenge Cup final at Wembley for the first time in 15 years, Leeds embarked on a dismal run of results that culminated in a last-gasp defeat to Catalan Dragons in the opening weekend of the play-offs. Leeds captain Kevin Sinfield, looking back on a year that saw him retire from international rugby league having led England through the 2013 Rugby League World Cup and receive an MBE for his efforts, admits that on the day Leeds just weren't good enough.
"It hurt a great deal," says Sinfield. "It lingers for quite a while and I think our form, having won the Challenge Cup, wasn't where it needed to be. I always thought that if we won the Catalan game in the play-offs, we could generate some momentum to have a bit of a challenge and make it to the Grand Final, but it just wasn't to be.
"It was probably too little too late and I think in total the season was a success, we got the Challenge Cup and having had to wait 15 years to get our hands on that trophy again, it's probably too long for a club like ours. Certainly the play-off defeat was tough but I have to say Catalan deserved it on the day and unfortunately that was the end for us."
The 34-year-old is undoubtedly one of the stalwarts of the modern game, though even the seemingly invincible sometimes need a break from the rough and tough world that is rugby league. Sinfield underwent knee surgery in November and made his return to action last week, just a fortnight before the start of Super League XX where Leeds face a trip to Hull KR just like they did in last season's opener.
Despite the lack of playing time, Sinfield believes the off-season has been a good period and has allowed him to focus on areas of his game that he usually wouldn't have been able to. Furthermore, his return came in the 34-14 victory over Bradford Bull in Jamie Peacock's testimonial, and he was quick to pay tribute to his long-time team-mate and friend.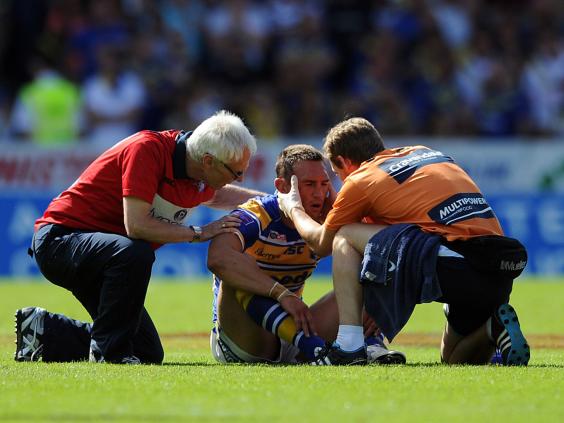 "He's [Peacock] a warrior and a great in our sport," says Sinfield. "I think we saw that with the crowd, when you get that many people turn out for the two clubs that he's played for, it's fantastic. It's great for him, it's great for us to be involved and great for the supporters as well.
"Unfortunately I had a knee operation at the start of November but hopefully it'll be a bit of a blessing in disguise as it gave me the chance to work on some things that we'd been talking about and pre-season has been really beneficial. I played my first game [Sunday 25 January], I was a little bit rusty but I enjoyed it. It's been a tough pre-season as you'd expect but a good one as well."
For 2015, the Super League has been revamped to try and bridge the gap between the top flight and the Championship in an effort to prevent clubs hitting financial troubles such as the London Broncos and the Bulls last season.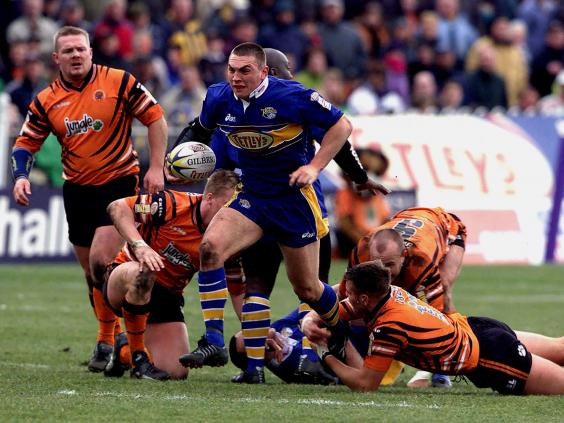 Sinfield believes that the increased competition combined with the new regulations mean there aren't any easy games anymore, and he feels the opening weekend trip to Hull will prove to be a testing start to his 19th year of Super League rugby.
"I think 2015 will be a really competitive season for everybody and with the competition changing in its structure I'm not quite sure how it's going to pan out," adds Sinfield. "We'll certainly give it our best shot, we've got a pretty good squad and we understand just how competitive the league's going to be so I won't make any rash statements but I will say we'll give it our best shot and hopefully we can be good enough.
"We've certainly got a tough start. I have to say that I look through the competition now and I don't see a weak link, I don't see anybody who you're going to pick up an easy 12 points against. So certainly the start, Hull KR away, is a tough place to go. We started off there last year and thankfully we got the win but it was certainly a tough game and we're expecting something similar."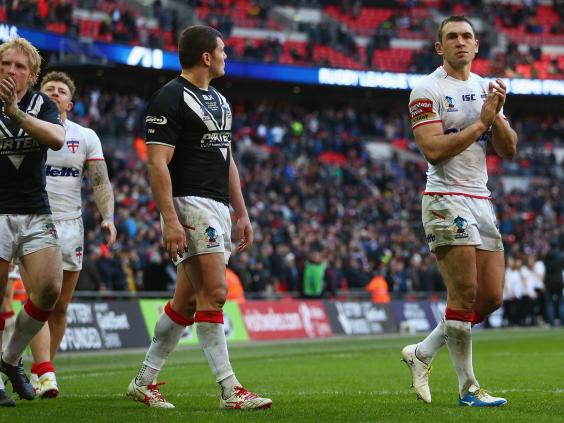 Of course, not a day goes by at present without Sam Burgess being mentioned. The NRL-winner-turned-Bath-centre is yet to set the rugby union stage alight as he had been billed to, but Sinfield stresses that he needs to be given time to adapt to the game if he is to shine at the World Cup later this year.
Burgess has been called up to England's Six Nations squad to train with them ahead of their opening fixture against Wales on Friday, but Sinfield believes the Championship could come too soon for the reigning Rugby League International Player of the Year.
"I'm not sure about the Six Nations," he explains. "Look, I think Sam will be a huge success in rugby union and I do think Sam will make the World Cup squad, but he's only probably played five or six games so far and I think he's got to be given time to learn the game.
"He needs to get a couple of games under his belt. It may be too early for the Six Nations squad as they've got some good players in there already, certainly in that midfield, so I don't think it'll be too long before he forges a path into that first English team but I think small steps first is probably the smart thing to do."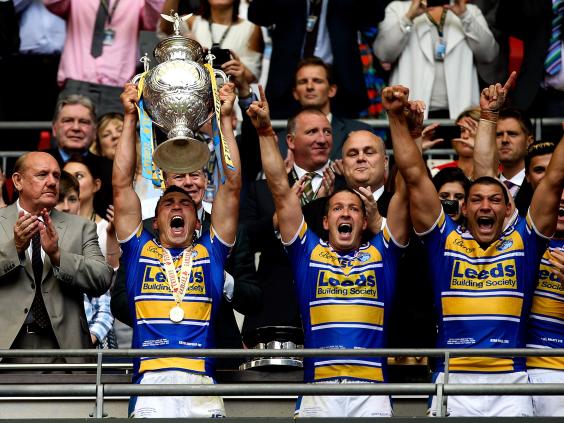 At 34 years old, a cross-code switch isn't on the cards for Sinfield anymore, but he does admit that he's considered a move in the past and remains a big fan of the 15-man game.
"Yeah I think as a rugby player it's certainly something you have to consider and there have been times when I've certainly looked at union, and I'm a big fan of the game," adds Sinfield. "I think it's an attractive sport. It's important when you make your decisions in life that you weigh all the options up and I have certainly considered it. I don't regret not ever playing union but I have to say I do enjoy watching the game and I am a big fan."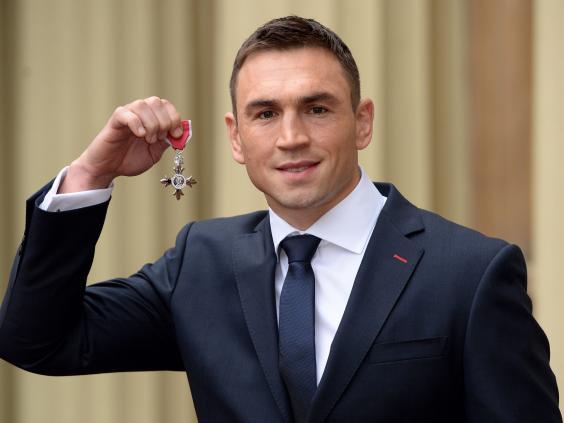 As with his international career last season, there will come a time when Sinfield will have to say enough is enough. The plan is to reach the double-decade mark, cap a remarkable 20 years in the game with Leeds and Leeds alone, and call it a day at the end of the 2016 season.
"I think it's a question you get asked as soon as you're 30, people are interested in how long you can play for," he says. "But in my mind, I think I'd like to do two more seasons. Possibly at the end of 2016 it might be time to hang up my boots. That will have been my 20th professional season and I think it's quite a landmark, quite a milestone and to have been at one club for 20 seasons is huge and doesn't happen that much in the modern era.
"At the end of this season though if the body wasn't up to it then I'm not too proud to say I'd walk away and likewise if at the end of 2016 if I still feel really good and feel I can do a job and there's a contract on offer then I'll certainly stay. At the minute the plan is the end of 2016, but we'll have to wait and see."
Kevin Sinfield and Geoff Parling are leading the debate for League vs Union to celebrate the new Canterbury Mercury TCR Range. Visit Canterbury.com to show if you're #CommittedToLeague or #CommittedToUnion
Reuse content