A sunny day on Tiger Bay coupled with a lively, if slightly chilling, breeze saw the Oman Sail team boats go into the clubhouse first and second.
There were mixed fortunes for the pair as double champion Leigh McMillan had to retire hurt for a while after a collision with the Danish SAP team. But he was awarded average points for all the races missed to make repairs. Three firsts, a third and a fourth meant nine points for each race missed – meaning a second for every race - and that put The Wave at the top of the leaderboard. The impact which smashed the rudderstock was just inches from McMillan's hand, but speedy repairs saw them back after missing the middle five races.
Meanwhile, his stablemate, Stevie Morrison, fresh from resuming his 49er Olympic campaign in Weymouth last week, was on the rampage, always in the top three scorers for the afternoon's 10 races in a north-westerly gusting to 20 knots. He was in a permanent battle with a Red Bull, now being helmed by Hans Peter Steinacher and coached by Roman Hagara, and Chris Draper making a guest appearance on GAC Pindar.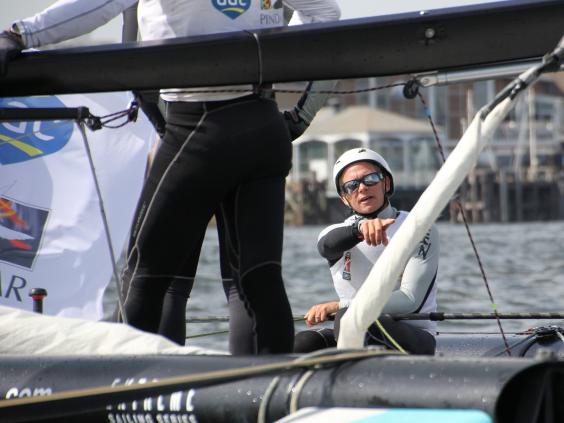 Draper, an Olympic bronze medallist, left Italy's America's Cup challenger Luna Rossa when Prada boss Patrizio Bertelli pulled out and has now joined Dean Barker at the Japanese team SoftBank. His strong performance was not helped by his being over the start line early three times, but he ended the day in fifth, 17 points behind McMillan, but only five behind Morrison.
One of the things that all the America's Cup challenge teams lack is match fitness. There are more race starts and clashes in just two days of one of the eight Extreme Series regattas than in a whole year of America's Cup World Series regattas. For that reason, McMillan adds that the changes in teams competing in the Extremes mean that life does not become any easier for the long-established teams and further changes are afoot for a series organised by Mark Turner's OC Sports with backing, now, from the French Le Télégramme group.    
There may be more spectators as the fourth event in the 2015 Extreme Sailing Series moves through to Sunday, but they are unlikely to see better conditions for a globe-trotting event that seems permanently to be in an era of transition while at the same time maintaining a format that has been largely the same for nine years.