Champagne conditions inside the harbour at the start were due to turn quickly into a boat-busting bash south for the 117 starters in the 70 Rolex Sydney to Hobart Race.
Many eyes of the Boxing Day crowds lining the vantage points round the bay were on the clutch of 100-footers and, particularly, rivalry between a 10-year old local and a fresh out of the mould American.
The much-modified seven times winner, defending champion and record holder from Australia, Bob Oatley's Wild Oats, was immediately duking it out with the very new kid on the block, Comanche, owned by the billionaire Netscape founder Jim Clark, and built in the US for not much change out of £20m. The Sydney-Hobart is Comanche's ocean racing debut and it is due to contest the Fastnet Race from Cowes next August.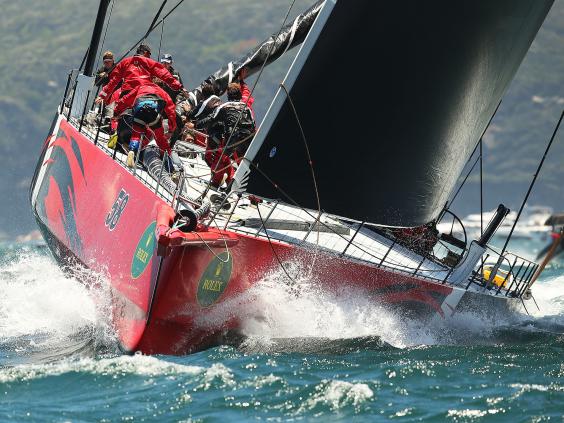 Oats, with Mark Richards as skipper, 20 crew and the recently re-appointed America's Cup race director Iain Murray, as strategist, was confident that it would retain an advantage upwind, though this was not evident in the first hour as Comanche took a 400-metre lead out of Sydney Heads. Comanche skipper Ken Read and the 23-strong crew knew that the boat was still in its testing phase and was hoping that untoward damage would not spoil its first big outing. He also had navigator Stan Honey to read what will be changing conditions.
And there are other big boats with their eye on the prize of being first over the line into Hobart, 628 miles down the Pacific track, including the veteran Syd Fischer, now 87, in his latest 100-foot Ragamuffin. Anthony Bell's Perpetual Loyal, with Olympic gold medallist Tom Slingsby in the crew, was prepared to try some different tactical options and the handicap boats were hoping that more upwind work would help them take the prize on corrected time.
While tough conditions were predicted for the early hours of Saturday (mid-afternoon GMT) no fears were expressed about a repeat of the 115-starter 1998 race when six sailors lost their lives, among them British Olympian Glyn Charles. And then lighter conditions were predicted steadily to improve for the leading boats. The backmarkers, however, could take a second pounding before turning up the Derwent River and their celebrations in Constitution Dock.
The record of 1d 18hr 23m 12s set by Wild Oats in 2012 is not expected to be broken. After the first 12 hours Comanche still held a lead of just under two miles over Oats but the short southerly blast had forced seven retirements. With the wind strength easing the next tactical phase would be the crossing of the Bass Strait, when the forecast westerly winds should favour the crosswind performance strengths of Comanche, who is expected to be fighting all the way to the finish on Sunday morning local time.