A dramatic video showing the moment a tornado flips a yacht onto its side in the ocean has emerged online.
The footage shows how winds of more than 100mph tip the vessel until its mast is almost completely horizontal.
Filmed on a fixed on-board camera during the Clipper Round the World Yacht Race in January, the video was released ahead of the race's finale on Saturday.
Due to turbulent conditions during a race between Australia and Singapore, Great Britain team were unable to see the tornado whirlwind approaching. Unprepared, some crew members are cast into the water on their tethers, while others attempt to cling to the boat as the tornado passes.
Great Britain team member Paul Hardy can be seen trying to grab the yacht's mast and haul his body from the water.
Hardy explained that the tornado passed in around a minute. None of the crew were injured and the boat was not damaged.
The 43-year-old IT consultant from Brighton said of the incident: "All of a sudden, out of nowhere, I'm not sure where it was, the wind picked up and the noise picked up and the water just started to rise, then the water was up to here and I knew something was seriously wrong.
"Then I saw the mast in front of me and I tried to get out of the water and climb onto the mast, and then just saw what was a water spout just going off in the distance and it was all over in a matter of seconds, 60 seconds, we were down and then we were righted and then we were safe but it was certainly an experience I wouldn't want to repeat.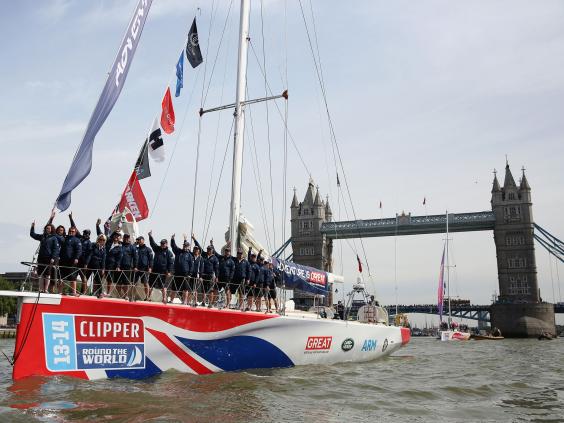 "It makes us feel we can definitely get through it and tackle anything, but apprehensive and always wary that the ocean is the boss and making sure that we pay attention to what she is telling us," he added.
After 11-months of racing, the fleet will return to London's St Katherine's Dock on Saturday, where it departed on 1 September last year.