Three wins against three Frenchmen, one of them Swiss, kept Ian Williams and his GAC Pindar team with the highest score after day two of the Monsoon Cup finale to the World Match Racing Series. But the threat from the defending champion, Taylor Canfield of the U.S. Virgin Islands, was still hanging like a huge shadow over Williams, wanting revenge for being beaten by Canfield in 2013.
Williams had no trouble despatching Pierre-Antoine Morvan and then Switzerland's Eric Monnin but his final race of the day against his old adversary Mathieu Richard turned on the Frenchman picking up a penalty for barging at the top mark and, even though Richard was ahead, he could not shake off Williams and finally ran out of runway with his penalty turn still to complete. Williams swept through the finish to take the point. "I thought we sailed very well," was the measured summing up.
Perhaps swept is a little optimistic. In agonisingly slow conditions, the 2015 decider is going very much to form with extra pressure coming from, as Williams put it, "thinking quickly but acting slowly." More soft breeze is forecast and it has been hot and humid, but at least there has been no rain to affect the racing on the first two days.
There will be a preview first thing on Thursday of what has been shaping up to be the final showdown as Williams and Canfield meet in their round robin clash. It is important, not just psychologically, for Williams to win as it should help him finish top of the round robin heap and the top man chooses his quarter final opponent. Leaving it to someone else to knock out Canfield has its advantages.
One private little battle was settled in favour of the Singapore team skippered by Maximilian Soh over his Malaysian rival and neighbour, Jeremy Koo.
Once again the start line was in Singaporean waters but the top mark was in Malaysian waters and Koo managed to pick up two penalties in the pre-start manoeuvres, one of which he had to take immediately after the start. That was too much to recover from and Soh it was who had a grin from ear to ear and a precious single point in the black. Koo is still in the red, carrying a half-point penalty for a collision in an earlier race.
Australian skipper Keith Swinton, lying fourth, was taken to hospital as a precaution for dehydration after sickness.
Battle lines drawn in world match racing showdown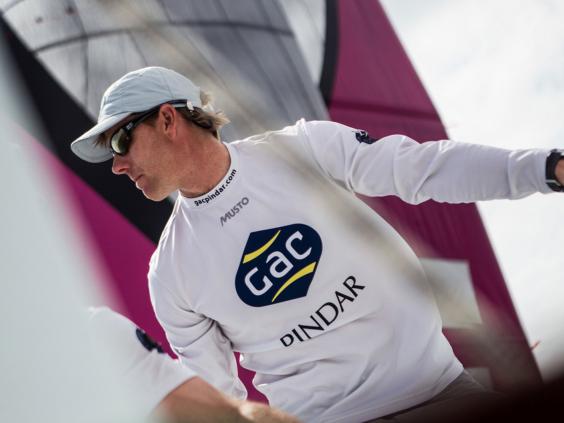 There will be no love lost in the fight between British four-times world champion Ian Williams and the man who snatched his crown away last year, Taylor Canfield of the U.S.Virgin Islands, as the finale of the 2014-15 series kicked off in Johor, Malaysia.
The sight, as they waited their turn to race, of Canfield's crew cheering whenever there was a slight error on the GAC Pindar boat told its own tale of both fierce rivalry and apprehension but Williams came through the first day with a 5-1 score that, technically, puts him in the lead.
Canfield had to overcome a penalty in his first race against the New Zealander Phil Robertson and then went on to finish his day on 3-0. For Williams, the encounter with the Kiwi was his only loss of the day. "Basically, we screwed up against Robertson," said Williams. "We picked up a penalty in the pre-start and then took too big a risk on the second upwind leg. That is all we are allowed. The top scorer in the 17-stage round robin chooses his quarter-final opponent. But, if we cut out some of the small mistakes we made today, we will have a good chance to move forward." 
It was a long day on what are new waters for the Monsoon Cup, which was originally staged in Terengganu in the same Foundation 36-foot boats. The bay at Johor is less churned up by strong currents plus, for the first day at least, enjoyed more breeze, though it was fluctuating from as low eight knots to as gusty highs of 20 knots and the direction was swinging as much as 20 degrees either side of north. It was also hot and humid and there was the quirky feature of the start line being in Singaporean waters, though the top turning mark was in Malaysian waters.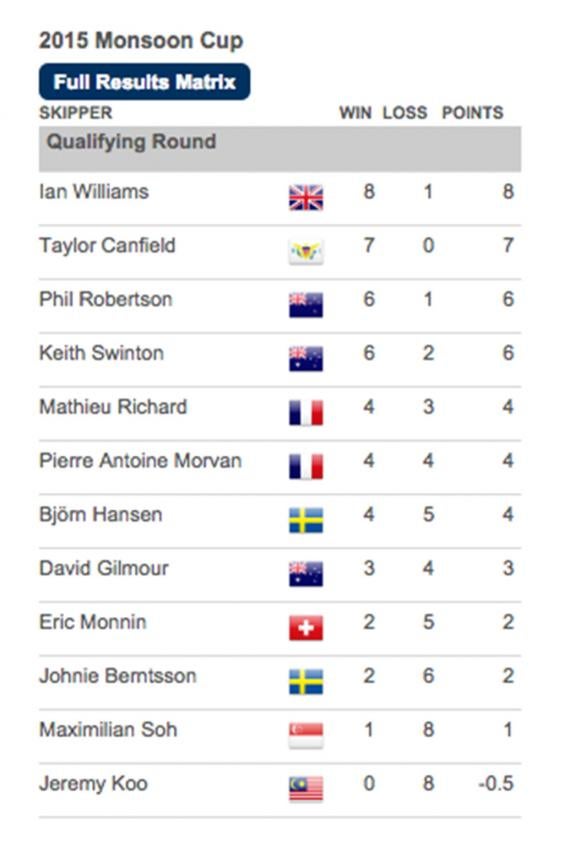 The new Country Garden, Danga Bay resort is still being built and so far this new-look Monsoon Cup has not lived up to its old reputation for torrential rain. But that could change by Thursday and the final counts double points. With Williams holding only a six-point cushion after the first six of the seven-event series, he has only make it to the final to take the title, win or lose in the final, for a record fifth time, though the record is still a by-product at this stage of winning the trophy.
Reuse content