Stone Cold Steve Austin has addressed those rumours of him making a comeback at WrestleMania 32 to fight Brock Lesnar, dismissing the reports as "bull*** reporting."
Austin, who retired in 2002, says that there is no chance he will take part in the main event at the WWE's flagship show, which takes place in his home state of Texas on 3 April.
There had been many reports in recent weeks that he would return for one match only, and with Lesnar appearing on the 50-year-old's 'Stone Cold Podcast' on the WWE Network next month there had been claims that it was to set up an angle between the pair. These rumours have now been quashed, however.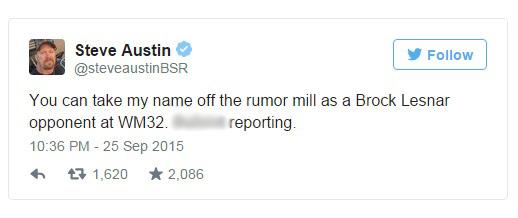 Next year's WrestleMania will be the biggest one yet, with the attendance set to top 100,000 at the AT&T Stadium, beating the record of 93,173 set at WrestleMania 3.
Other names currently being mooted for Lesnar at next year's WrestleMania are current WWE champion Seth Rollins, a rematch with Roman Reigns, or one against The Rock.
Reuse content