Undertaker was able to exact revenge over Brock Lesnar for his first ever WrestleMania defeat after a controversial ending to their SummerSlam bout saw the Deadman named the victor in a fiercely contested match.
'Taker returned at Battleground last month to cost Lesnar his shot as regaining the WWE World Heavyweight Championship from Seth Rollins,  setting up the rematch for SummerSlam on Sunday night.
And it would be Under taker who made the first blow, cutting the Beast Incarnate over the right eye with a heavy right hand – not before Lesnar rushed to the ring to attack his opponent before he even had time to remove his coat.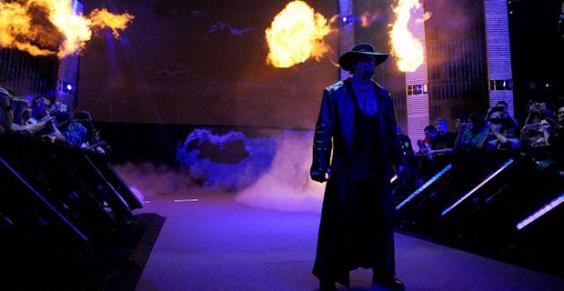 Lesnar got himself into the match with a series of suplexes, as has become Lesnar's trademark since his return to the WWE, but Undetaker battled back and delivered a Tombstone Piledriver to take the big man down. Soon after, Lesnar had Undertaker in the Kimura, only for the bell to ring unexpectedly and referee Charles Robinson debate the decision with the timekeeper. The fight appeared to continue amid confusion, and after a low blow, Undertaker locked in Hell's Gate causing Lesnar to pass out – only after he gave Undertaker the middle finger while locked in the cholkehold.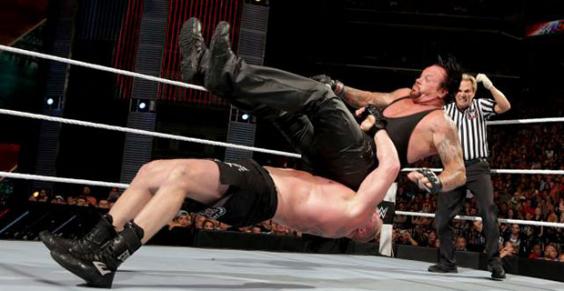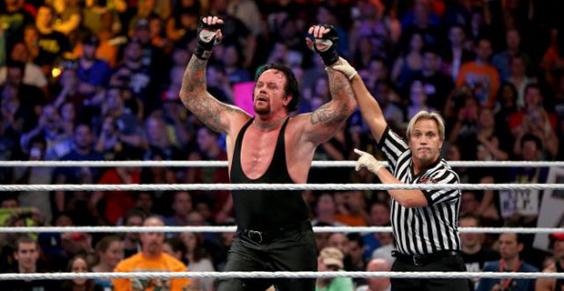 The highlight undoubtedly came though when Lesnar simply laughed at Undertaker, only for the Phenom to mock him with a deranged laugh back in his direction.
Undertaker mock laughing at Brock Lesnar, one of the best moments in history. #TakervsLesnar #SummerSlam https://t.co/KmdoXdLdJs

; (@3lone) August 24, 2015
Earlier in the night, former host of the Daily Show, Jon Stewart, caused a stir when he sided with the man that earlier in the year attacked him in Rollins, who faced John Cena in a battle between the WWE World Heavyweight champions and the United States champion respectively.
Cena managed to ground Rollins with a side headlock only for Rollins to escape and use his aerial prowess to take Cena down. In a thrilling match that saw both men utilise Cena's finishing move, the Attitude Adjustment, neither could take down their opponent for a crucial three-count.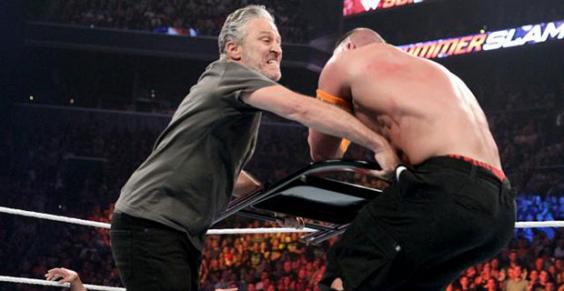 Stewart suddenly appeared and charged into the ring, chair in hand, but shockingly attacked Cena and knocked him out, giving Rollins the win and both championship belts.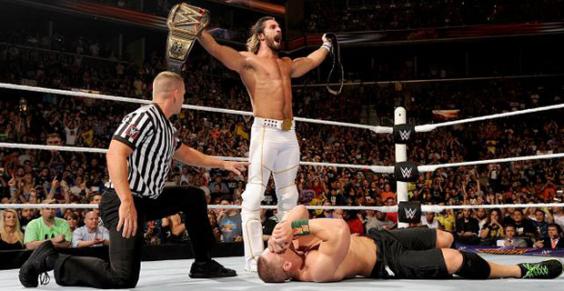 Ryback retained his Intercontinental title after emerging victorious in a triple threat match with the Big Show and The Miz. Show knocked out Miz after he attempted to do his best to avoid to the two larger athletes, but Ryback pounced to send Big Show out of the ring and pin the prone Miz to keep hold of his belt.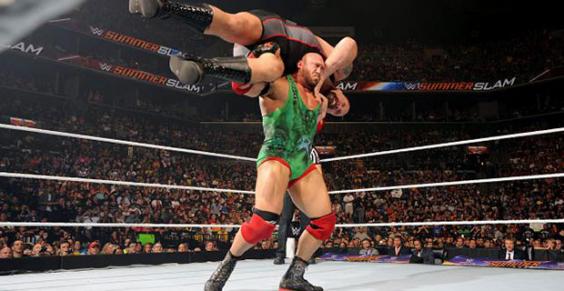 Kicking off the night's action, Sheamus needed two Brogue kicks to defeat Randy Orton and appear to put an end to their long-winded rivalry. The New Day regained their Tag Team titles from the Prime Time Players after seeing off Titus O'Neill and Darren Young as well as the Lucha Dragons and Los Matadores.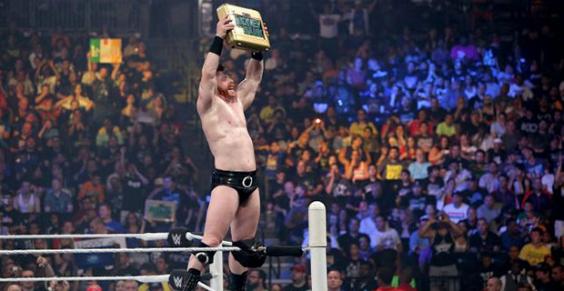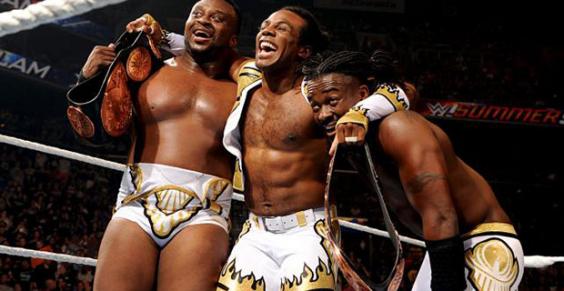 Kevin Owens continued his rise through the WWE ranks with an impressive victory over Cesaro, while Rusev's latest battle with Dolph Ziggler ended in a no contest after a fight outside the ring broke out between Summer Rae and Lana, causing both men to be counted out.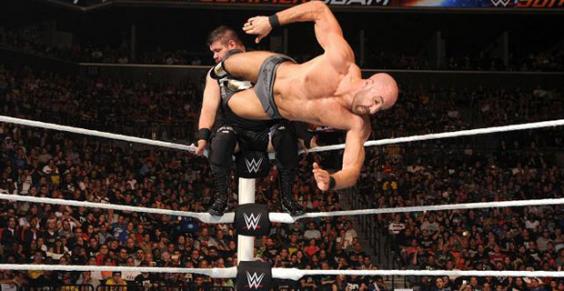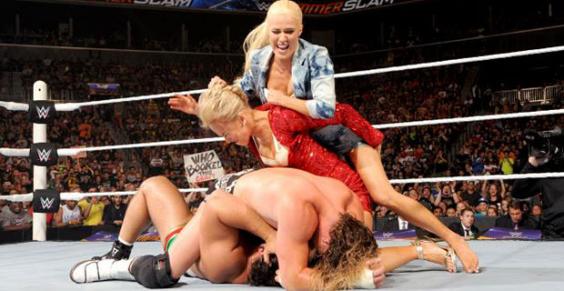 Paige, Charlotte and Becky Lynch, collectively known as PCB, came out on top in a Three-Team Elimination match against Team Bella – the Bella Twins of Nikki and Brie  and Alicia Fox– and Team B.A.D, formed of Sasha Banks, Naomi and Tamina.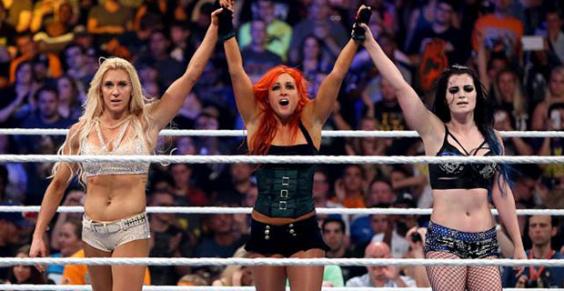 Former Shield members Roman Reigns and Dean Ambrose got the better of Wyatt family members Bray Wyatt and Luke Harper in a fight that could easily have been mistaken for 2013. After taking a fair share of punishment, Reigns returned to beat down Wyatt and Harper with a spear to the former picking up the win.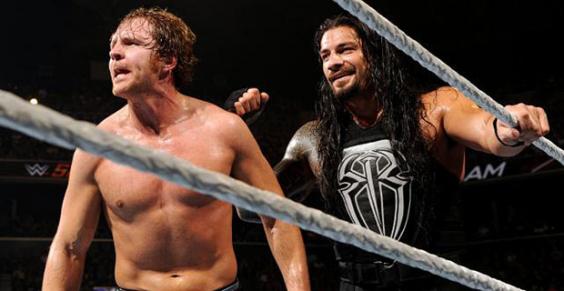 Finally, star of hit US show Arrow, Stephen Amell, teamed up with Newcastle;s Nevill to defeat King Barrett and Stardust in an entertaining affair. The actor even managed to scale the top rope and was good value in his rivalry with Stardust.
Results:
Sheamus DEF Randy Orton
The New Day DEF Prime Time Players, Los Matadores and Lucha Dragons
Rusev v Dolph Ziggler ended in a no contest
Stephen Amell and Nevill DEF King Barrett and Stardust
Ryback DEF The Miz and Big Show
Roman Reigns and Dean Ambrose DEF Bray Wyatt and Luke Harper
Seth Rollins DEF John Cena
PCB DEF Team Bella and Team B.A.D
Cesaro DEF Kevin Owens
Undertaker DEF Brock Lesnar
Reuse content